Tomorrow We Celebrate!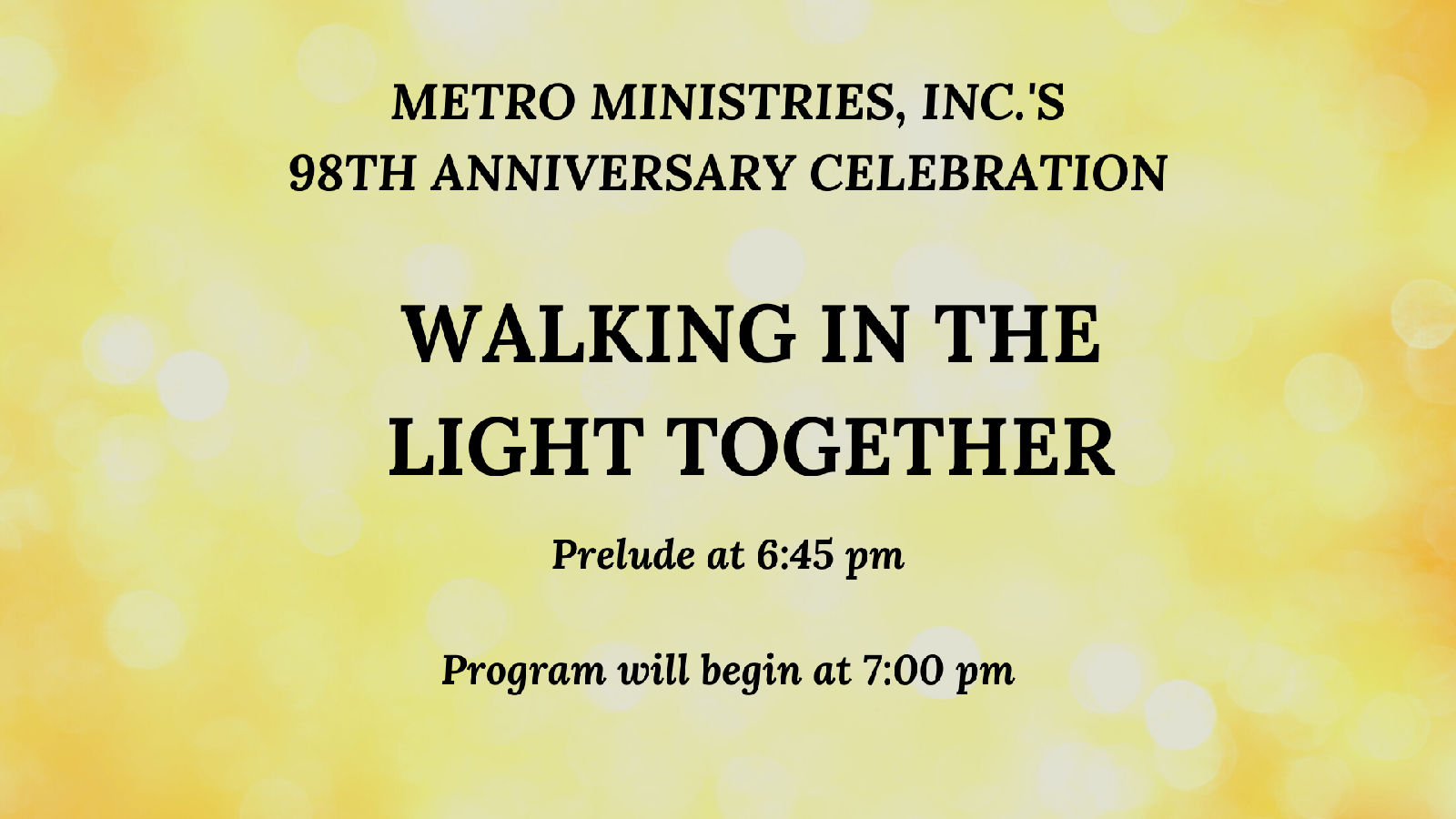 Are you ready to celebrate with us tomorrow evening? A musical prelude will begin at 6:45 pm, and the program will begin promptly at 7:00.
We have requested folks register so that we can thank everyone individually for joining us. You can still REGISTER HERE. If you don't wish to register but would still like to view the event, the event will appear HERE tomorrow evening prior to start time on Grace UMC's livestream channel. Look for "Metro's 98th Anniversary Celebration", and simply click on it to view.
You may also make a donation to Metro Ministries from the Registration page. All donations will go toward Metro's 2022 Grants programs. Tribute donations in honor or in memory are still welcome, and certificates will be mailed per donor instructions.
We do hope you'll join us!
_______________________________________________
Spotlight on: NeighborLink Indy BOO! Event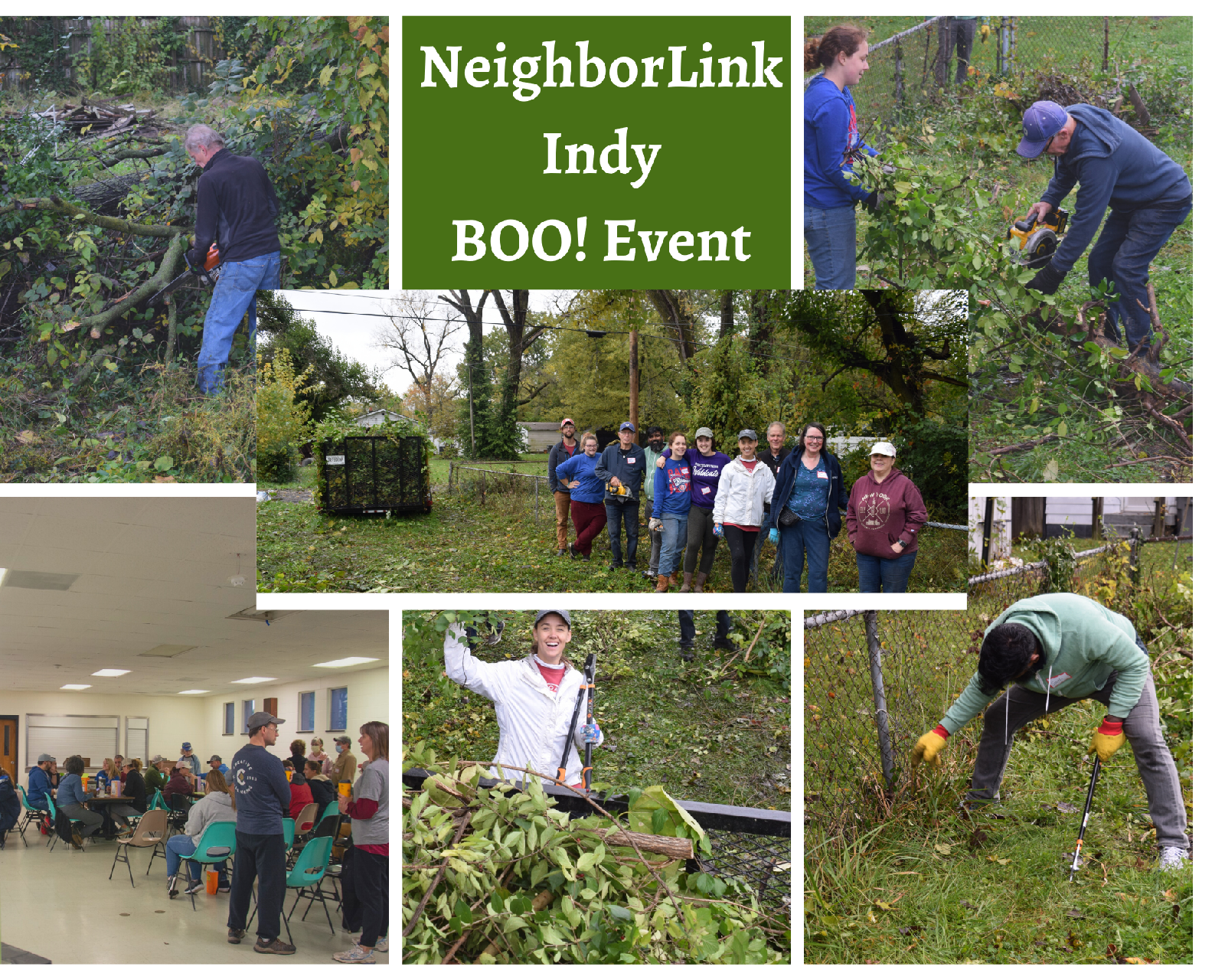 NeighborLink Indy's leaders envisioned an outreach effort to bring together repeat volunteers with first-time volunteers and tackle as many outdoor projects as possible in one day. The vision became the inaugural "BOO! Event", to wrap up the 2021 project season, to be held the day before Halloween. NeighborLink staff coordinated with homeowners of 11 homes spread throughout the city, unsure if enough volunteers would show up to cover that many projects, but they took a chance.
Their chance paid off! This past Saturday, 50 volunteers (myself included) gathered at New Circle Church in the Mapleton Fall Creek neighborhood to find out which of 12 different projects we would be assigned to for the morning. While the weather had been rainy, dreary and chilly, the rain held off while we made our way to our respective projects and went right to work. Some teams had painting jobs, while others had garage and yard clean-up, while others had gutter cleanout jobs.
Sunil Kotian had recruited some folks from North UMC, and I was able to tag along with him, Dan Archibald and Eric Oehler, along with several others we did not know. Our project was yard and fence-row cleanup at the Brightwood Martindale home of an 89 year old retired nurse, who had lived there for 43 years and had not been able to keep up with the overgrowth in her fence lines. Our group spent the morning with loppers, a couple of hedge trimmers and a couple of saws. By 12:30, we had completely filled a trailer with brush and had literally transformed the back yard. We were dirty, tired and sore, but it was worth it to see what we had been able to accomplish together for this homeowner in need. And to think, similar results happened at 10 more homes on Saturday!
NeighborLink Indy has a single mission: to help individuals with disabilities and senior homeowners in need, be able to age in place safely and with dignity. They do so by recruiting groups from churches and businesses, along with neighborhood residents who want to help their neighbors. Metro Ministries is proud to have supported NeighborLink this year through our Ministry Grant program, and we look forward to uplifting more exciting volunteer opportunities in 2022.
_______________________________________________