If you're having trouble viewing this email, you can see it online.
August 9, 2021
This is your BBA Brief, a quick look at issues on the horizon for Team BBA.
We'll give a lowdown of issues of importance to you and your business that we're watching this week.
Join the discussion or rest easy knowing we're on the case advocating for our members and a vibrant Burlington.
—KD
City Council to Vote on Officer Cap Increase
Tonight the Burlington City Council will take up a resolution to temporarily raise the police officer cap, hire additional community service liaisons, and help fund the Safety Escort Program.
We will be there urging the council to approve these resolutions at public comment and welcome you to join us.
Last week the Police Commission unanimously approved sending this recommendation to the council; specifically requesting a temporary increase in the officer cap to 82 and the immediate hiring of two Community service liaisons.
The council will also consider a resolution from Councilor Mark Barlow (I - North District) to spend $2,400 of his budgeted Councilor Initiative Funds to support our Downtown Safety Escort Program. This would provide an additional 4 weeks of funding to that program. More details on that program can be found below.
The Council meeting is in-person at Contois Auditorium in City Hall at 7pm. Members of the public are invited to speak at public comment at 7:30, time certain. You can also email the city council comments and have them placed on the record : citycouncil@burlingtonvt.gov
READ -Resolution to temporarily raise police officer cap.
Now Live: The Burlington Safety Escort Program
You can now Call or Text 802-404-3444 for a safe walk home.
The BBA announced that in response to increased incidents of violence and threatening behavior in the Downtown, the Burlington Business Association would launch the Safety Escort Program.
Thank you to all those who shared feedback and voiced their support.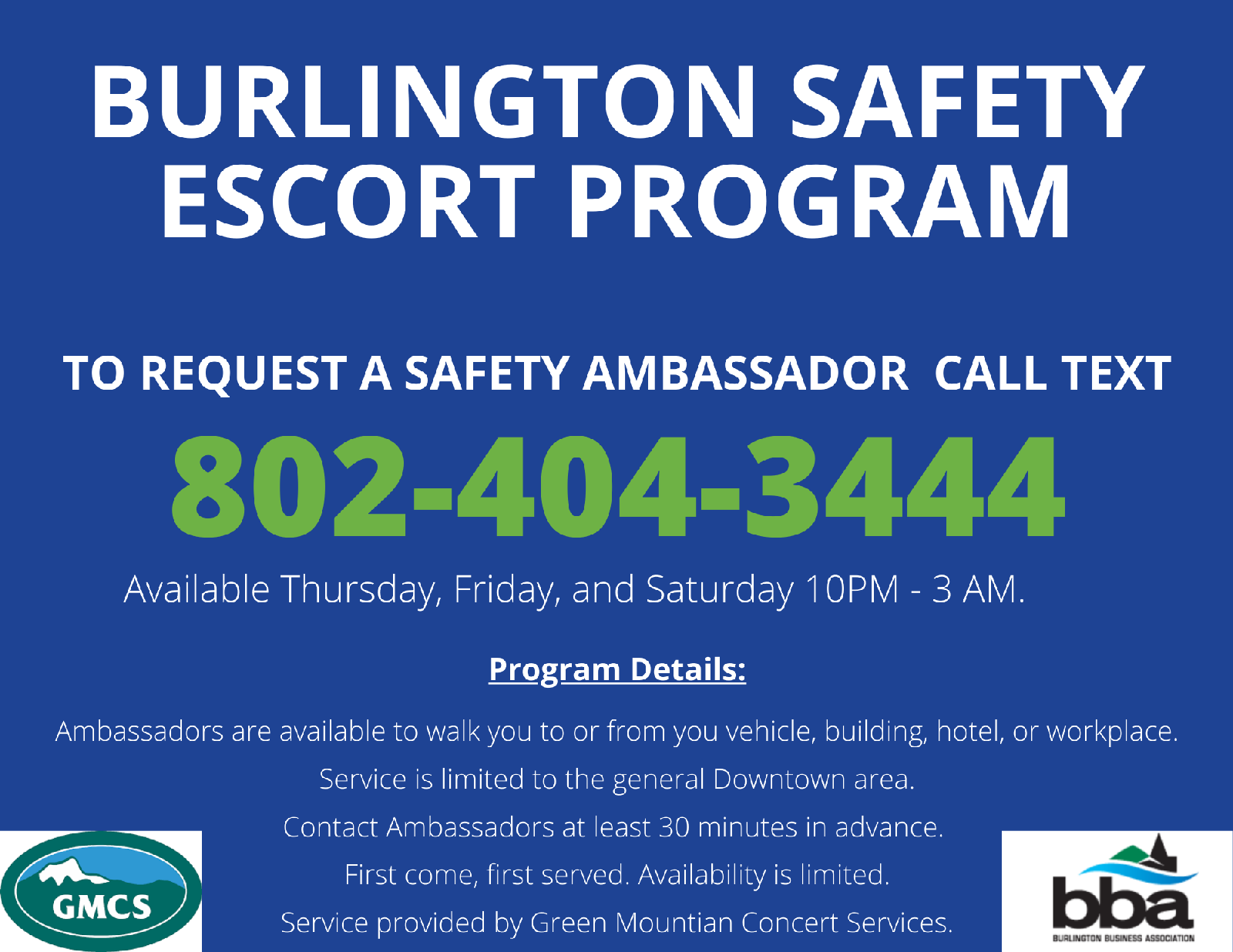 Program Details
Green Mountain Concerts Services is providing trained Safety Ambassadors for a safe walk to or from your vehicle, building, hotel, or workplace.
Program is available Thursday - Saturday, 10pm -3am.

The service has a special focus on supporting retail, restaurant and nightlife employees

The program is limited to the general downtown area (DID area).

First come, first serve. Availability is limited. Call 30 minutes in advance

Questions about the program: reach out to

colin@bbavt.org

.
How you can help:
1. Downtown businesses interested in participating should complete the Needs Assessment Survey (3-min survey)
2. Consider making a donation to fund the program. See attached or visit www.bbavt.org/projects/safety-escort-program/ to donate.
Our voice is your voice
• Call Kelly – 802-863-1175
• Email Colin Hillard – colin@bbavt.org
• Check out the other member benefits on our website
• Subscribe to updates like these from the BBA
• If this email landed in your Promotions tab in Gmail, please take a second and drag it to your Primary tab. This makes a big difference to the Google inbox gods and you'll never miss a Brief.