ABQ Backyard Refuge Program Newsletter
Autumn 2021

Contents:
Certify Your Space!
Partner Events this Saturday, October 30th
Free Mulch
Students Contribute to Explora! Pocket Garden
Tips for Fall Wildlife Gardening
Fall Species Highlight: Skunks!

_____________________

Watch in the next few weeks for an update about recently certified backyard refuges and an announcement of our new Neighborhood Ambassador program!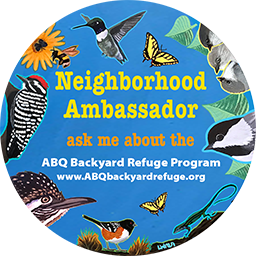 _____________________


Certify Your Space Today!
Don't miss your chance to get the inaugural year
Black-chinned Hummingbird sticker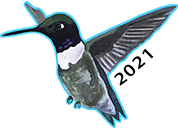 Almost EVERYONE who has an outdoor space can make a "backyard" refuge!
Here are the only requirements for the first level, Contributing Habitat:
Do you want to share your space with wildlife?

Do you have two native plants* that provide food for wildlife at least part of the year (pollinating, seed-bearing, or fruiting plants)? or, a native plant and a bird feeder? or a native plant and a water source (such as a birdbath)?

If you have any of the combinations above and can do just two of the 25 best practices below, you have Contributing Habitat. Whether you have a balcony, a patio, or are starting with just a bit of habitat in a larger yard, you can get a sign and sticker for your refuge!
Best Practices
you only need two from any of the sections for the Contributing Habitat Level
Soil and Water Conservation Best Practices
-Capture rainwater from roof and move overflow water to landscaped areas
using a swale, basin, or other method of diversion
e.g., a hose attached to a rain barrel
-Have xeriscape elements (water-wise landscaping)
-Use drip or soaker hose for irrigation
-Limit water use
-Reduce erosion with groundcover
-Use mulch to keep soil cool and help maintain soil moisture
-Make and use compost where plants need it
-Scoop the poop in your yard and on walks!
Wildlife Gardening Best Practices
-Keep pets indoors or in controlled areas
-Convert traditional lawn from one species to a diversity of native and
drought-tolerant plants
-Add native and drought-tolerant plants to supplement or replace existing
vegetation in your yard.
-Prune plants after insect emergence in spring and before nesting
season begins
-Trim trees after wildlife nesting seasons end, leaving some dead branches
when possible for wildlife
-Leave some leaf litter for over-wintering wildlife
-Eliminate/reduce chemical pesticides/herbicides/rodenticides and practice non-toxic methods of Integrated Pest Management
-Eliminate/reduce chemical fertilizers
-Allow plants to flower and go to seed, and leave seed heads over winter for seed-eating birds
-Leave some fruit on fruiting trees for wildlife
-Leave bare ground for ground-nesting native bees
Engagement Best Practices
-Post wildlife or plant observations on citizen/community science website
(Examples: iNaturalist, eBird, Nature's Notebook, etc.)
-Advocate for land conservation
-Volunteer at public lands or with environmental conservation organizations
-Attend an ABQ Backyard Refuge or program partner event or training
-Promote the ABQ Backyard Refuge Program with your neighbors, at community gatherings or on social media
-Recruit neighbors, friends and/or family to seek ABQ Backyard Refuge Certification
* What plants qualify as habitat?
The ABQ Backyard Refuge Plant List contains a few hundred wildlife-friendly plants, but many other drought-tolerant native plants also provide excellent habitat. If you have plants that are not on the list, we will review them to see if they provide suitable habitat. will be determined when your application is evaluated. Plants in the same genus as those on our plant list are usually a good bet.
Download the application questions here (Word doc, PDF) to prepare your answers for the online form. You can use the workbook (Word doc, PDF) as a guide and for planning future habitat elements.
Access the online application here and soon you'll have a sign that designates your space as a backyard refuge!
Email us at ABQbackyardRefuge@friendsofvalledeoro.org if you have questions about suitable plant species or the process in general.
We're here to help you share your space with wildlife!
This is the sign you receive (along with the Black-chinned Hummingbird sticker when you certify in 2021, and the chickadee sticker (because who doesn't love chickadees?))

And this is the sign you can create with the new species sticker you receive each year that you re-certify.


Certify before the end of the year to receive inaugural year Black-chinned Hummingbird Sticker!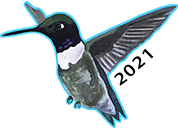 Join our partner this Saturday!
Join Corva Rose of Tree School this Saturday at Plants of the Southwest for Hallowed Ground: A creative hands-on, outdoor, playshop to tend our inner home, and collective gardens as we move into winter.
10am - 1pm, 6680 4th St NW, Albuquerque
pre-registration is required and space is limited
Corva Rose, treeschoolnm.com @tree_school_nm
We still have mulch!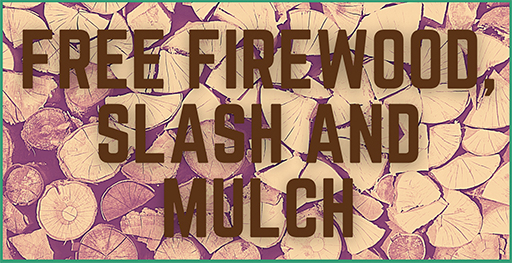 You are invited to share firewood, slash, and mulch from a Siberian Elm removal project this summer.

Contact us at ABQbackyardRefuge@friendsofvalledeoro.org for details.
Students contribute to Explora! pocket garden habitat

This past winter (2020-2021), in the midst of the pandemic, students working in a pod with their teacher Sharon Sivinski got in touch with Friends of Valle de Oro to see if they could do a community service project connecting with the Valle de Oro National Wildlife Refuge. Following is their report about the project along with photos showing them at home working on the project and on the day they brought their plants to Nature's Notes, a wildlife habitat for kids to explore and enjoy while at Explora!
Third-Grade Students Bring Native Plants to Explora!
By Tim and Beckha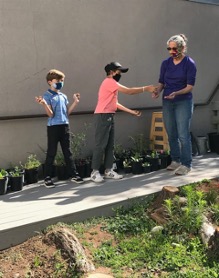 Our school pod wanted to do a community project, so we asked Valle de Oro how we could help. They said that we could help by growing native plants for the pocket garden at Explora kid's museum. Native plants are best because they don't need much water. And 90% of insects eat only one type of plant. If that plant disappeared, so would those insects. The birds would not have insects for lunch, brunch, breakfast and dinner, and could not feed their babies. The birds and insects pollinate our plants and carry the seeds
Bob Sivinski of RCS Southwest Consulting donated cuttings of plants from his yard for us to grow. He gave us giant sunflowers, scarlet mallow, verbena, giant sacaton, and galleta. After the roots were potted, we watered them and they grew!
We also went to a nursery and chose native plants to put in the pocket garden with money donated by Groundwater Partners Inc. We decided on yerba mansa, yellow coneflowers, Mexican hat, yucca, milkweed and penstemon. We mixed potting soil and sand, and put the plants into bigger pots. Then we watered them and watched them grow.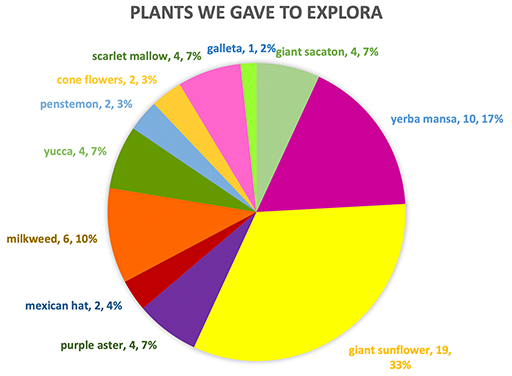 Another fun way to grow native plants is to make seed bombs. A seed bomb is mud rolled into a ball that has seeds in it. The rain dissolves it so the seeds can grow.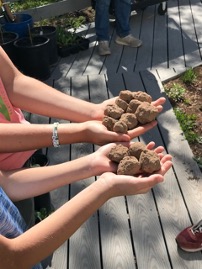 We did an experiment to test how much sand and how much clay would make the best seed bomb. We got the clay from my backyard.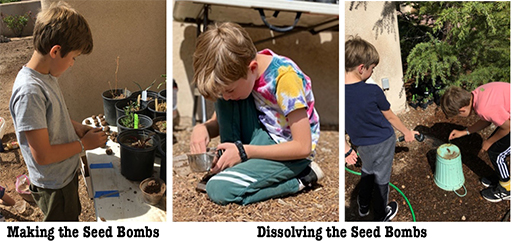 We compared our seed bombs to seed bombs from a company called Taos Bee. Using hose water, we discovered that both seed bombs took around 8 minutes to dissolve. The best one turned out to be the all-clay bombs.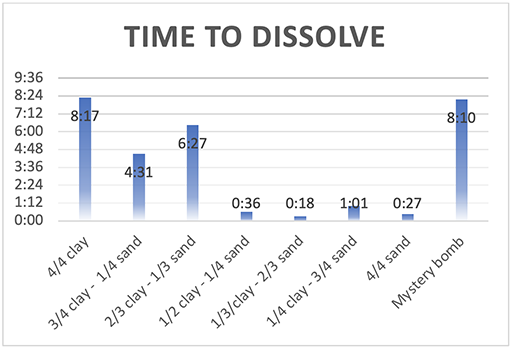 You should try to make these one day, because they help insects and other animals, and it is simple and fun!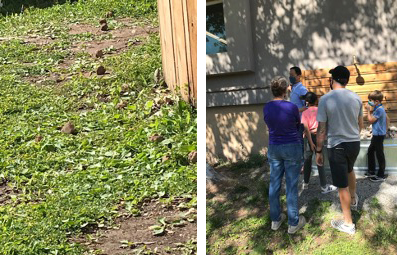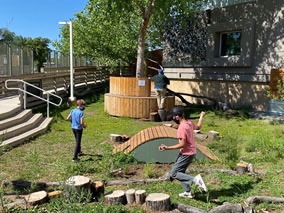 When the plants had grown enough, we went to Explora. We got to meet Amon from Explora and Ani and Brian with the Friends of Valle de Oro National Wildlife Refuge. We gave them our plants, placed our seed bombs around the pocket garden, and explored the area.
Tips for Fall Wildlife Gardening
Fall Gardening Theme: Less is more!
by Ani Jamgyal

The over all theme for our fall gardening tips focuses on leaving the wildlife habitat garden wild. It can be tempting to tidy up the garden by cutting down spent flower stalks, raking and disposing of leaves, shearing shrubs into tight geometric shapes and generally buttoning up the garden until spring.
However, this is not the best way to nurture wildlife through their potentially most difficult season. Following are some suggestions for what to do instead, which might also help with winning the neighborhood Halloween contest for best outdoor display and with navigating the additional leisure time that comes with letting the garden grow a little wilder.
Fall blooming flowers and spent flowers spikes provide some of the most beautiful fall landscape scenes. Among the late summer to fall bloomers are sunflowers and amaranth. Penstemons and salvias also produce tall flower stalks in mid- to late summer that, when pollinated, yield seeds for winter fare. Typically, a mix of blooms and dried seed heads are in display along the stalks, feeding pollen and nectar eaters throughout the fall, as well as seed-eaters into winter. The stems also provide food and habitat for small mammals and insects at a time when food is scarce.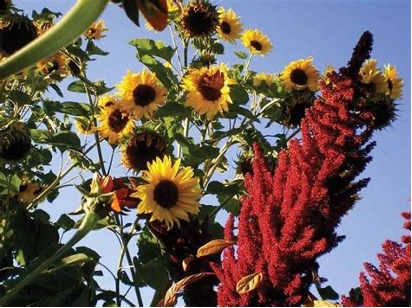 PHOTO BY HEATHER JO FLORES - Sunflowers with amaranth. | Plants, Play houses, Garden (pinterest.com)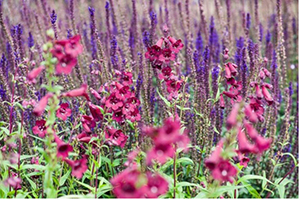 A Fabulous Duo: Salvia 'Caradonna' and Penstemon 'Rich Ruby' (gardenia.net)
An additional benefit to leaving the dried seed heads uncut is that some of the seeds will drop in place and may even germinate in spring, providing the garden with a larger patch of that particular flower species!
A wonderful way to spend the time saved on not pruning your wildlife habitat garden is to walk around the neighborhood looking for flowers still in bloom and setting seed. Take a stroll through the Rio Grande Nature Center State Park, paying special attention to tall native bunch grasses such as sacaton and big bluestem, with their regal dried seed heads. Tall dried grasses provide a perfect backdrop for spooky Halloween displays.
Instead of having to buy (likely non-biodegradable) stuff to mimic this effect, let nature create its own striking Halloween display!
Fallen leaves, when left on the ground, accomplish a multitude of benefits for wildlife, whereas raking and bagging them (especially in plastic bags) basically does no one any good (including the planet as a whole). Multiple studies have been conducted showing that mulching fallen leaves into the soil feeds the soil critters; feeds the plants growing in the soil; and supports the wildlife dependent on the plants for food and shelter. Leaves can be left where they fall, raked into garden beds or composted in a pile. To speed up their decomposition, put the leaves in a large garbage bin and cut them up with a weed-whip [(1) mulching fall leaves - YouTube ]. Even if you have a patch of lawn, letting the leaves mulch in place helps the lawn ((1) Should you mulch leaves into your lawn or rake them up - YouTube ) and decreases the number of plastic bags that end up in the Great Pacific Garbage Patch [Great Pacific Garbage Patch | National Geographic Society].
For those fortunate enough to have a cottonwood tree or three, there will be a glorious abundance of leaves on the ground. An excellent fall tradition is to make a pile for the kids to play in or for the dog to enjoy [(1) Stella's Leaf Pile Classics - YouTube]. The pile can later be used to mulch the nearest garden, protecting the roots from winter temperatures.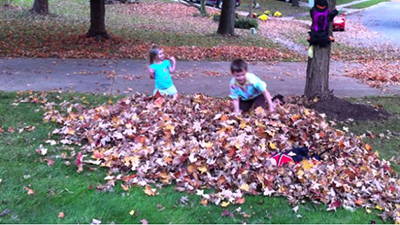 (1) Kids Playing In Leaf Pile (October 24, 2012) - YouTube
As always, don't forget to leave some bare ground for the bees. Also, be sure to watch for freshly excavated holes in the dirt; in the right habitat, you may find tarantulas emerging for their mating season [(1) Hunting Wild Tarantulas in Colorado! - The Tarantula Migration - YouTube]. Talk about super spooky wildlife habitat!
Shrubs are better left more or less untended for wildlife to enjoy. In their natural form, they offer more spacious shelter to birds, mammals and lizards scurrying for cover. This also leaves seeds for food on flowering shrubs such as four-wing saltbush and Apache plume. There is some pruning that will need to be done in the winter (stay tuned for the winter newsletter!) but for now, let them be.
Spend the time saved in other pursuits. Bare trees and dead branches are excellent for hanging winter bird feeders and water-dispensers, as well as homemade sock ghosts [SOCK-ingly Spooky Ghost Craft! - How Wee Learn].
Any branches you do need to cut or gather from the ground can be added to a habitat brush pile. Kids love building brush piles. Besides being fun to construct, brush piles harbor insects for food; provide shelter for many small critters; serve as perches for small birds; and are a wonderful structure for vines to cover. Seeds tossed onto the pile stand a very good chance of germinating next spring since a pile offers shelter from the drying sun and wind, as well as from late spring cold snaps.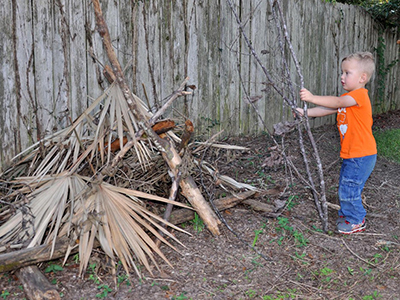 Create brush piles for wildlife habitat | Mississippi State University Extension Service (msstate.edu)
In summary, go easy on the fall wildlife habitat garden. Less really is more!
Pocket Garden Update
by Ani Jamgyal
As fall closes in and winter approaches, we decided to look back on the pocket gardens begun in fall 2020 and completed during this past summer.
Finishing touches at Explora!
We started the Nature's Notes pocket garden at Explora! in the Old Town area back in September 2020. Volunteer/Partner, Hollis (pictured below) and Intern Ani added more wildflowers in May 2021. In June, Volunteer/Intern Brian (pictured with wheelbarrow) and Intern Ani weeded and mulched the beds to tuck them in for the hot summer ahead. Notice the fun new bridge built by Explora! to protect the drain as well as to invite the kids to play in the garden.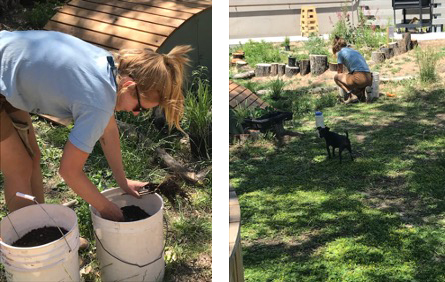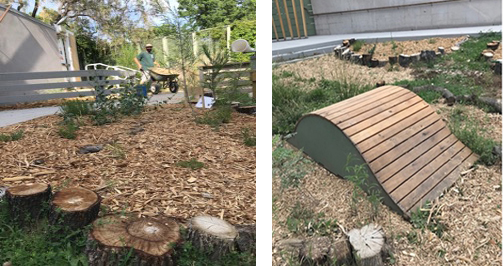 photos by Ani Jamgyal
Pocket garden at Endorphin Power Company
Rocky Mountain Youth Corps and Friends volunteers planted three areas at EPC in the International District. The primary wildlife habitat garden surrounds the existing veggie garden and will attract pollinators, possibly increasing veggie yields! Around the base of an existing tree in the main courtyard, Intern Ani packed in lots of hummingbird plants. Also in the courtyard, RMYC created a pollinator rock garden near an existing pond. All of the planting was done in April 2021. In June, Volunteer Brian hooked up a 250-gallon rain barrel donated by The Nature Conservancy to an existing downspout to collect rain from the roof.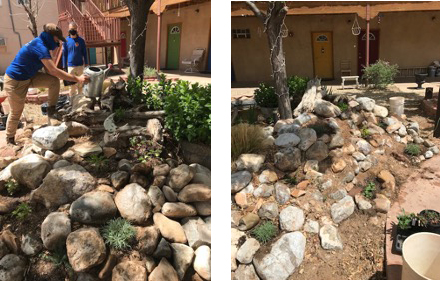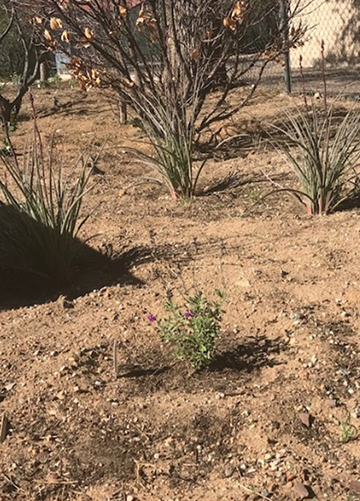 photos by Ani Jamgyal
Container garden at Compassion Services Center
At CSC we primarily focused on large planters donated by The Nature Conservancy. Brittany, an intern with the Valle de Oro National Wildlife Refuge, planted tall perennials that support pollinators, which will burst colorfully out of the tops of the containers, reaching their full height by fall 2022. They're already starting to flower and fill in! UNM Sustainability Studies intern Brian installed 4 downspouts on the onsite portable, and connected a 250-gallon rain barrel (also donated by The Nature Conservancy) to the downspout closest to their veggie garden.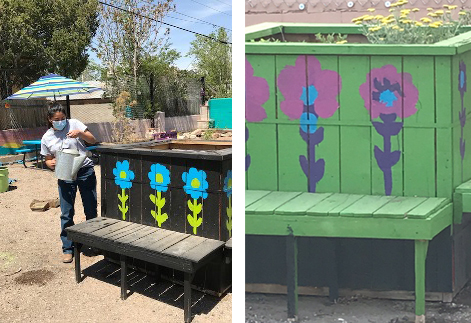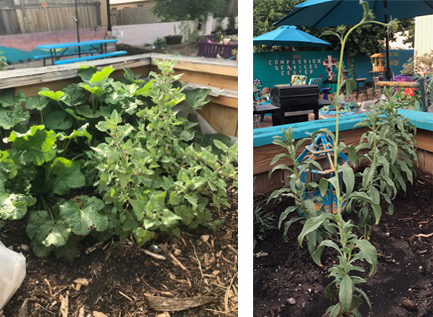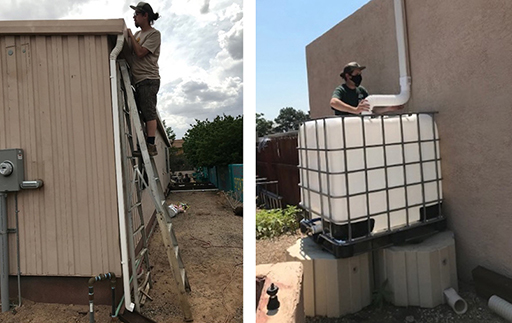 photos by Ani Jamgyal
Pocket Garden at San Pedro Library
We partnered with the City of Albuquerque library maintenance department to install a wildlife habitat pocket garden at the entrance to San Pedro Library. The city's crew removed the concrete covering the area, where we then planted the pocket garden. Our first step was to create a dry creek bed in order to capture rain that falls on the ground and hold it on the site long enough for the water to permeate the soil (rather than running off quickly into the street and down the drain as it did when the ground was covered with concrete). Rocky Mountain Youth Corp dug the meandering bed and filled it with angular rock provided by the city. Volunteer Brian and intern Ani planted the garden during one glorious day of rain! The city then hooked up irrigation, and provided gravel and crusher fines for the finishing touches.
Before:
After: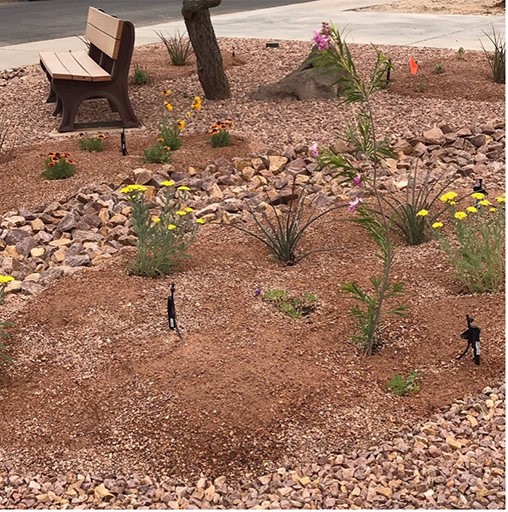 photos by Ani Jamgyal
We hope you've enjoyed the tour. We'll feature a map that includes these pocket gardens and our partners' demonstration gardens in the winter newsletter. Stay tuned for more pocket gardens to come!
Fall Species Highlight
Species in the spotlight: Skunks!
by Ani Jamgyal

We usually smell them before we see them. Lots of times we don't see them at all. It's dark out, we smell something musky and just know there's a skunk in the neighborhood. For those who appreciate their ecological significance, theirs is a welcome scent. For most people, however, appreciation of skunk scent is a taste acquired through finding out more about these night-time wanderers. So, let's get started!
In New Mexico, we've got four species of skunk: the striped skunk (Mephitis mephitis), the western spotted skunk (Spilogale gracilis) and, less commonly, the hog-nosed skunk (Conepatus leuconotus) and the hooded skunk (Mephitis macroura). The primary differences between them are the patterns of black and white markings on their fur (see Figure 1) and their sizes (hog-nosed skunks weigh in at 10 lbs; western spotted skunks only weigh around 1 lb. The others fall between).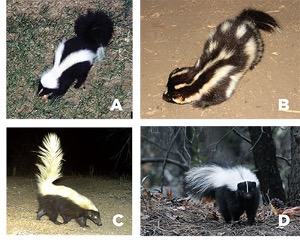 Figures 1A–D. A) Striped skunk; B) western spotted skunk; C) North American hog-nosed skunk; and D) hooded skunk.
NMSU: New Mexico Skunks: Identification, Ecology, and Damage Management
The prize for wildest looking pattern goes to spotted skunks, especially when they are moving. Check out this video for a better look at the (1) Western Spotted Skunk - YouTube.
There are reasons to welcome skunks to the neighborhood. Their food habits benefit gardeners. Skunks feed on insects during the growing season, including those that are agricultural and garden pests, such as white grubs, cutworms, and potato beetle grubs. They also eat grasshoppers, crickets and beetles, whose collective gnawing can devastate a garden. In winter, skunks' diets change to rats, mice, voles and other rodents that may cause damage in the dormant garden or otherwise be a nuisance to humans.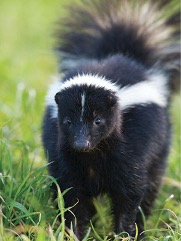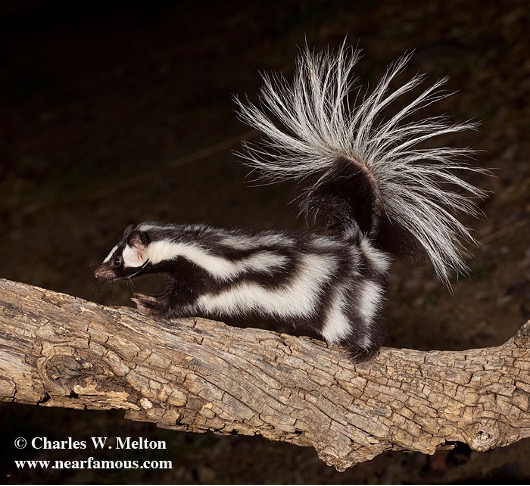 (Photo of stripped skunk by Bryan Padron, Unsplash.com; photo of western spotted skunk by Charles Melton, nearfamous.com)
In the U.S. Southwest, skunks inhabit every sort of habitat—woodlands, grasslands, deserts, agricultural, suburban, and urban. They can be found meandering through backyards all over Albuquerque, as well as in brush-bordered agricultural fields, riparian areas, livestock pastures, and fallow farm fields such as found at Valle de Oro National Wildlife Refuge.
Skunks den in burrows, rock crevices, hollow logs, debris piles, under buildings, and even in abandoned vehicles. Because they can climb, western spotted skunks also rest high in trees, using hollow limbs for their den. Striped and spotted skunks are known to live in close association with humans, while hooded and hog-nosed skunks are less attracted to human environments. Because skunks are primarily nocturnal, if you see one during daylight, it may be sick; don't approach it. They do carry diseases that can infect humans.
In addition to their eating habits, skunks are valuable visitors to a wildlife habitat garden because they serve as food for great horned owls, golden eagles, bald eagles, mountain lions, bobcats, coyotes, gray and red foxes, and American badgers. Part of creating wildlife habitat gardens involves understanding that wildlife functions within an interdependent network; they rely on each other for food.
Skunks tend to ignore other animals and are not aggressive. Their primary defense against predators is to discharge their nauseating yellow musk from a pair of enlarged anal glands. They can do this with great accuracy! The musk contains thiols, which are also found in onions, garlic and rotting flesh, which explains why the musk can cause severe burning and tears in the eyes, making it difficult to see for several minutes. Breathing can become difficult as well. These responses allow skunks to escape predators and may leave predators wary of approaching them during future encounters. If you smell a skunk and wrinkle your nose, just keep in mind it was probably trying to stay alive when it sprayed.
It may be useful to know that skunks exhibit a variety of behaviors before actually spraying a potential predator. Like rattlesnakes, they warn before striking. Skunks stomp their forefeet, raise up on their hind feet, and then drop-stomp their forefeet while hissing loudly. They may charge toward the threat, clicking their teeth. They may turn their hindquarters toward the threat, creating a tight U-shape with their body, before spraying. Western spotted skunks perform handstands, bending their hindquarters over their head to point at the threat. If you encounter a skunk showing any of these signs, retreat slowly and quietly while avoiding sudden movements and loud noises.
In case you or your pets do get sprayed by a skunk, here's a recipe for stench removal: https://wildlife.unl.edu/pdfs/removing-skunk-odor.pdf.
In addition to sometimes filling the air with their distinct aroma, skunks can cause certain problems for humans. They are equipped with sharp claws that enable them to burrow under foundations or access existing spaces under structures. Skunks eat garbage that's left out, scattering it around in the process. Skunks have also been known to kill poultry and eat eggs, as well as damage beehives by trying to feed on adult bees and their larvae.
But don't be too quick to blame the trouble on skunks. Striped skunks normally do not climb (and they are the most common in the Albuquerque area), so they won't be able to get to poultry enclosed by fencing. It's more likely that the culprits are rats, weasels, mink, coyotes, foxes, bobcats, or raccoons. Uncontained dogs are typically responsible for large numbers of birds being indiscriminately killed and mutilated. The best way to avoid experiencing the down side of skunk behavior is to build effective exclusion structures and to modify habitat. For detailed instructions, see NMSU: New Mexico Skunks: Identification, Ecology, and Damage Management. By following the excellent advice in this article, skunks will be welcome visitors rather than disliked residents in your wildlife habitat garden.
If you are having issues with skunks that you cannot address on your own, contact our wildlife biologist partners at RD Wildlife Service. They specialize in using knowledge of species' behavioral ecology to resolve problematic situations.