If you're having trouble viewing this email, you can see it online.
News & Events for Health Empowerment // December 2, 2021

| | |
| --- | --- |
| 🌱 | We were touched by these inspiring words from Ocean Robbins, CEO of the Food Revolution Network: "You can be supremely healthy on a whole food, plant-centered diet, and on top of that, if you do it right, not only are you supremely healthy, but you're contributing to a healthier world for future generations, and to me, that just strikes at the core of what it means to be a human on this planet." Watch the full interview here. |
| 🌱 | We challenged plant-based chefs to create a dish in the moment! It sounded easy until we announced that they must include at least one ingredient that begins with a "P" and a "T". Not surprisingly, they all nailed it. Watch Chef AJ and Chef Carole Levy go head to head and enjoy mother-daughter duo Ann Esselstyn and Jane Esselstyn, RD getting creative in the kitchen. |
| 🌱 | Dr. Greger's segment was moving in several ways. He joined us from his treadmill — and he gets about 30,000 steps per day! He shared news of his next book, that he doesn't care for eggplant, and how volumes of evidence supporting the healing benefits of a plant-based lifestyle continue to pile up on his desk. Catch the conversation here. |
The generosity of this community has us screaming "We can do this!" from our rooftops (or sidewalks). As of today, you've donated more than 60% toward our $25,000 matching challenge put forward by a generous anonymous donor. Every financial contribution, before the end of the year, will bring us closer to reaching our goal.
| | |
| --- | --- |
| Give the gift of health empowerment! All gifts are matched through the end of the month, and donations of $50+ are eligible for a PPMNY cotton tote bag. | |
Congratulations to our Plantathon giveaway winners:
🌱

Cheryl L. received a scholarship to the Plant-Based Nutrition eCornell Certificate Program, donated by the T. Colin Campbell Center for Nutrition Studies

🌱

Virginia L. won a spot in PPMNY's 21-Day Plant Powered Jumpstart launching on January 26, 2022.

Check out the details here

.

🌱

Christina B. can look forward to reading her like-new copy of

The Starch Solution

by John A. McDougall,

donated by PPMNY Long Island Organizer Mitchell Castell in memory of his father, Jerral Castell, who introduced him to WFPB nutrition.

🌱

Enrica S. and Melinda M. may soon be spotted at the farmer's market or grocery store loading fresh produce into their new PPMNY recycled cotton tote bags, donated by an anonymous donor.

We'll share more as our winners are confirmed.
Thanks again to our Plantathon sponsors!
Lupii, California Balsamic, Main Street Vegan, Plant Based TeleHealth,
Doctor Herbivore, Plantable, WellBean, FRESH Medicine, Aaya's Table,
It's Seasoned, Jovial
Take advantage of these special offers from a few of our sponsors:
🌱

Enter PPMNY20 at checkout to get 20% off products at

Lupii.

🌱

Enter CHEFAJ at checkout at

California Balsamic

to receive 2 complimentary samples with any order.

🌱

Enter Plantathon for $5 off of a variety pack at WellBean.

🌱

Enter Kindness20 for a 20% discount on Main Street Vegan Academy's January/February class.
To say we're grateful to everyone who took part in Plantathon is an understatement. Our sincere thanks to:
Featured Guests

Michael Greger, MD
Shivam Joshi, MD
Alona Pulde, MD
David Dunaief, MD
Ana Negrón, MD
Ocean Robbins
Chef AJ
LeAnne Campbell
Nelson Campbell
Thomas Campbell, MD
Kim Campbell
Jane Esselstyn, RD
Ann Esselstyn
Dotsie Bausch
Chef Brandy Cochrane
Chef Carole Levy
Victoria Moran
Thomas Allen
Anthony Masiello
Alexandra Dempster



PPMNY Community Members

Hilary Agin
Enrica Sacca
Lori Pitowsky
Danielle Medina
Mare Gomez-Bolaños
Aifra Ruiz
Bryant Meythaler
Magaly Herrera
Pamela Garcia
Mia White
Laura Moya Adames
Stephanie Cornejal
Iain Waller
Pamela Trester
Kim Siansky
Celina Bertoncini
Vivian Lee
Rhotochia Atkins Jones
Gia Merlo, MD

PPMNY Plantathon Team Hosts: Lianna Levine Reisner & Jim Spellos
Production: Jim Spellos
Green Room Management & Host: Britt van der Poel
Hora Español: Mare Gomez-Bolaños & Aifra Ruiz
Design & Communications: Britt van der Poel, Hope Escobedo Ansanelli, Holly Hatfield-Patel
Planning Team: Lianna Levine Reisner, Jim Spellos, Lynn Diamond, Holly Hatfield-Patel

While fried potato latkes and donuts may be a modern-day symbol of Hanukkah -- celebrating the long-lasting vial of oil in the desecrated temple -- they are mere customs. This Hanukkah, we invite you to put your health first with baked latkes, free of oil and eggs. Bind your latkes with a ground flaxmeal slurry, and pop them in the oven to get crispy!
Baked Potato Latkes⁠

⁠⁠Recipe courtesy of Chef Carole Levy, PPMNY Culinary Educator.

Ingredients:

1 Idaho potato, peeled and grated⁠
2 T grated white or red onion⁠
1 T ground flax seed + 3 T water (makes one flax "egg," equivalent to one egg)⁠
1 T flour (spelt, oat, or all-purpose)⁠

Instructions:

⁠1. Preheat the oven to 400°F.⁠
2. Line a baking sheet with parchment paper or Silpat baking mat. (This way you won't need any oil, and cleanup is a breeze!)⁠
3. Combine all ingredients in a large bowl and mix well.⁠
4. Split batter into individual latke portions. You should get 5-6 latkes.⁠
5. Bake for 20 minutes. Once the bottoms are brown, flip and cook until done for approximately another 20 minutes.⁠
6. Serve hot with unsweetened applesauce.⁠

For more healthy Hanukkah recipes, watch the replay of our Cooking with Chef Carole: Hanukkah Special from December 2020.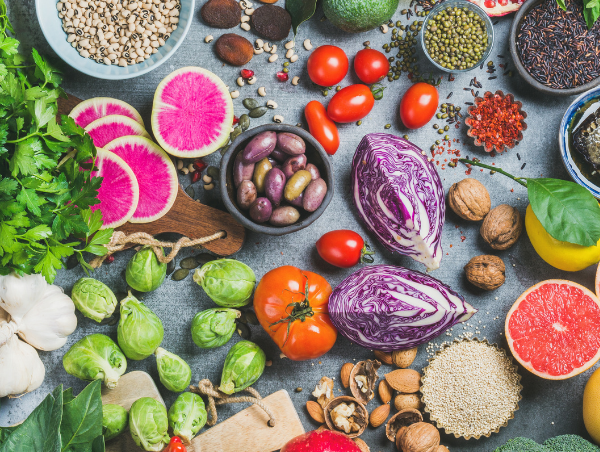 La semana pasada hablamos con Dr. Héctor Murillo, Médico certificado en Medicina de Estilo de Vida, sobre que ocurre en nuestro cuerpo cuando seguimos una alimentación a base de plantas, estilos de alimentación recomendados para combatir el diabetes, y mucho más. Mira aquí.

Inspired by Chef Brandy Cochrane's tips during our Crave This? Try That! Plantathon segment, Dr. Leigh Ettinger, PPMNY Medical Advisor, made plant-based "eggnog" topped with dairy-free whipped cream.

Kim Siansky, PPMNY Organizer, joined PPMNY Medical Advisor Dr. Lillie Rosenthal's podcast Power to the Patient, to share how she shifted her relationship with food and healed chronic knee inflammation. Listen here.

This holiday season, consider shopping with one of our affiliate partners. A portion of your purchase will be donated to PPMNY.
Let MamaSezz

do the cooking for you.

Choose the Holiday Bundle to enjoy classics like creamy scalloped potatoes, and cranberry-orange chutney but with a plant-based twist. Ready-made, whole food, plant based meals, delivered fresh to your home (and they're gluten-free, too).

Surprise them with the gift of a

Rouxbe Culinary Rx Online Nutrition and Cooking Course

.

You'll receive a 25% discount on tuition.

You can support PPMNY when you shop on Amazon! Amazon will send a small percentage of all your purchases to PPMNY when you're shopping at smile.amazon.com. Select "Plant Powered Metro New York, Inc." from the list of charities here.

Our mailing address: Plant Powered Metro New York, PO Box 20771, New York NY 10025

Plant Powered Metro New York empowers people to find better health and overcome chronic disease through whole food, plant-based nutrition. We offer evidence-based education, resources, and support to create community and inspire change throughout the New York metropolitan area.
Questions? Email us at info@ppmny.org.