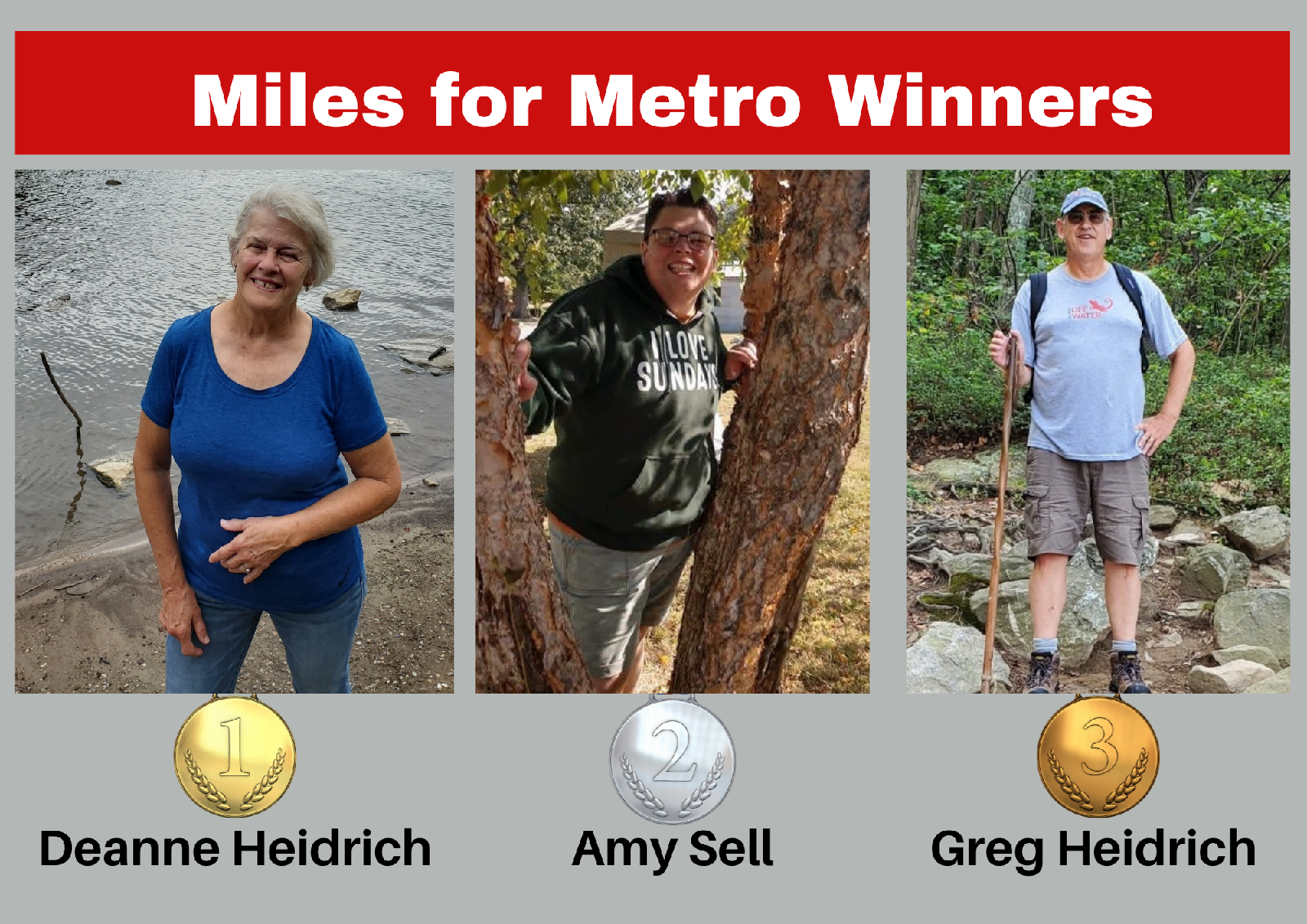 Miles for Metro 2021 Challenge is a wrap! Thank you to everyone who donated in support of Metro and our participants. Together, the participants made a little over one virtual lap around the Central District, having logged 220.68 miles during the 8-day challenge!
Who are our challenge winners? Finishing in first place, with an amazing 44.85 miles is Deanne Heidrich. Second place goes to Amy Sell, with 35.75 miles. Greg Heidrich trailed his spouse Deanne but held on to 3rd place with 30.85 miles. Well done, Deanne, Amy and Greg! Congrats and Thank You to all of the participants who put in Miles for Metro!
Thanks to the many generous donors and to our participants for registering, Metro raised a total of $6,161. This is the first step to our overall Miles for Metro Challenge goal to raise $100,000 by our 100th Anniversary, 2023. If you did not get a chance to contribute, you can still make a donation to this fundraiser through 11:59 pm tomorrow, September 9th.
Thank you for making this a fun challenge. Plan to join us next year for Miles for Metro 2022!
_______________________________________________
"How Can I Help?"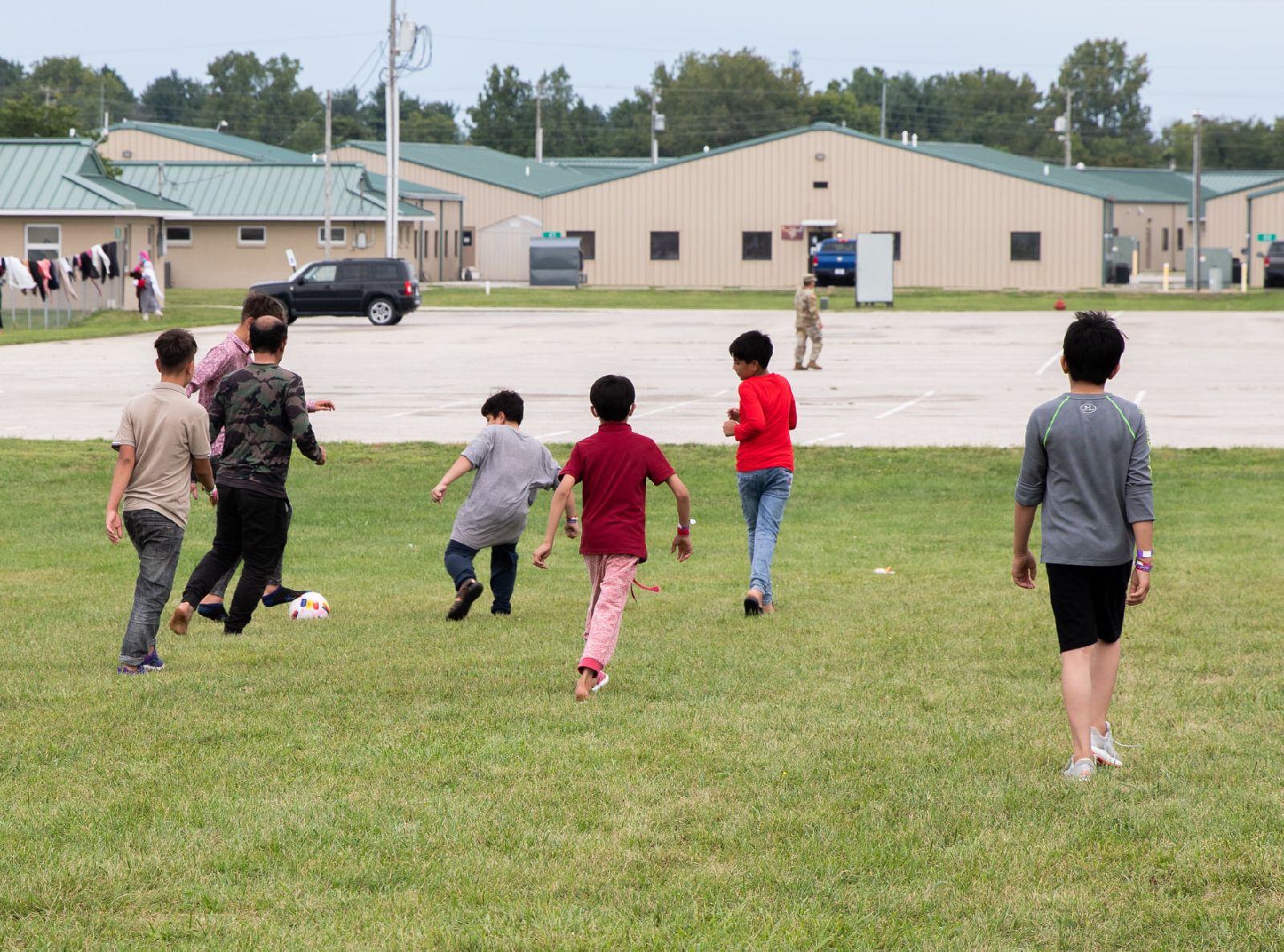 Photo credit: US Army/Sgt. Raekwon Jenkins
Early last week, it was announced that Camp Atterbury in Central Indiana had been approved by the Department of Defense as one of eight locations around the country that would provide temporary support to Afghan evacuees fleeing the country after the Taliban's takeover. Governor Eric Holcomb held a press conference last Wednesday, where he, along with Brigadier General Dale Lyles, Adjunct General of the Indiana National Guard, explained that over the next few weeks, up to 5,000 evacuees may be temporarily housed and processed for next steps in resettlement in Indiana and across the country.
The individuals will have been through a multi-agency and multi-layer vetting process before arriving at Camp Atterbury. Upon arrival they will go through an additional vetting cycle as well as medical screenings. This vetting cycle is expected to take 14 days, followed by next steps toward resettlement. Families will be connected with resettlement agencies, and in some cases, with family members who are already in the U.S. Governor Holcomb described this period as potentially taking "single digit weeks", where evacuees would be cycling through Camp Atterbury.
These evacuees, with their families in tow, have worked alongside US troops in Afghanistan over the course of the last twenty years and are now fleeing their homes in fear for their lives. They've left their homes, their livelihood and in many cases other family members and friends, for a chance at a new life. These families will now find themselves in southern Johnson County, Indiana, a place nothing like home, where nearly everything will be foreign. While they may not be fearing death upon their arrival here, I can only imagine the multitude of fears and doubts that they will experience, not to mention what the trauma of leaving must've been like for them.
Since last Wednesday, I have been invited to a few conversations and have been reading much local and state news and yes, have been following multiple organizations, groups and individuals on social media, trying to be best informed on what is happening. I've read and heard a lot of questions, concerns, fears, and no small amount of anger and disagreement about the anticipated arrival. Yet, as I read about the arrival a few days ago of the first several dozen evacuees, the voice I have chosen to listen to is the one that has asked "How can I help?". I've sought the best answers in a fairly fluid time to this question, to the question that I believe Jesus would ask and expects us to ask and respond to.
The following is what I've identified as ways to help now. First, the Indiana Chapter of the American Red Cross is charged with procuring immediate need hygiene and personal items, including a target of one change of clothes per person, for these folks while at Camp Atterbury. They are seeking financial contributions to help with this procurement. You can DONATE HERE to help meet this immediate need.
For the next phase of needs, Team Rubicon, a disaster response organization whose staff and volunteers are primarily veterans, will be managing the collection of donated items to assist evacuee families in their resettlement in the coming months. Download a listing of donation needs and information on Team Rubicon HERE.
The donated items will be collected at 5921 School House Rd, Edinburgh, IN 46124 Bldg 3022. Collections will begin Sunday, September 21, 2021 from 9:00 a.m. - 4:30 p.m. and every day after, until October 21, 2021. Team Rubicon will be collecting NEW ITEMS ONLY. Why only new items? Used goods would need to be sorted, laundered or cleaned and then packed for portability, and there will not be adequate time or volunteers to process the volume of goods needed for up to 5,000 men, women and children.
Stay tuned as we share other ways you can help show Radical Hospitality in the coming weeks.
_______________________________________________