November Newsletter
Our Impact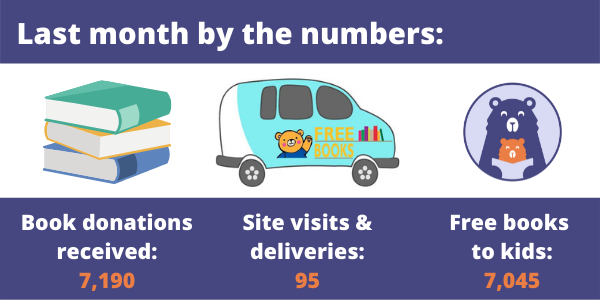 Reading Friends, to watch a child select a book and light up like a spark, to see them holding it close, dive in and explore, experience, learn, and grow, this is what we do! As we move into the cozy season, it fills my heart with joy to know that we are getting over 1500 books, each week, into the hands and hearts of the children, youth, and families, in our region who need them most. Thank you, together we are bringing the joy and promise of books and reading to all South Sound children.
Gratefully!
Jennifer W. Forster, Executive Director
Give Local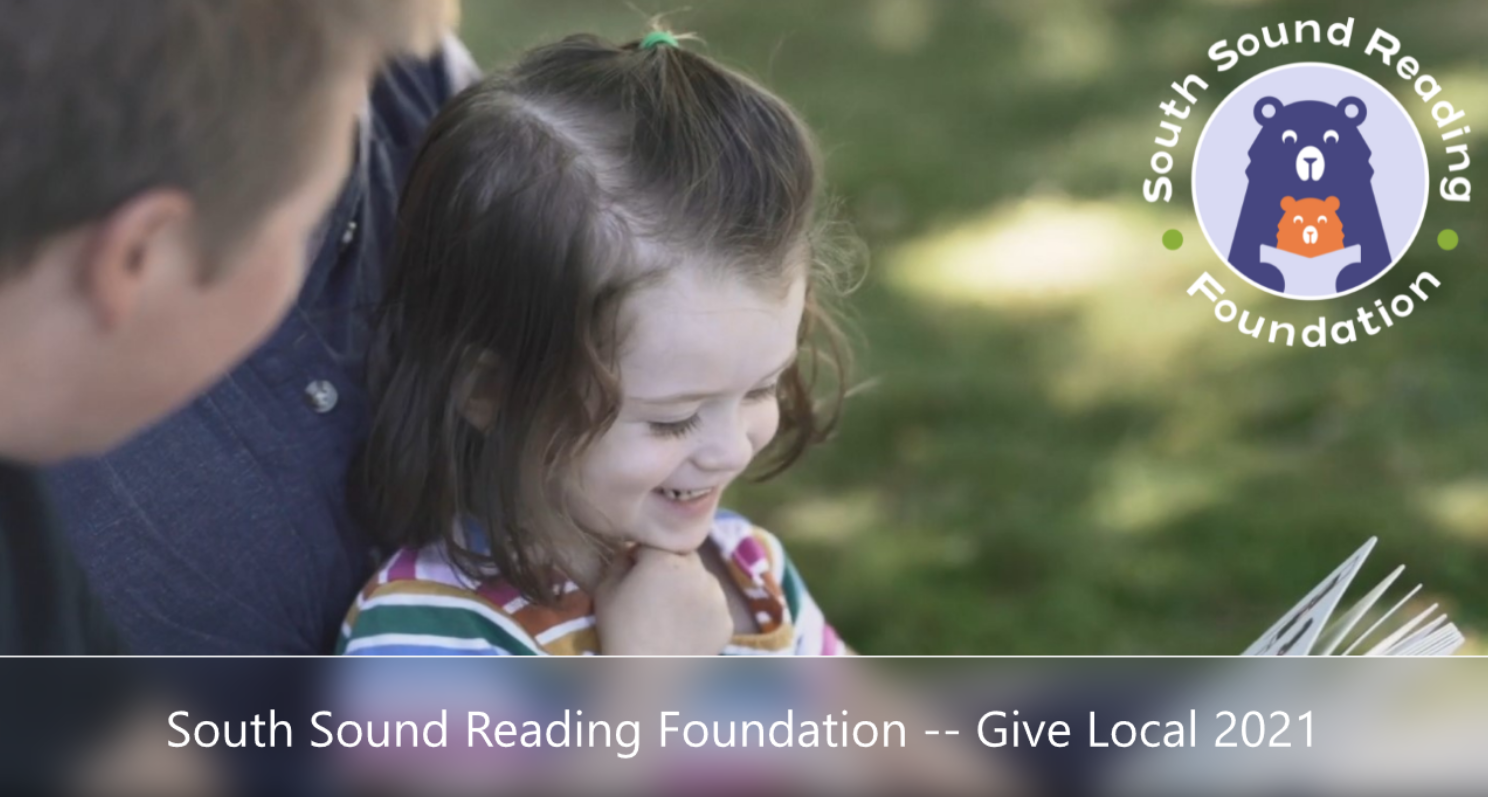 Give Where You Live through the Community Foundation's Give Local campaign, November 8th-19th. Please consider supporting our work through this important community wide campaign. More to come…

Book Donations Always Welcome
The Foundation is always in need of gently used children's books. You can donate your books at our office, Monday-Friday, 9am to 4:30pm.
We also have suggestions available on our Wish lists:
Su
pporter Spotlight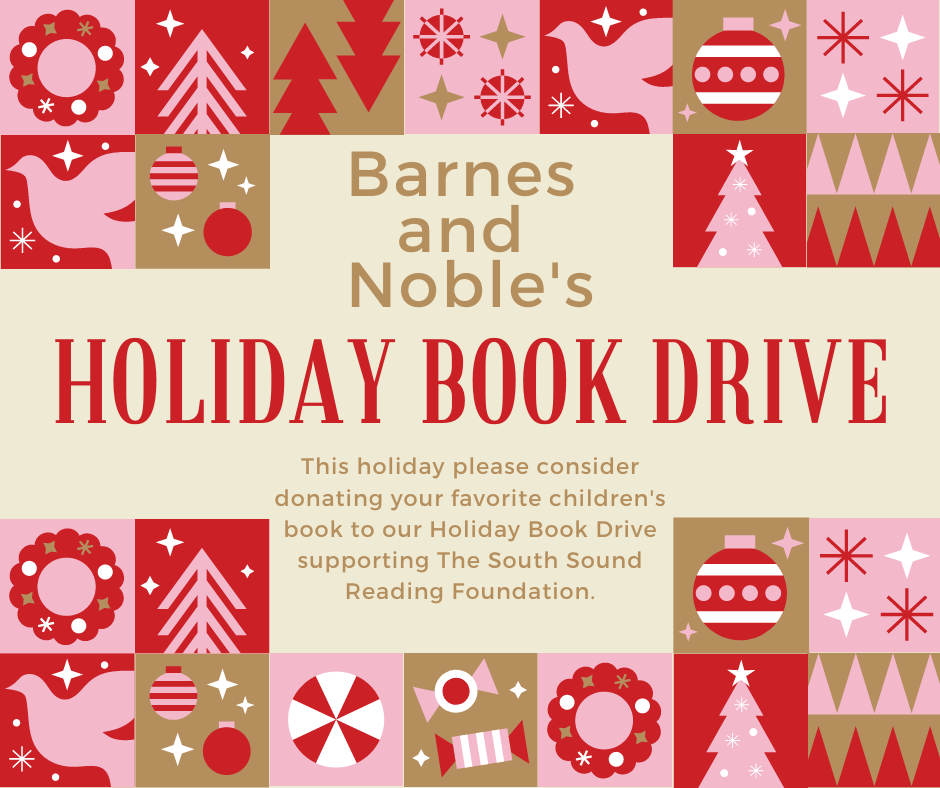 Thank you Barnes and Noble for hosting a book drive for the children, youth, and families we serve! If you are out and about please stop by Barnes and Noble and purchase and donate a few books to the drive.
Find Us On Social Media
Interested in the day-to-day goings on here at SSRF? Stay up to date by following us on Facebook and Instagram! We post Mission Moments, Partner Spotlights and Book Features every week. Here's a Mission Moment that our Book Program Coordinator Ben posted last month.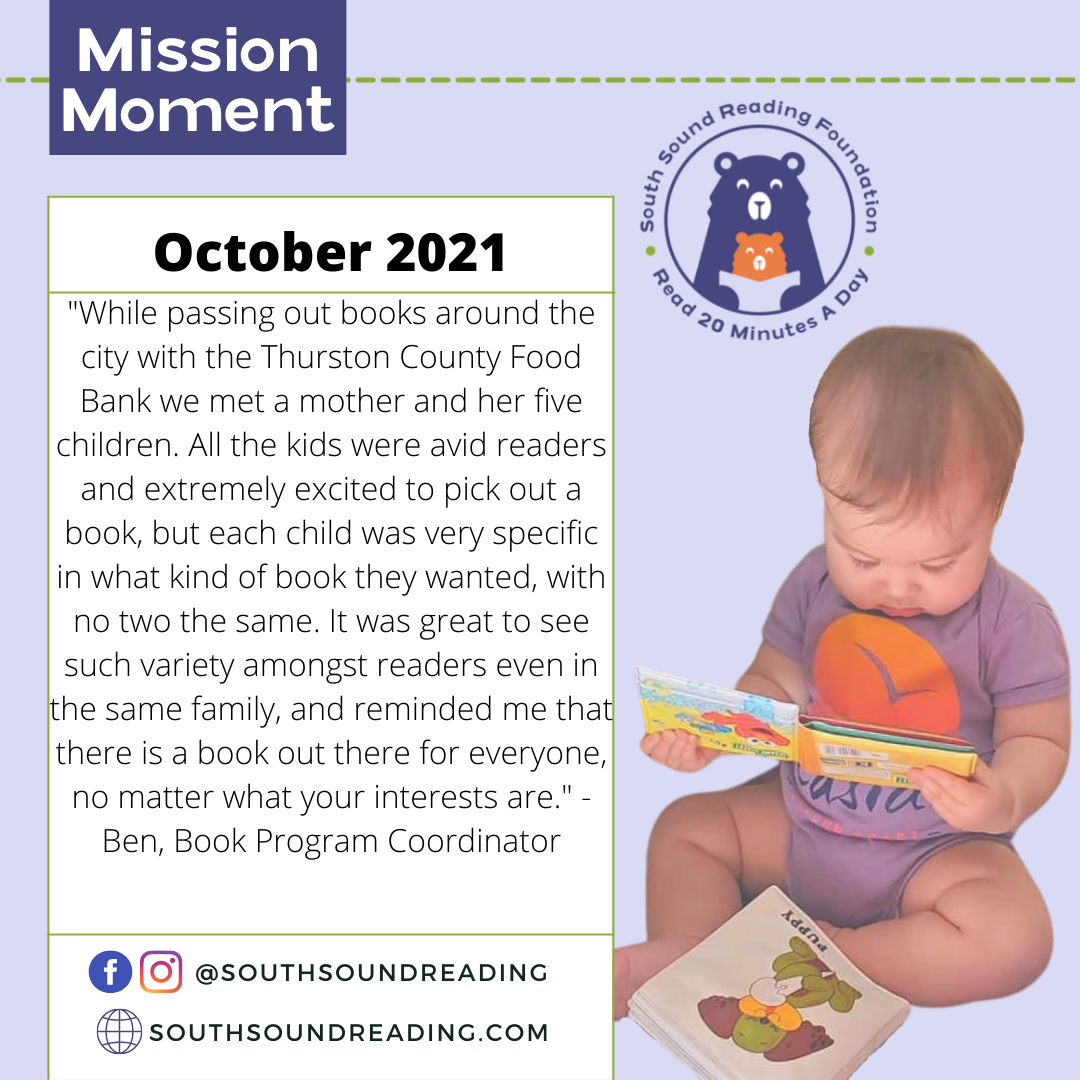 You can find us on Facebook at (https://www.facebook.com/southsoundreading)
and on Instagram at (https://www.instagram.com/southsoundreading/)
Volunteer Connections
We are so lucky to have such incredible partners that work to support our mission of bringing the joy and promise of reading to all South Sound children. Volunteers donated 131.5 hours of their time in October. That's a gift worth $1504!
Volunteer drop-in hours continue to be open every Tuesday and Thursday from 10am-12pm. Come help us refill our inventory by cleaning and snickering all the book donated to The Foundation. All interested volunteers should reach out to our Program Coordinator, Sarah Gage, at sgage@nthurston.k12.wa.us
Interested in volunteering? Connect with us here: https://www.southsoundreading.org/how-you-can-help/
Hiring Announcements
SSRF is now hiring for two permanent positions:
The Development Director is responsible for procuring agency and event sponsors, cultivating donors, playing a key role in planning agency fundraising events, and overseeing the agency's long term marketing strategy.
Salary: $20-$30/hour, depending on experience.
Hours: 20-30/week
More information and application here: https://www.facebook.com/job_opening/1296678670764968/?source=share
The Book Program Coordinator is responsible for providing literacy programming. In our book van, travel throughout Thurston and Mason Counties visiting low income housing units, after school programs, and schools. Collect and distribute free books and literacy information. Room for creativity in programming; want to create/run a writing workshop, tutoring program, etc?
Salary: $14-$15/hour depending on experience.
Flexible schedule needed (may need to work some afternoons and weekends).
More information and application here: https://www.facebook.com/job_opening/169280121745701/?source=share
Ways to help us celebrate all year!
Visit our website and follow us on Facebook to learn more about our programs or request services!
Program Sponsors
Thank you, Sponsors, for your incredible commitment to children's literacy!
Books for Kids
Bean, Gentry, Wheeler, Peternell, PLLC
Book Van
Small to Tall Pediatric Dentistry
Books for the Break
WSECU Credit Union
Panorama Retirement Community, Lacey
Born to Read
Washington 529 College Savings Plans
Literacy Bookshelves
Connect with Me
Read to Me
Washington 529 College Savings Plans
Books for Babies
Olympia Pediatrics
Washington 529 College Savings Plans