If you're having trouble viewing this email, you can see it online.
Run, Walk, Roll for Brain Injury is a success



The weather in Bucks County, Pa., on Saturday, September 18 was perfect. The blue sky and warm breeze seemed to reflect the joy members of the brain injury community shared in gathering in-person for the first time in a very long time.
The annual Run, Walk, Roll for Brain Injury to benefit BIAPA and Camp Cranium, a camp for children with brain injuries, is eagerly anticipated by participants. Unfortunately, the 2020 event was postponed due to Covid-19 restrictions. So it was with great joy that runners, walkers and rollers were able to gather after a 17-month hiatus at Tyler State Park in Richboro, Pa.
Thanks to everyone who participated and supported the individuals and teams who turned out for this special event, which raised more than $12,000 to support the Brain Injury Association and Camp Cranium. Congratulations to Heads on Straight, the top fundraising team, which raised $3,307.

It was inspiring to see so many friends gather embodying the hashtag #NotAloneinBrainInjury! Photos from the event are on the BIAPA Facebook page: facebook.com/BIAPenn.
Plans are already under way for a 2022 Run, Walk, Roll for Brain Injury. Stay tuned for details!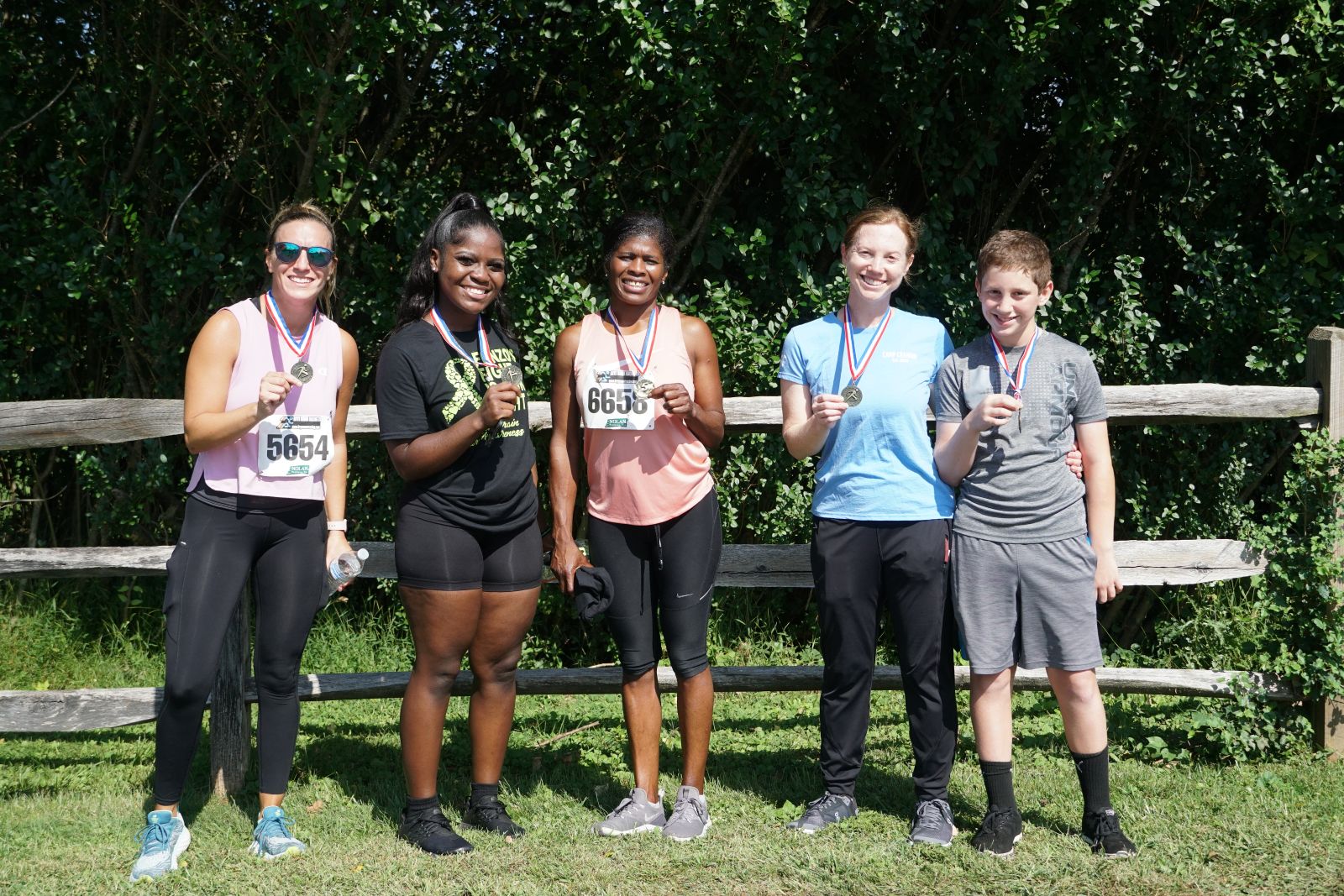 A few of the 2021 Run, Walk, Roll for Brain Injury medalists.
Jon Kaplan raises $5,911 for BIAPA
Congratulations and thanks to Jon Kaplan, who raised $5,911 for BIAPA through his Miles for CA campaign.
In August, Kaplan participated the legendary Leadville 100 Trail Run, an ultramarathon held annually on rugged trails and dirt roads near Leadville, Colorado, through the heart of the Rocky Mountains. He dedicated his participation to the memory of his cousin Corey Andy, who sustained a brain injury, and invited friends to donate to BIAPA in support of him and Corey Andy's memory.
BIAPA is grateful to Jon for tackling this grueling event only a few months after graduating from Notre Dame University. Unfortunately, he had to medically withdraw at mile 40 due to a knee injury, and we wish him a speedy and complete recovery. His commitment to Corey Andy's memory and to the Brain Injury Association of Pennsylvania's mission and vision are an inspiration for us all.
Encompass Health Rehabilitation Hospital of Sewickley joins the




Brain Injury

Ambassador Program
The Pennsylvania Brain Injury Ambassador Program seeks to increase awareness about brain injury and let people know there is hope and help available. Brain Injury Ambassadors establish contact with families of persons who recently sustained a brain injury while they are still in the hospital to share resources, invite them to receive the BIAPA Newsletter, and let them know about the Brain Injury Resource Line (BIRL), which they can call if they need help at any point in the the future.
This month we are pleased to announce a new partner to this program - Encompass Health Rehabilitation Hospital of Sewickley We've begun to connect with families of individuals who are receiving inpatient brain injury rehabilitation at Encompass Health Rehabilitation Hospital of Sewickley through this program, and we look forward to a productive partnership.
Current partners in the Pennsylvania Brain Injury Ambassador Program include:
Allegheny Valley Hospital

Bryn Mawr Rehab

Children's Hospital of Philadelphia

Encompass Health Rehabilitation Hospital of Sewickley

Good Shepherd Rehabilitation Network

Magee Rehabilitation Hospital

MossRehab

West Penn Rehab of the Allegheny Health Syst

em
Other acute rehabilitation hospitals around the Commonwealth interested in participating in the Brain Injury Ambassador Program should contact Monica Vaccaro, BIAPA Director of Programs at vaccaro@biapa.org.
Support Group Corner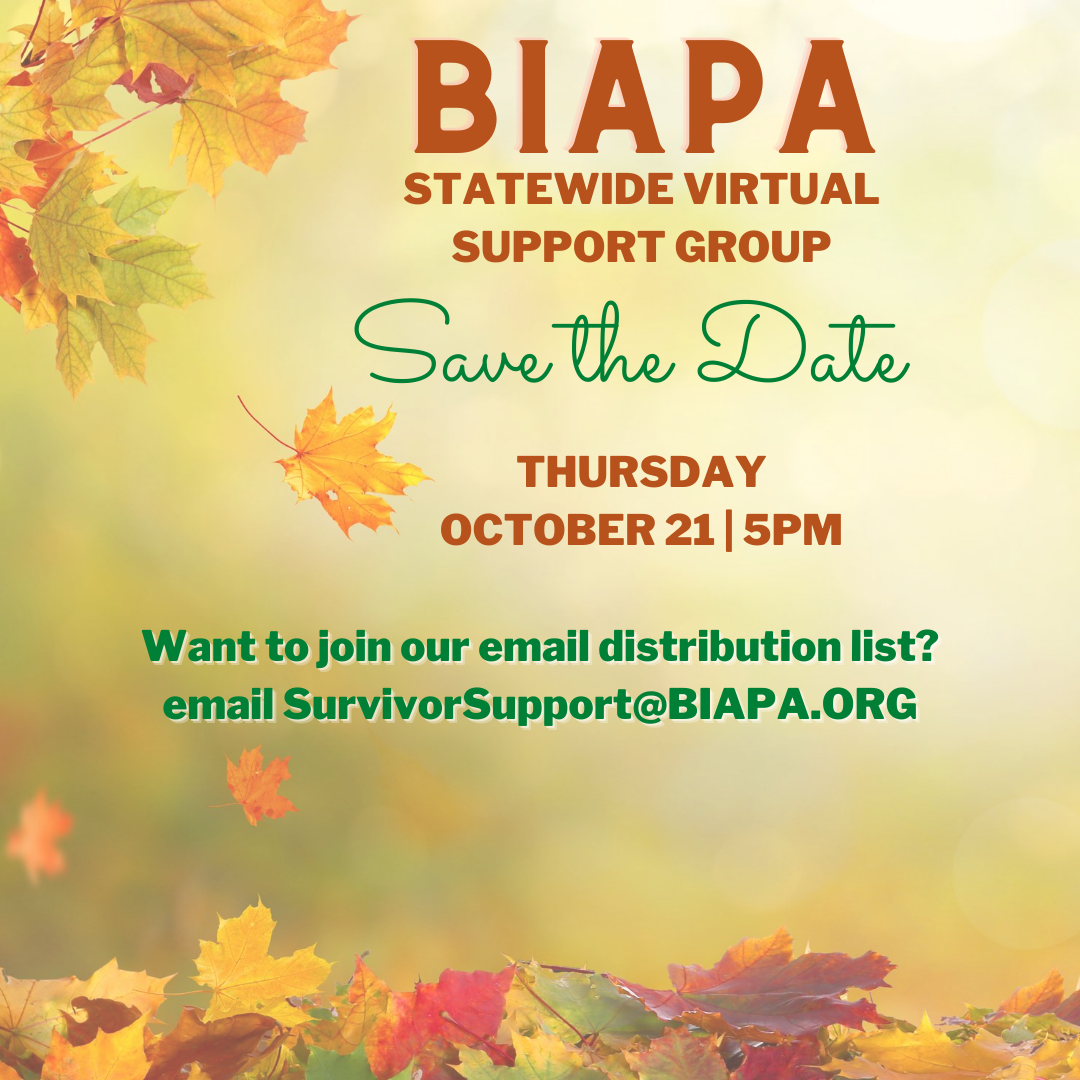 Our next Statewide Virtual Support Group will take place on Thursday, October 21st. Please email survivorsupport@biapa.org if you would like to be included on the distribution list to receive an invitation and link to the zoom meeting. Our special guest will be is Marlene Rivera from ReDiscoverU, who will talk about opportunities to participate in activities that are available through that program.
A full list of all of Pennsylvania's support groups, with contact information for each, is on the BIAPA website's Support Group Listing Page. If you are aware of groups that are meeting through videoconferencing, please contact Candace Gantt, BIAPA Vice-President, at candace.gannt@verizon.net, so we can let others know.


Annual Conference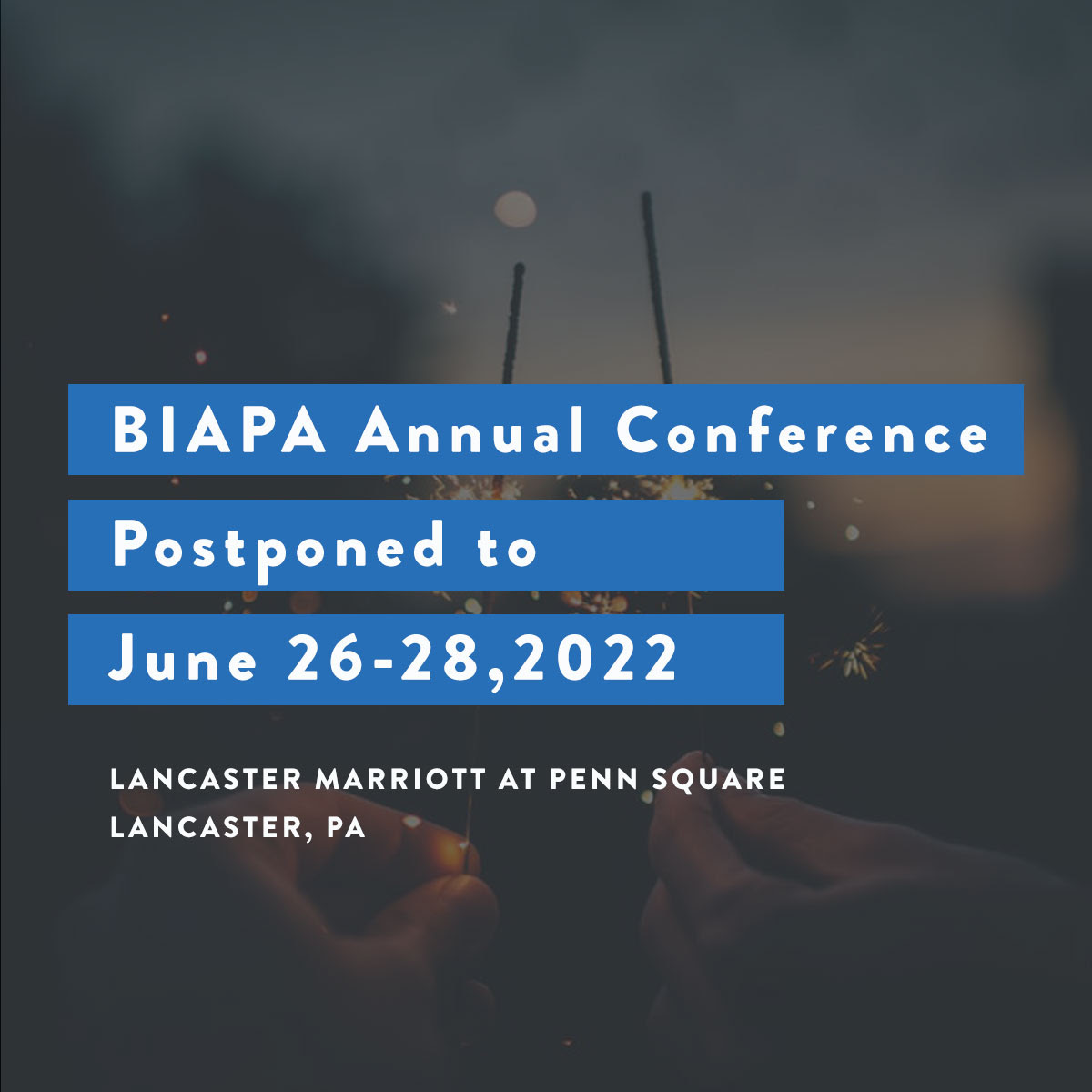 Mark your calendars for the BIAPA's Annual Conference: Celebrating Connections and Collaboration in Brain Injury Rehabilitation, which will be held June 26 - 28, 2022. With this new date, we hope to safely gather and experience the conference as we originally planned at the Lancaster Marriott at Penn Square in Lancaster, PA.

If you have any questions or concerns, please email conference@biapa.org.
Thank you to our Corporate Partners
Platinum Partners





Gold Partners

Silver Partners
_____________________________________________________________
Brain Injury Association of Pennsylvania
MAILING ADDRESS
947 Wayne Avenue, No. 110
Chambersburg, PA 17201
Phone/Fax: 833-242-7248