Risk Taking Service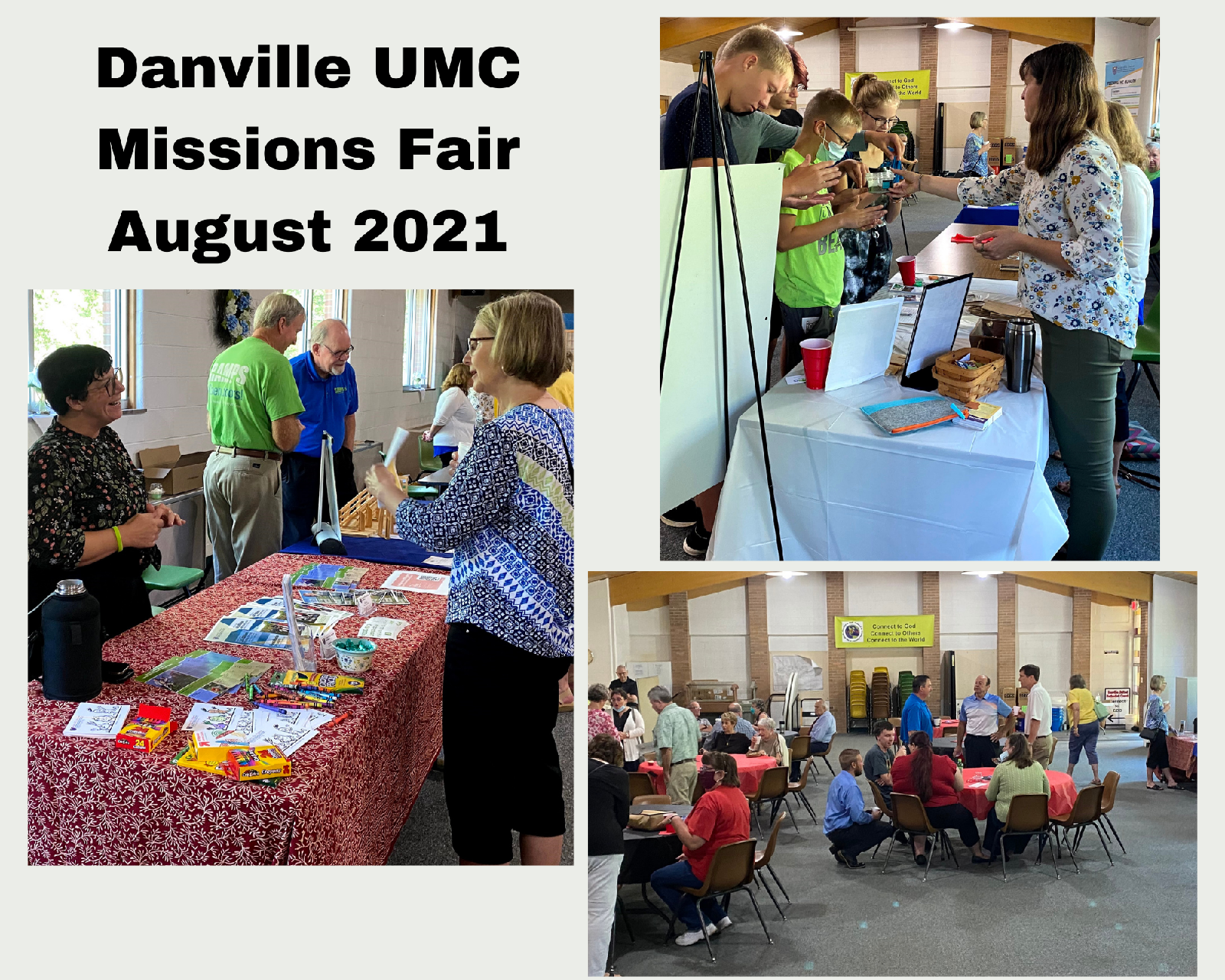 I was invited to speak at Danville UMC this past Sunday for their Risk-Taking Mission & Service Sunday. The church also hosted a small Missions Fair between services. Five organizations were represented and had the opportunity to share their respective missions and needs. I spoke a little bit about each of these organizations during both services, focusing on their risk-taking. I'd like to share some of my thoughts today.
Fletcher Place Community Center is a familiar organization to many of you and is known for a multitude of programs serving their community. I imagine they likely face the risk of something happening to one of the children in the care of their REACH Early Learning preschool or that one or more parents may not agree with a decision the administrators and staff make in what they believe to be in the best interest of the children. I wonder if they face a risk with their Meals programs, that the church signed up to provide a given day's meal don't show up, or if in their Community Garden, that someone might harvest for themselves on a Friday, leaving no tomatoes, peppers, kale or collards for Saturday morning's garden stand.
Society of St. Andrew works to partner with local farmers to prevent food from going to waste and works with a volunteer base to help glean excess produce and get it to food pantries and food banks for quick distribution to individuals in need. I imagine their risks include farmers not willing to partner, not being able to align harvest with area food pantry schedules or not getting enough volunteers for their short-notice callouts to glean corn in Pittsboro, cabbage in Shelbyville or apples in Sheridan.
SAWs builds external ramps for seniors and folks with disabilities who cannot afford to have them built themselves. Without accessible ramps, many are unable to leave their homes without medical assistance, often relying on an ambulance or fire department EMT run to get them to doctor appointments or dialysis treatments. SAWs is heavily dependent on three things: able-bodied volunteers, wood and other materials, and the ability to -re-assemble ramps in a warehouse before taking them to homesites for the remainder of the construction and installation. You can imagine the risks they faced in 2020: lack of able-bodied volunteers, the shortage of and significant price increase in materials and the inability to have several people gather in their warehouse at one time due to need for social distancing.
STRIVE Worldwide, a fairly new organization, focuses on addressing human and environment needs, both locally and globally, with long-term sustainable solutions. Last year, their leadership had planned to hold the first Eco-Camp at Union Chapel UMC during fall break 2020. They had partnered with Washington Township's Opportunity School, an alternative school for at-risk middle-schoolers. You may have guessed their program did not happen last year. (Watch for it this year though!)
Shared Blessings Food Pantry is housed at Danville UMC and operates through a partnership with multiple churches in Hendricks County. I imagine the risks the pantry faces include not enough food donations, not enough volunteers and maybess the risk that someone may take more than their share, risking the ability to serve everyone lined up for the day.
How do these organizations deal with these and other risks they face to keep doing their work? They have procedures and guidelines, they have contingency plans, they rely on strong support from their respective boards and volunteers, they rely on financial support of churches, businesses and individuals so they can have adequate safety nets for their programs. And if they do fall short, if they do have to pause their work or cancel an event, they do not give up. They make short-term adjustments so they can keep living out their respective missions over the long haul.
Why do these ministries continue in spite of the risks? These risks aren't unique just to these organizations. Serving others is risky business! There is no guarantee of success. Not only is there no guarantee of success, but success is not defined by the servants, it is defined by those served. Are their lives better? Are their children safer and healthier? Are fewer people hungry? For all of us who engage in risk-taking service, we must do so without expectation of personal, organizational or heavenly gain, because it is not about us. Yet, it cannot happen without us. So we constantly work on sustainable models for our ministry and organizational success, with our eyes always on our mission and vision.
As Christ followers, I believe that we are called to take these risks. It is my hope that we, as individuals and collectively, serve our brothers and sisters in whatever ways we are called to serve, not because of anticipated gratitude or praise, not because we feel we should, not to help us look better in God's or someone else's eyes, but rather we do it because it is what Jesus did, what Jesus would do even in today's world, especially in today's world, and it is what He would have us to do.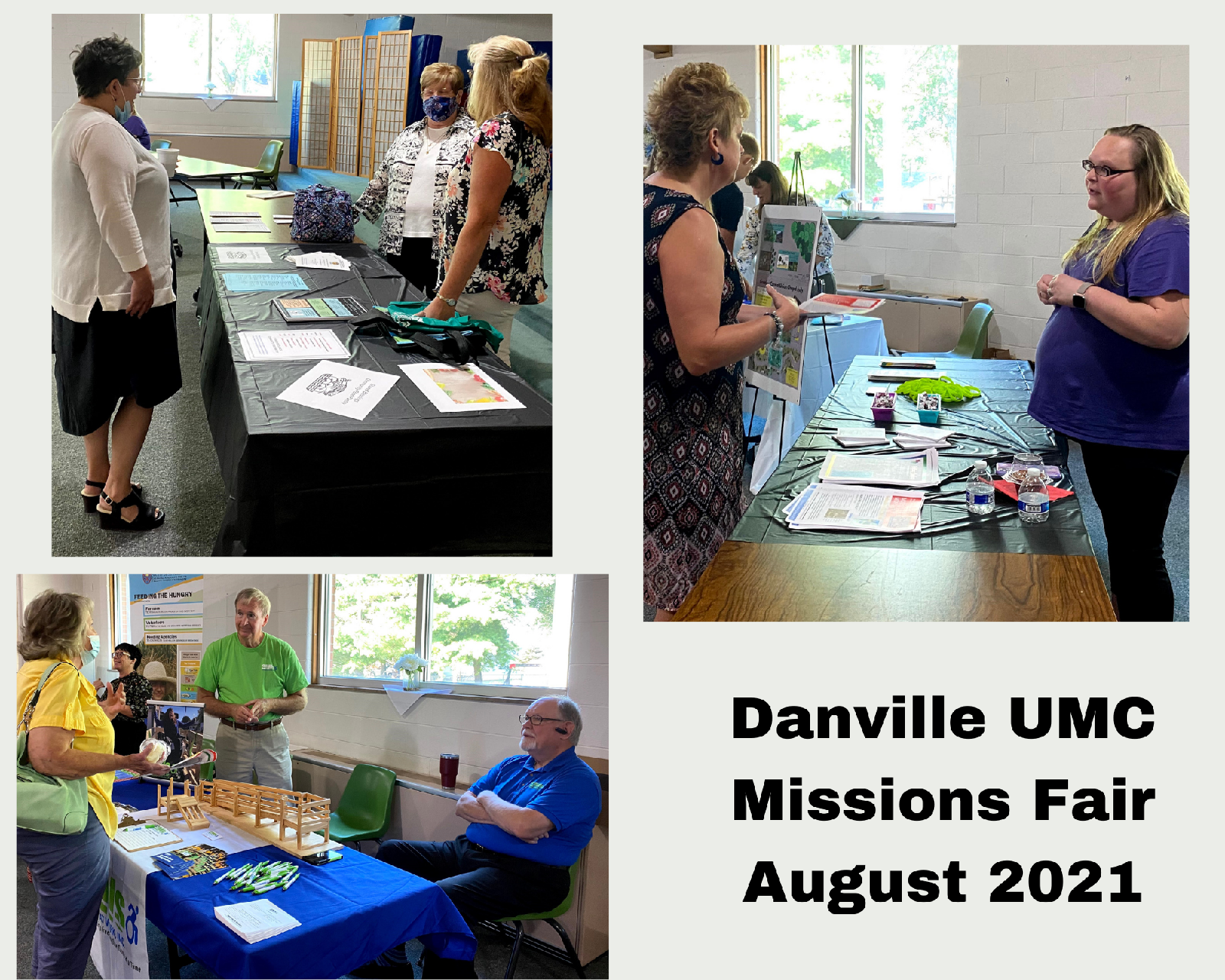 _______________________________________________
Eastside Pack Away Hunger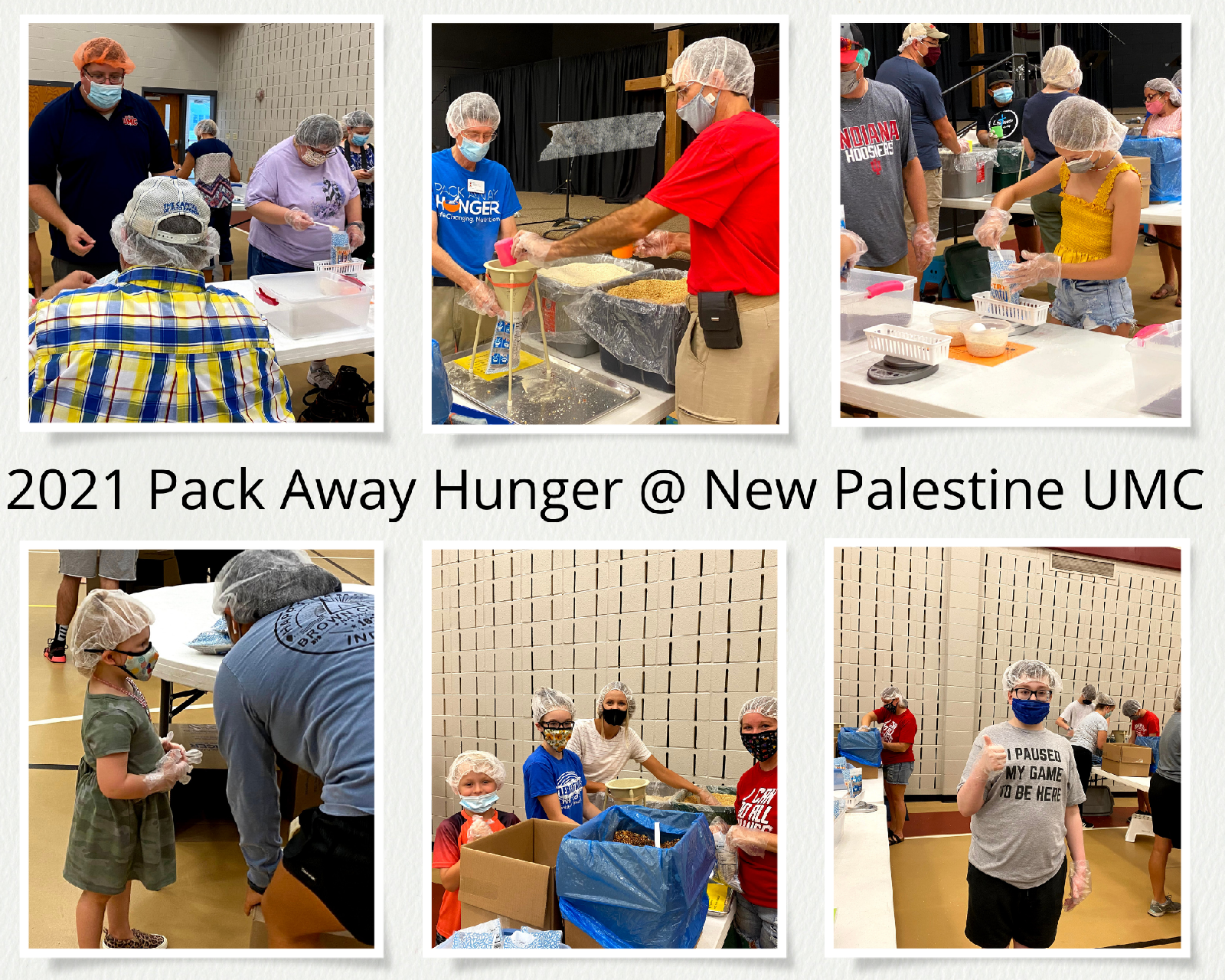 Rev. Anthony Stone, senior pastor at New Palestine UMC, has a special connection to Pack Away Hunger meal packet events. While appointed at Lebanon Centenary UMC from 2013 - 2019, he was introduced to his first meal packing event. In 2016, he helped coordinate that year's event, and later that same year, he led a trip to Mission Guatemala. One of the things he and his team were asked to do was unload a shipment of meals from Pack Away Hunger.
When they started unloading the boxes, he soon realized that he was unloading meals that had been packed at his church months earlier. Later that day, the Mission Guatemala staff prepared dinner for Rev. Anthony and his Missions team, from the meals they had just received.
When he returned home, Rev. Anthony made sure the events continued to be an annual mission and service project for the church. When he moved to New Palestine in 2019, he partnered with two other neighboring churches for the first eastside Pack Away Hunger event, which was a huge success. When 2020's event had to be cancelled, he was beyond disappointed.
This year, New Palestine UMC partnered with four other United Methodist churches: Mt. Comfort, Cumberland, McCordsville and Gateway CC at Fortville. The church leaders set a challenging goal of 50,000 meals to be packed across two 2-hour shifts. The first shift of 104 volunteers packed over 28,000 meals, and the second shift of 87 volunteers brought it home with over 22,000 meals, for a grand total of 50,328 meals packed and ready to ship to Guatemala.
As these snapshots show, folks of all ages from across the five churches joined in the fun. Well done, Eastside Churches!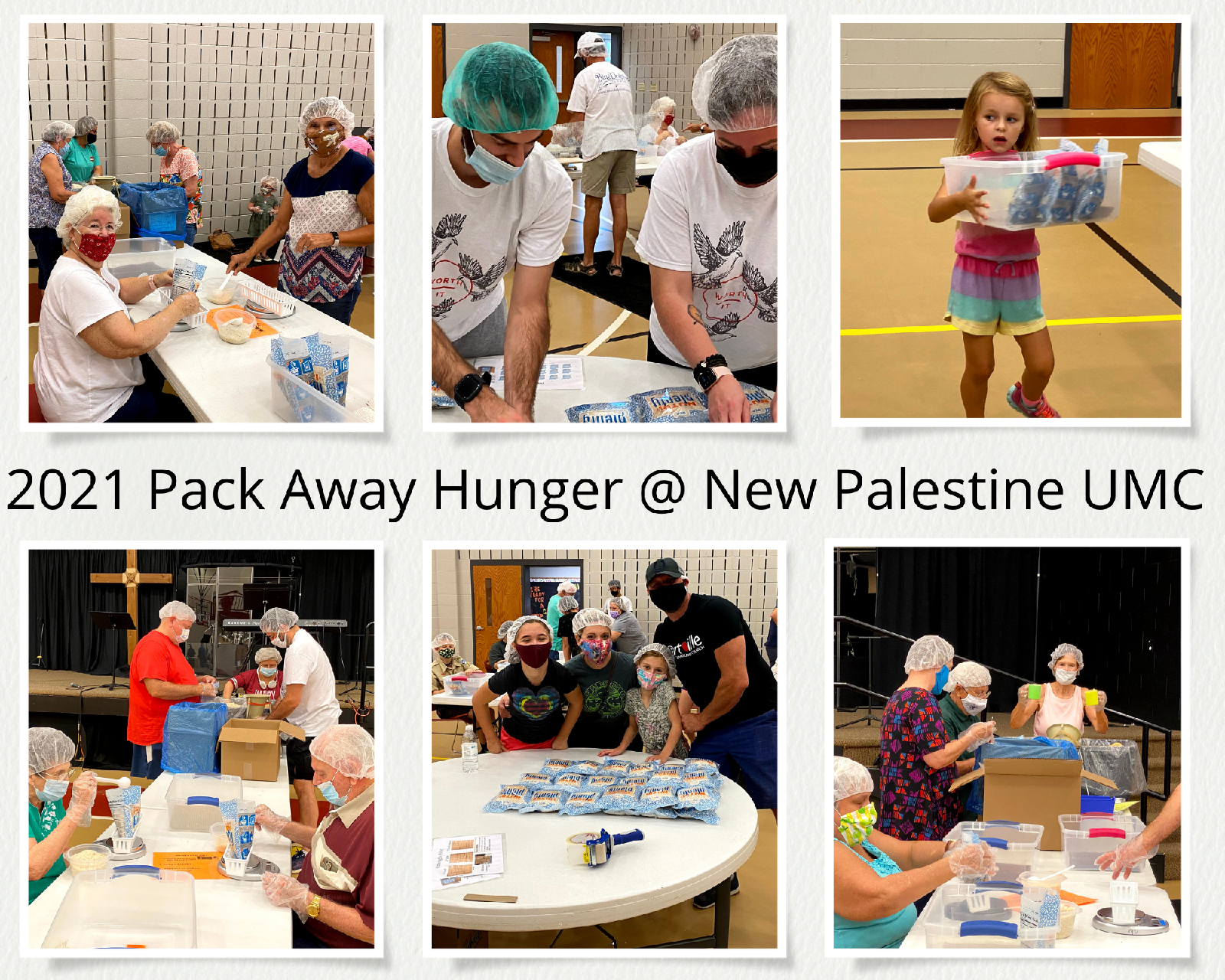 _______________________________________________
Miles for Metro Registration Closes 8/27!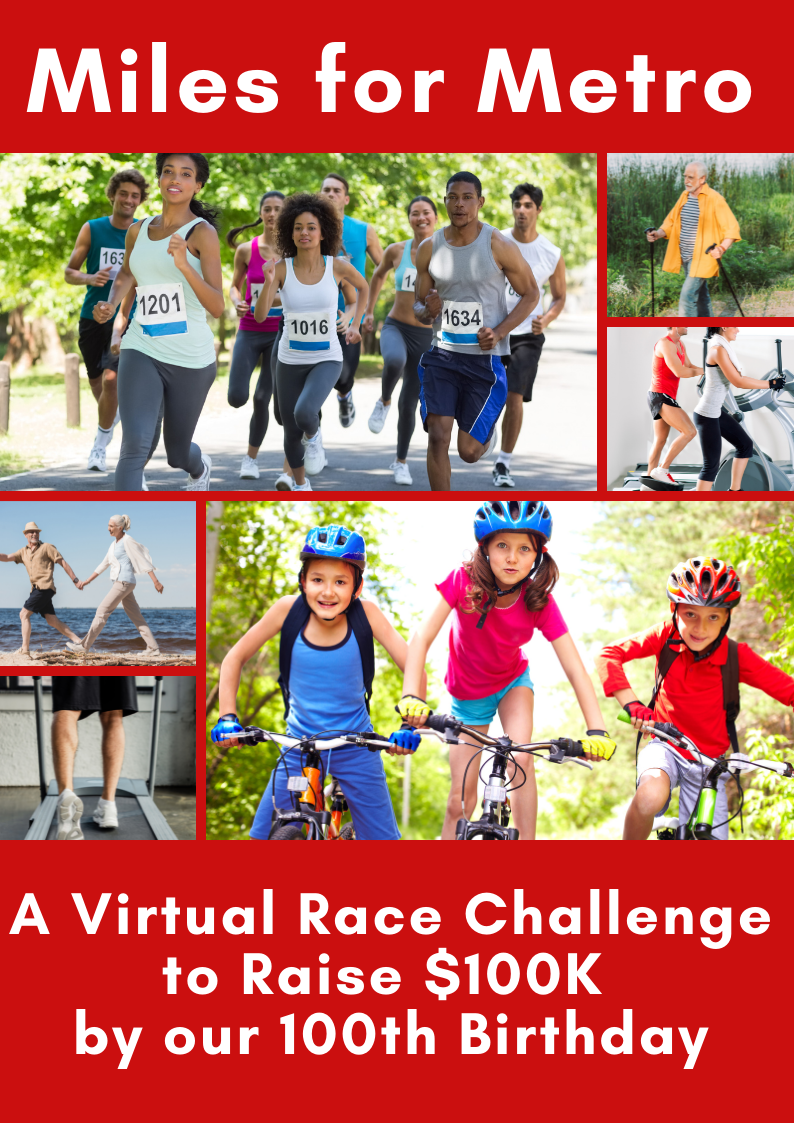 Have you signed up to walk Miles for Metro yet? Registration closes this Saturday 8/27 at midnight. Will you join us in this week-long challenge?
Registration is $20/person, with children 12 and younger registering for free! Have a friendly competition amongst your family, your friends, your church members or your co-workers.
Click to sign up today and accept this challenge!
We encourage you to join the challenge and either be a fundraiser or make a donation to one of our other fundraisers. You will have the ability to create your own personal fundraiser link to share with folks in your circle to raise funds for Miles for Metro. If accumulating miles is not for you, you can still become a fundraiser without registering for the event.
You can also make a direct donation towards our goal. You can choose to make your donation anonymously, in support of an individual fundraiser, on behalf of yourself, or in honor or memory of someone special to you.
Why are we doing this? We envision repeating this challenge every year and hope to raise $100,000 by 2023, Metro's 100th Anniversary. Register, fundraise and/or donate! Get started today!
Top fundraisers and those recording the most miles by age categories will be recognized at the conclusion of the challenge.
All funds will go directly to growing Metro's Grants programs. Imagine how we might, together, impact children and youth and their families across Central Indiana. Will you accept this challenge?
_______________________________________________