If you're having trouble viewing this email, you can see it online.
PSI VOLUNTEERS
We can't do it without you!
PSI's annual volunteer meeting was held Saturday, October 16th. The meeting was an opportunity for our peer support volunteers to gather and reflect on the past year, while also keeping an eye to the future. PSI programs represented included English and Spanish HelpLine, Support Coordinators, Peer Mentors, Facebook Group Administrators, Support Group Facilitators and Climb out of the Darkness Leaders. "It's so important to create time to be together and really honor the experiences of our volunteers," said Carrie Banks, PSI's Volunteer Services Director. "The majority of those who volunteer in our programs are called to this work through their own lived experiences with perinatal mental health challenges. The ability to turn that difficult experience into purpose, helping those currently struggling, is so powerful and can also further the healing process for survivors." PSI is so grateful to our hundreds of volunteers who help families every single day. Peer support is such an integral part of PSI's mission and volunteers are the very heart of that work.
We would not be able to provide the services to help-seekers every day without our committed volunteers.
PSI has many volunteer opportunities available. If you are interested in learning more, see below or visit our volunteer page to learn more.
---
PSI STATE CHAPTERS
State Chapters- Board Openings
PSI State Chapters advance the mission of PSI on the state level and help to build systems that support families while also increasing access to education and treatment for perinatal mental health. Chapter leaders work to raise awareness, create resources, and advocate for change. Several of our State Chapters are currently recruiting board members. If you are interested in learning more about open positions, please reach out to the email below
YOU CAN MAKE A DIFFERENCE EVERYDAY
Become a PSI Support Coordinator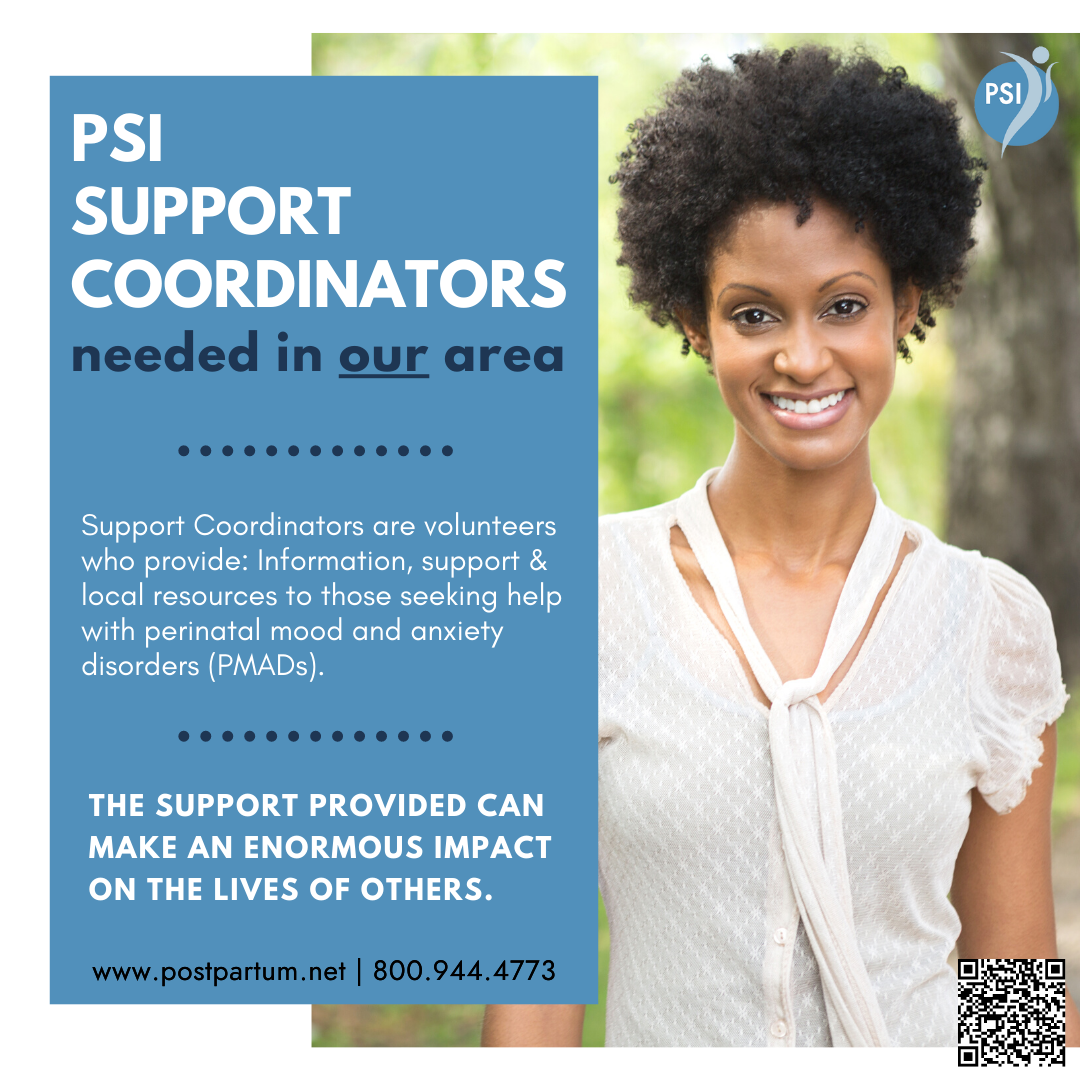 We are in need of help in states, provinces, and areas across North America. Apply below to learn more. Training is available for all support coordinators.
Do you live in Oklahoma or Arkansas? Do you know someone who does? We are actively recruiting for these areas, apply today or pass on to someone you know.
We are recruiting in many areas across North America. There may be an opportunity in your area, or a need based on your lived experience. View the full list and apply.
---
ONLINE SUPPORT GROUPS
Come as you are and join other parents in one of our many online support groups. The environment is very casual, and babies and children are welcome. You are not alone, and we are here for you.
For a full list of Online Support Groups or to register visit our page here.
Download or view the support group weekly schedule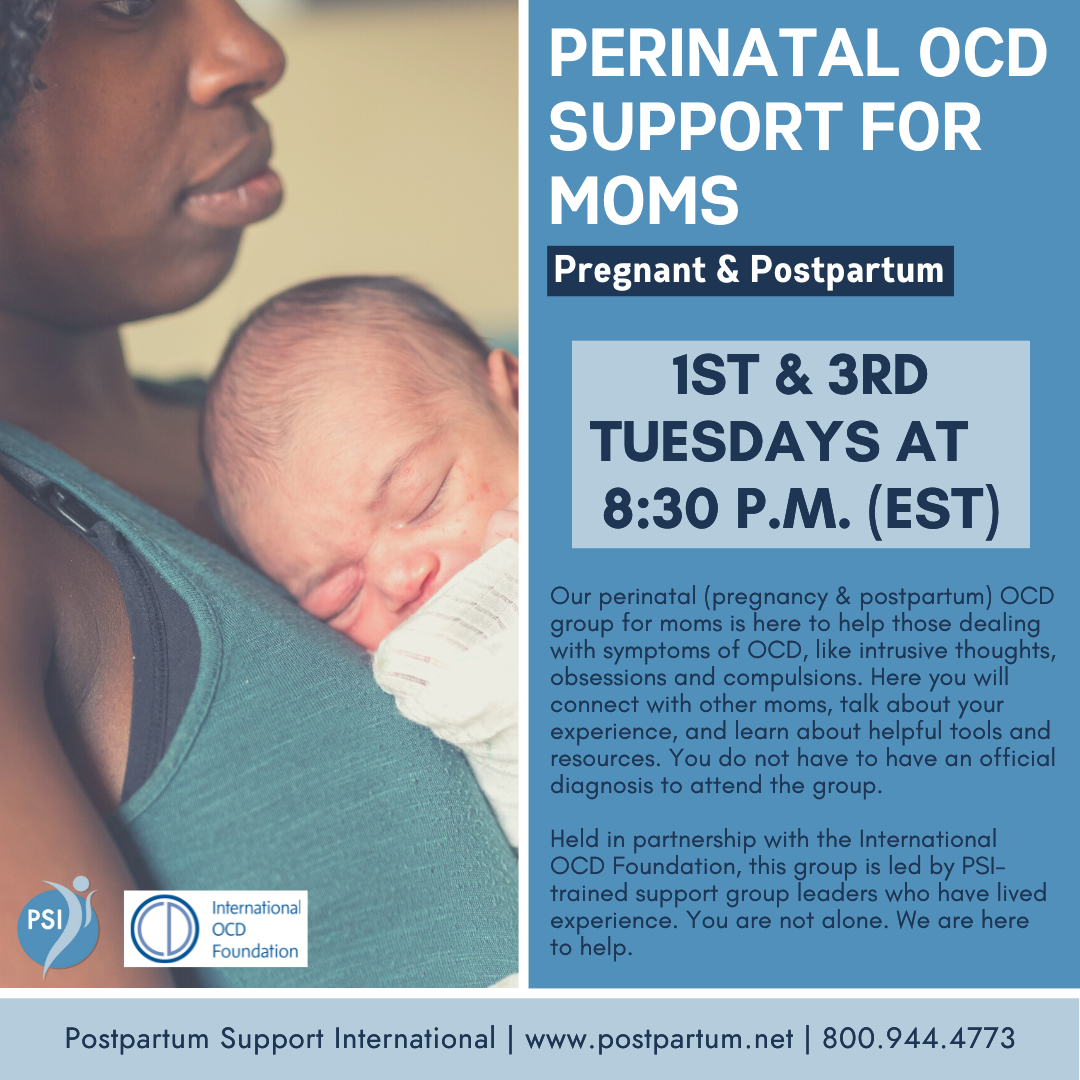 PSI is in search of a support group leader for the Termination for Medical Reasons group. If you are interested in learning more, please contact groups@postpartum.net.
---
CLIMB OUT OF THE DARKNESS
Leader training starts next month
The Climb will be celebrating its 10th anniversary in 2022! Climb Leader training starts in November 2022 for the Climb season! Interested? Check out the links below to get started.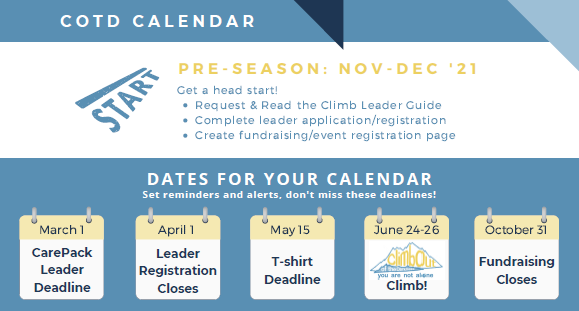 Act Now to Secure Critical Investments in Maternal Mental Health
Negotiations on President Biden's Build Back Better Act are continuing.
The
act is a large funding bill that establishes programs and modifies provisions in a broad array of areas, including education, health care, labor,
the
environment, taxes, and immigration.
The
package was approximately $3.5 trillion in
the
House that will likely be scaled back due to opposition from key legislators in
the
Senate who oppose a package of this size. This will force hard choices about which provisions remain and which are cut.
It is now more crucial than ever to elevate

the

urgent importance of ensuring

the

maternal health and maternal mental health provisions are not removed or scaled back in

the

final Build Back Better Act.
---
2-DAY COMPONENTS OF CARE AND ADVANCED TRAINING
All training dates offer the 2-day Components of Care, Advanced Psychotherapy, and Advanced Psychopharmacology (unless marked)
Online Trainings
In-Person Trainings 2022
---
CONGRATULATIONS PMH-C RECIPIENTS
We welcomed 103 new PMH-C's in September 2021
Do you have questions about the PMH-C? PSI hosts a monthly call where we can answer your questions! The PMH-C call is the perfect time to have questions answered about qualifications, exam preparation, trainings, etc.
Join us for the FAQ Chat on Zoom First Friday @ 1 pm PST/4EST Register for the call here.
We are now offering the option to have a professionally printed version of your PMH-C certificate. The certificate is for those providers who have already passed the PMH-C exam, and are PMH-C Certified. Visit the store to order!
Perinatal Mental Health Certificate (PMH-C)
September 2021
You can find the full list of PMH-C recipients HERE