Save the Date
for the Bethlehem Farm
Virtual Benefit!
This year, our live Benefit production will be sometime during the week of December 6-11. Grab a seat in front of the fire, pop some popcorn, and join us as we celebrate a year of service, prayer, community, and simplicity!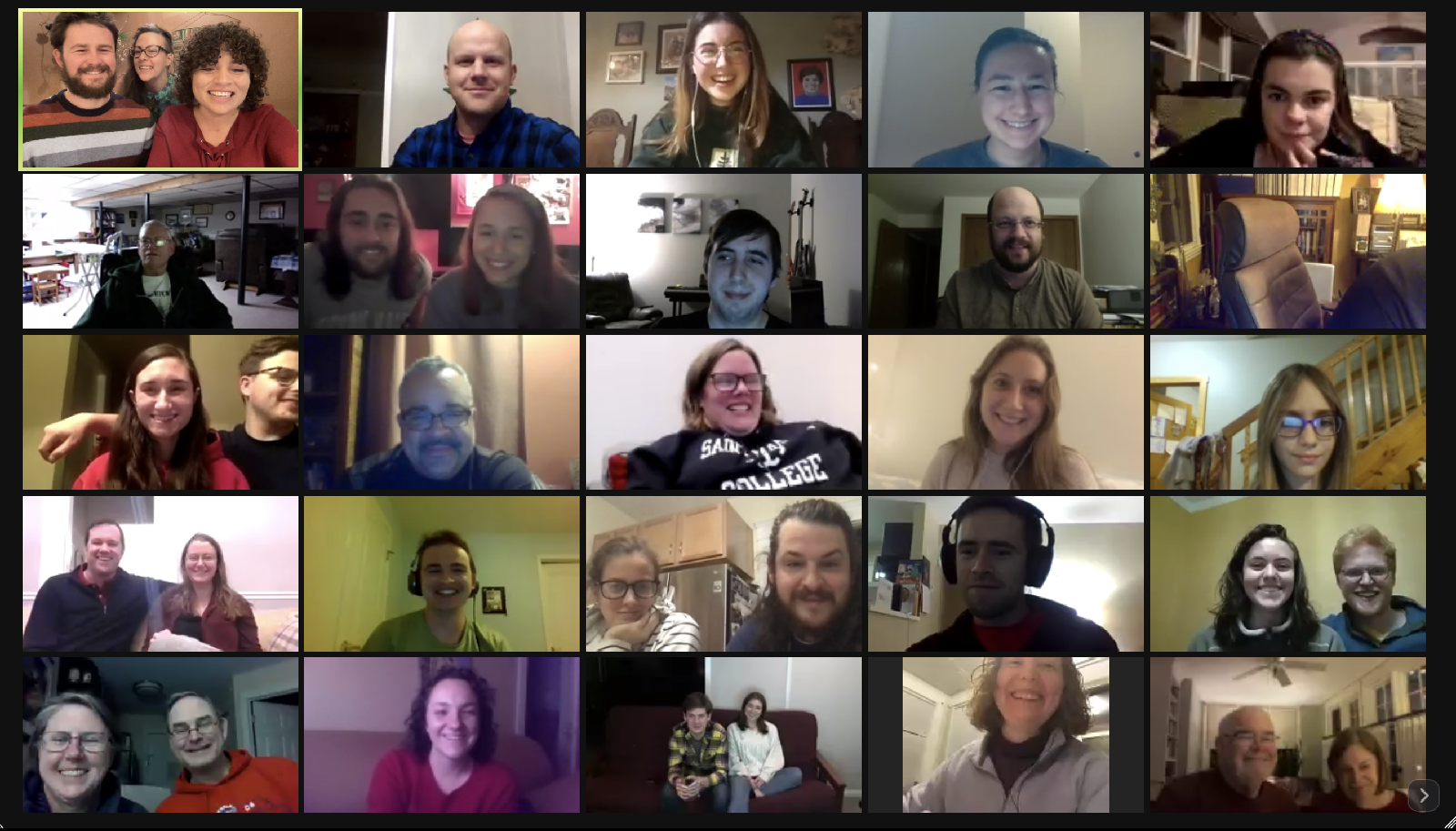 __________________________________


_____________________
You Will Be Missed!
With Love, The Caretaker Community
Over the course of July, August, and September we send off three of our beloved community members: Caretakers Raine, Gemma, and Pat. They will be deeply missed and we ask you join us in praying for them as they move on to the next stage in their journey.
Raine: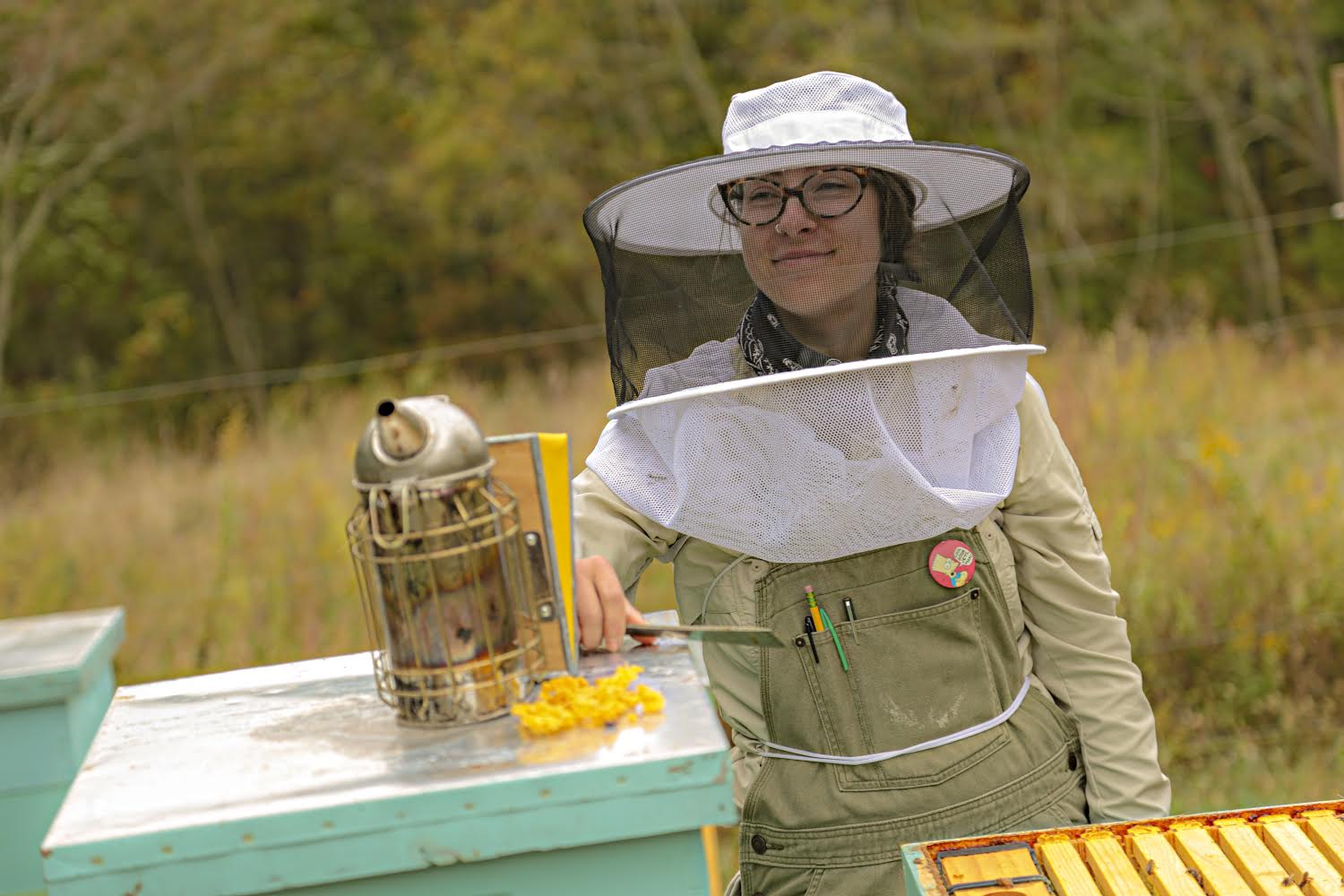 Wrapping up her time after three years and a couple of months, Raine will be sticking around in the neighborhood for a while. She's moving to Lewisburg and will be working in the area she's grown to love over the past 38 months. With Wisconsin pride, Raine brought her love of fine cheeses and wieners as well as a wealth of cooking knowledge that certainly spiced up our meals over the past three years. As many volunteers, Summer Servants, and Caretakers can attest, her onion pie is rivaled by none. As a Caretaker, Raine's love of our bee colonies has had a wonderful impact on our gardens as she and Colleen spent countless hours revitalizing them from the devastation they experienced five years ago. As a worksite leader, Raine brought a deep compassion to both the homeowners she worked with and the volunteers who shared their stories with her. She was always on the lookout for ways to improve safety and used her gusto to inspire energy when it flagged. Raine's openness and dedication to learning more about her faith certainly inspired many people who visited the Farm. We'll miss her tireless support of the Farm's mission and vision, her reminders of the importance of rest, and her skill at pulling fun out of nowhere as Miss Variety. Thank you for all the laughs, the sharing of your story, and your advocacy of vulnerable people.

Gemma: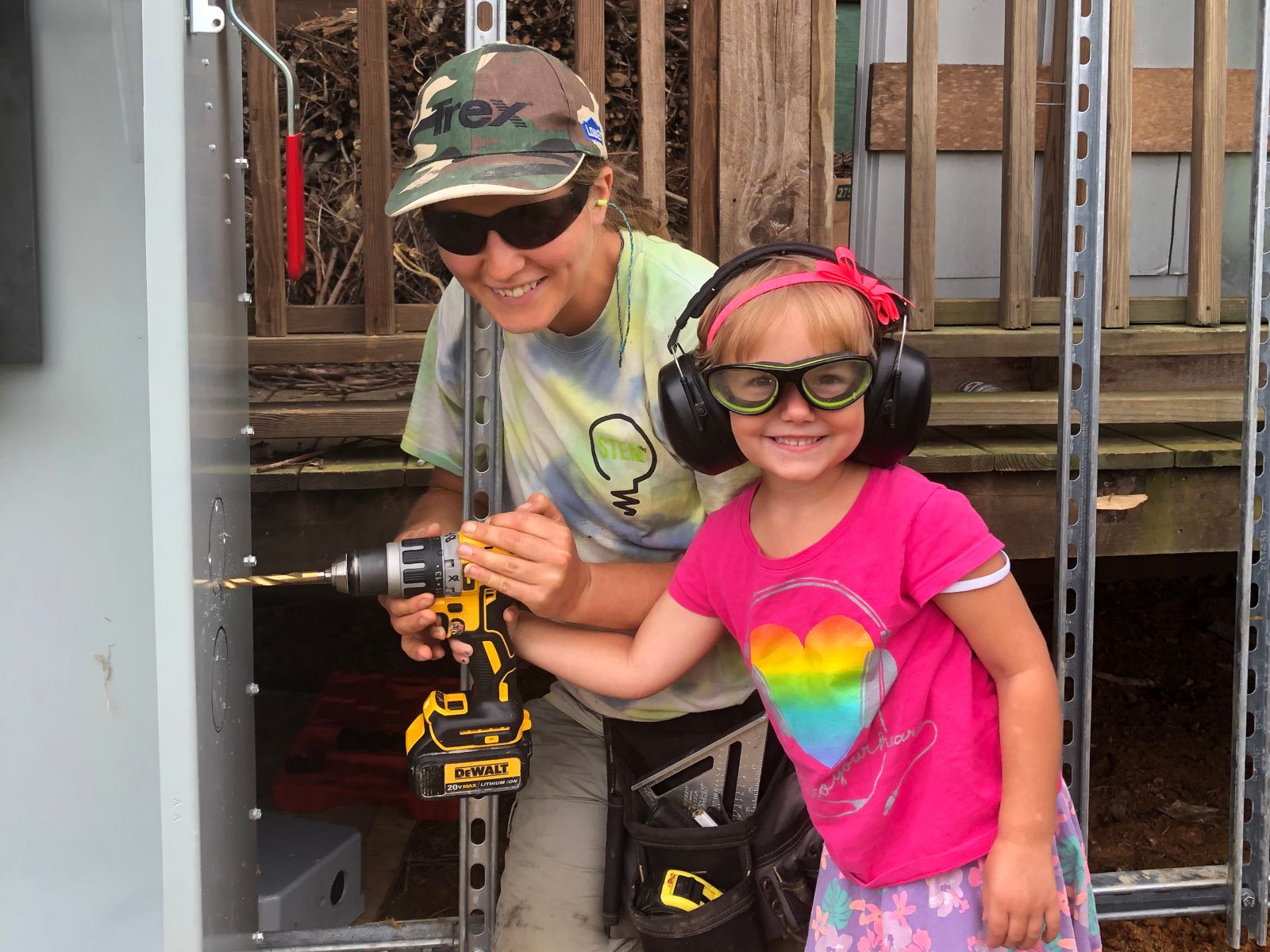 Gemma stuck around for an extra year after securing a spot in a graduate program for engineers in Dublin, Ireland. With a penchant for practicality and an indefatigable work ethic, Gemma is a standout example for all site-leaders. During her time as a Caretaker, Gemma has driven many projects forward with her superb analytical skills. These projects include our solar hot water upgrades in which we installed a circulating solar hot water system and Gemma spent many hours troubleshooting the issues in the system. Additionally, Gemma propelled our Green Neighbors initiative to its full implementation with four households now benefiting from the solar panels installed on their roofs. Beyond the work in the community, Gemma has brought a keen insight into community conversations and exemplifies our communication standards through her clarity and openness to dialogue. And boy can she fiddle! We've lost count of the times she's played during Mass on group weeks, with a pick-up jam session on Community night, or as a leaning into simplicity during prayer. The comforting sounds of bow and string will be sorely missed as a beautiful backdrop to hammock reading on the Breezeway. Thank you for your example and encouragement of sustainability!

Pat: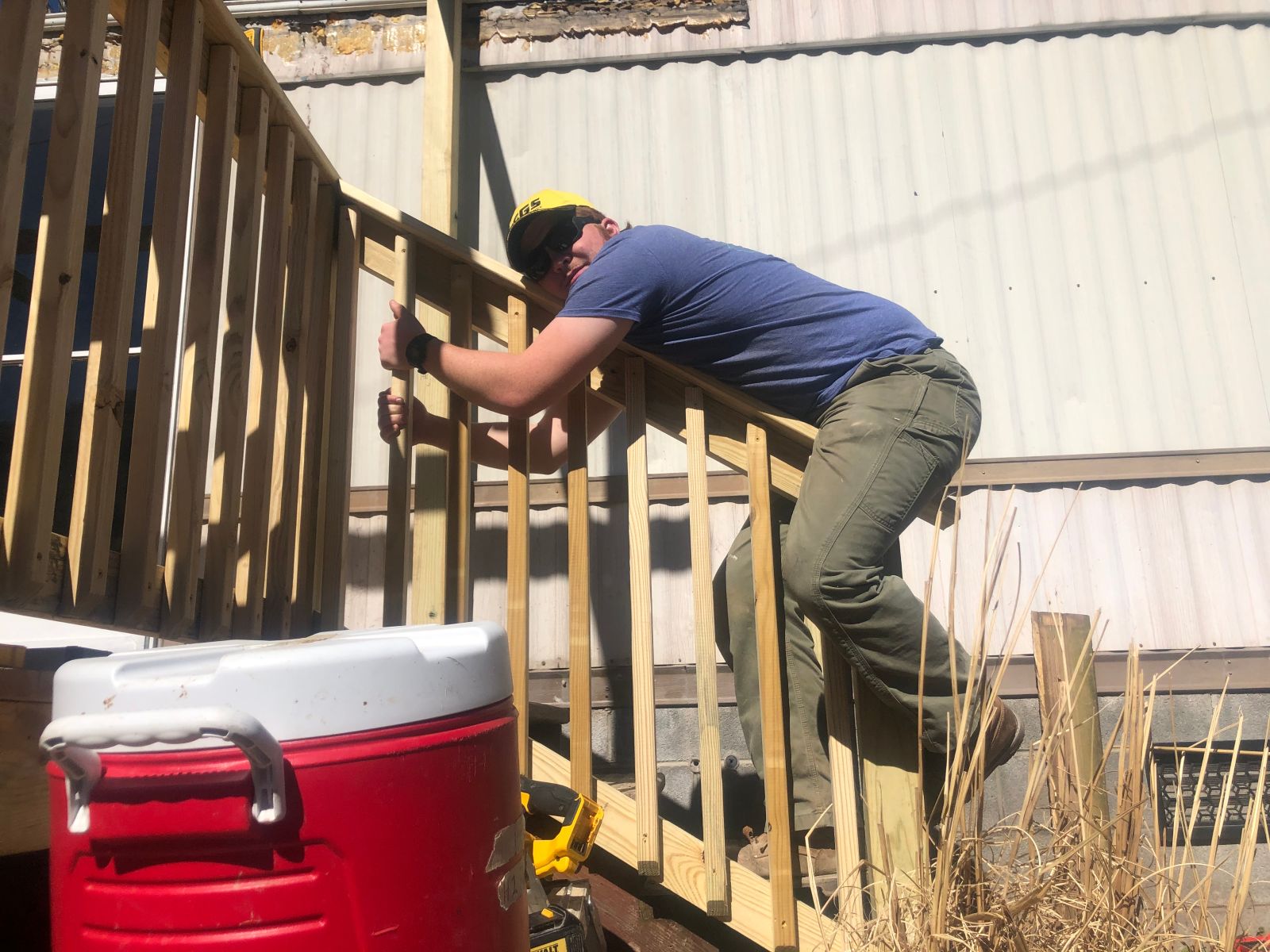 After taking a halftime rest in his undergraduate career, Patrick is heading into the third quarter with vigor. While at the Farm as a Caretaker, he's improved how we connect homeowners with various social service resources, ran point on coordinating the erection of the new maintenance garage, and grinded out project after project whether they be facilities, home repair, or receipt scanning. His unmatched ability to coax a laugh out of anyone, followed by an intense discussion about life goals and theology, made anyone who drove across the cattle guard feel instantly at home. We'll miss Pat's witty songs, tool cache, and deep insights as we note the lack of goofy noises randomly heard around the Farm. Years ago, it would have been hard to predict the winding road which took Pat to and from the Farm. But now we can look back fondly on a path filled with holes, laughter, antics, and a deep commitment to service in the community.

The Presence of God
By Kat, Board Member
My first trip to Bethlehem Farm was as a chaperone during a January college group week. I remember the first morning vividly: I woke up to Justin Timberlake's "Mirrors" blaring on the wake-up playlist; I opened my eyes, sighed, and thought "this could be a very long week." (I still remember that exact moment whenever I hear that song, and I am still not a morning person.) It was a long week, but not in the way my tired mind felt that morning. It was long in that I spent the whole week re-learning values and ideas I thought I already had a grasp on. It was a long week of leaning into community, of pretending to be more confident in my tool skills than I really was, of diving into prayer and reflection in an intentional way, of falling in love with this new place, and of wondering how I could come back and continue to be involved.
Since that first week, I have returned numerous times: as a chaperone, Summer Servant, and member of the Board. I feel blessed to have been able to experience Bethlehem Farm in each of these capacities. My understanding of the "why" of the Farm, of its mission, has only grown and deepened since that first week. With each experience, from working at a worksite, interacting with community members, getting to know Caretakers, attending Board meeting weekends, and attending Winter Benefits, my appreciation for the work of the Farm deepened.
Each time I've been at the Farm I have had an overwhelming thought that this place, this work, these people, this all is the Church. This community that has been fostered and developed is living out a true Gospel way of life. This Gospel life springs from the commitment of all persons to the cornerstones. I think it is rare to find an organization in which every individual involved is committed to the mission and the values, but at Bethlehem Farm this is what I encountered. Every individual offers their own unique gifts and talents in making the Farm home for all who come to serve, visit, or stop by for community nights. It is a community that is open to learning from one another, teaching one another, and entering into true relationship with love and respect for all.
Through my various roles at the Farm, I learned that God can be found wherever we seek God. In obvious places, like in the Chapel, in the washing of the feet at the end of a group week, or on a peaceful hike in nature. But God was also found in the smaller moments. Whether it is washing dishes after a community night dinner (often repeating the words of St. Teresa of Calcutta "Wash the plate not because it is dirty nor because you are told to wash it, but because you love the person who will use it next." And those nights there are so, so many dishes, therefore a lot of love.) Or in the garden weeding during a hot summer day, reflecting on Laudato Si and our place in God's creation. Or at a worksite, trying my best at making the cuts in wood just right. God is also present in the moments of rest: of watching the lightning bugs dance in the mountains and trees after a hard day of work, of sitting with fellow community members laughing about who knows what, or just sitting quietly together and reading a good book. God is also present in the times when it feels a bit dull or tedious, like in the spreadsheets of the budgets, in long Board meeting discussions deciding how to best steward the generous donations which sustain the work, of what does the Farm need to continue its work and broaden its impact. Even when the conversations feel long, or the explanations of spreadsheets confusing, God was there at work in the smallest details, making sure as a Board and as a Farm we don't stray from our mission and cornerstones.
I often say that being involved with Bethlehem Farm changed my life and that's really not an exaggeration. From impacting my understanding of God and the Church and helping me broaden my understanding of being a good steward of creation and loving my neighbors more authentically, I know I am a better person because of my time with Bethlehem Farm.
Building My Life For God
By Mags, Summer Servant
Before I left the Farm, I asked the community to write notes inside my copy of The Telling Takes Us Home. Joseph pointed out a section called "A Message to Youth" for me to read. It talks about the value of the youth in Appalachia and how they feel a call home to this region. My favorite part says "We celebrate all of these young people who in their own way are following the example of Jesus who took his place in Galilee with a mission of kinship and transformation." The Appalachian region became my Galilee where I was called to serve for the portion of my time at Bethlehem Farm.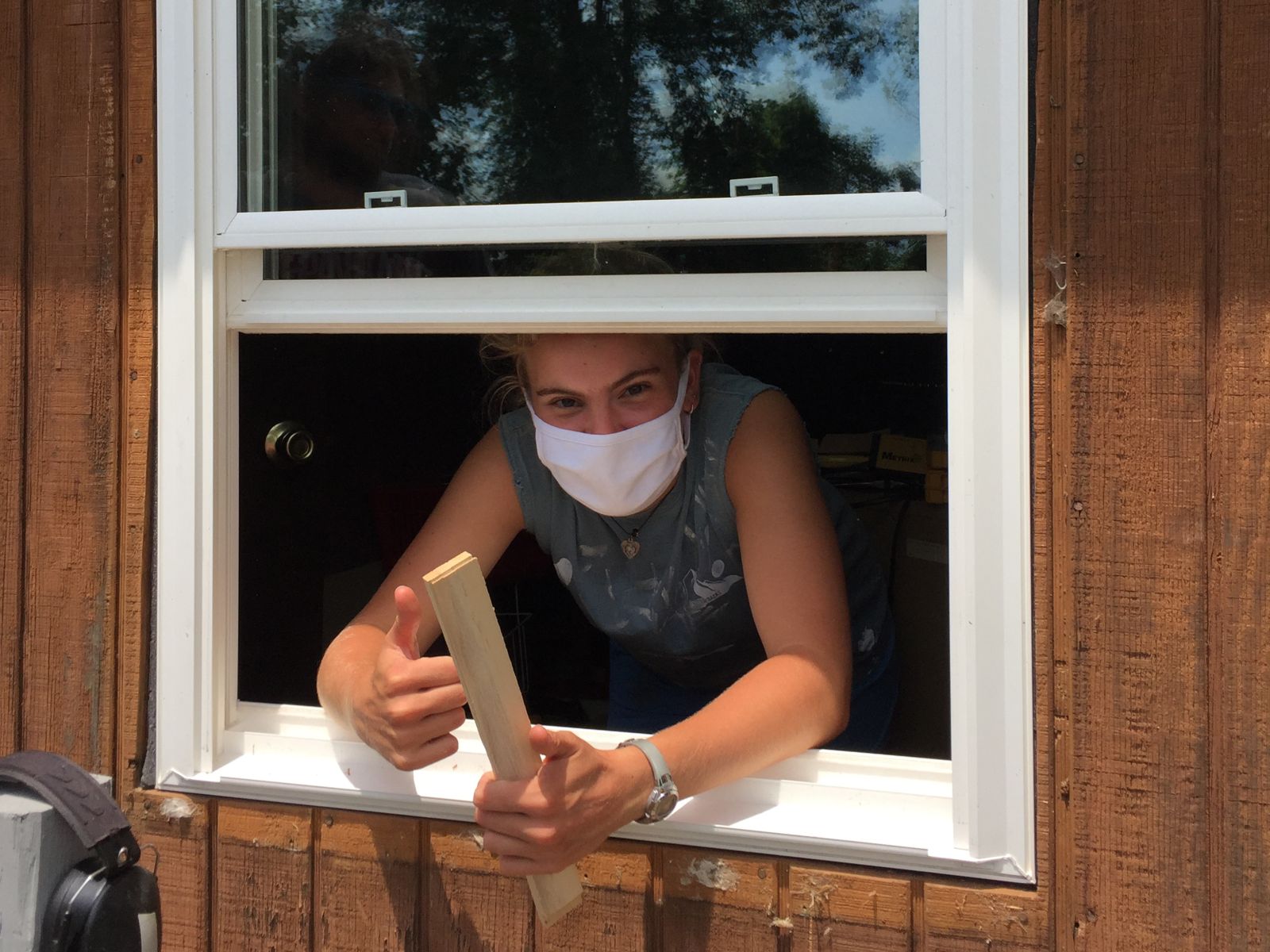 I had no expectations whatsoever coming to the Farm. My gap year was filled with spur of the moment decisions to go places and serve. Bethlehem Farm was no exception. Hearing about a Catholic intentional community in the mountains drew me in originally and it's what made me stay an extra month. I met people who held the same values as I did, but still brought different ideas, perspectives, and experiences. These people have helped teach me about my relationship with God, with Earth, and with people.

Now, I'm home and I'm working towards figuring out how to take the Farm here with me. I miss the community with my whole heart and soul. I miss the laughter and the intentionality of everyone's actions. I miss the fulfilling work and feeling like I was actually making a difference. Quickly figuring out that I was definitely not the only one to feel this way when I left Bethlehem Farm, I reached out to Pat and asked him how he brings the Farm mindset home with him. He gave me lots of great advice but the one thing he said that stuck out to me was "You continue building your life for God."
I continue building my life for God. I went to the mountains in Appalachia in hopes of learning how to put my faith into action in a way that made me feel so alive, so liberated, and so connected to Christ. Now that I've learned a bit on how to do that, I continue that growth here. Bethlehem Farm was my Galilee this summer. Now, for the time being, I'm being called to a different Galilee, to continue to build my life for God in a different setting.
Bethlehem Farm was an unexpected treasure. Leaving was an unexpected struggle. I'm so grateful to the Farm for showing me how I can live my life with intention behind every action, every word, every smile, every deed. For showing me how to build my life for God wherever He calls me to.
Confidence, Peace, Laughter, and Asparagus
By Tabitha, Summer Servant
My experience as a Summer Servant was an amazing time! When people ask me about my experience at Bethlehem Farm, I tell them that I learned and grew a lot, and I would go back there in a second. This is all true, but it is just skimming the surface of my time there.
Being at Bethlehem Farm as a Summer Servant, I learned how to build a chicken coop, install windows into someone's home in the West Virginian community, and care for a large garden. Additionally, I learned to take more initiative and be aware of when people around me could use some extra help. For example, dinner time was always at 6 p.m., and right before dinner time, I washed my hands and I asked the dinner crew if they needed any help; usually, they had something that needed to get done, and I was able to jump right in and complete it. This helped everything move more smoothly, and the dinner crew had one less thing to think about in preparation for dinner.
I also loved the community at the Farm! Some evenings, everyone ate dinner outside, and it was nice to be in the sunshine and talk and laugh together. Additionally, every Tuesday evening, those of us who wanted to would play soccer. I can still remember people encouraging me to play soccer with them, and I told them that I am not strong at sports, but I would try it…and I ended up having a lot of fun! We all were smiling and laughing and encouraging each other. At one point, I attempted to kick the ball, and my croc fell off my foot and into the wet grass. We all laughed; I put my shoe back on, and I continued to play. From this small hour of playing soccer, with people encouraging each other left and right, I learned to have confidence in my abilities. I realized that it is okay to not be a strong soccer player and still be able to enjoy playing it with other people. Before the Farm, if people asked me to play soccer with them, I would have been a little hesitant and told them that I did not want to play. After the experience on the Farm, I would tell people, "Yes! Let's do it!" In this time of being a Summer Servant, I learned that I could do a lot of new things; thus, now, I continue to push myself to learn and grow, both at my current job and at home. My mind is now more open to trying new things, and God continues to surprise me with the depth of what I can accomplish.
Additionally, everyone is kind, encouraging, and always ready to help anyone who steps foot onto Bethlehem Farm. In the short time that I was a Summer Servant, I knew that anytime, if I needed ANYTHING at all, someone at the Farm would be able to offer support, whether I was simply looking for where to find tea, or deeper things like processing the day or talking through challenging topics. The support structure of having a Prayer Partner was very helpful as well. I enjoyed going for Prayer Partner walks, and I can still visualize where we walked and what we were talking about during those times. We usually walked around the Farm, and it was peaceful and quiet; it was a nice place to reflect and check in with how we were both doing, discuss how the week was going, and talk about any prayer intentions that we had.
If someone asked me if they should go to Bethlehem Farm as a Summer Servant, or really in any role, I would tell them to hop in the car (or train, bus, or plane) and go. Wherever they are currently living, it is worth the trip to go to this little farm in West Virginia. Everyone has a different experience when they come here, but it is definitely worth coming and meeting everyone and maybe eating an asparagus or two. It was a very impactful time for me, both as a volunteer and as a Summer Servant, and I would encourage anyone to make the trip and be at Bethlehem Farm.
Master Facilities Plan Update
By Eric, Director
Maintenance Garage: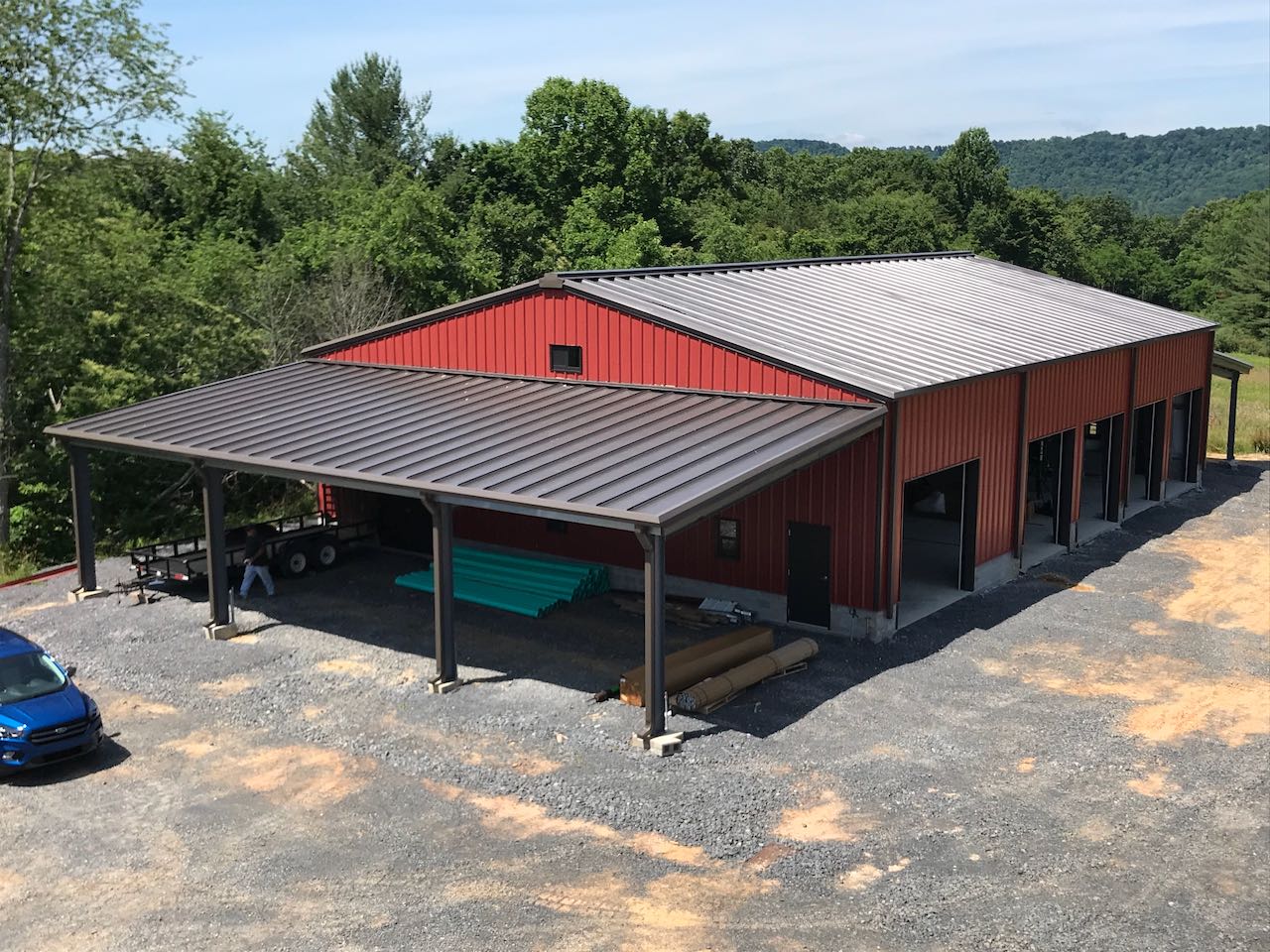 The shell is complete!...
Good news! We came together over a 2-week span to raise $55,000 for the maintenance garage project through a matching gift challenge! We could not have done it without everyone who participated.
If you missed out on the fun, then feel free to contribute at your convenience (www.bethlehemfarm.net/rmccc). We only have $60,000 left to raise to meet our $450,000 projected budget for garage completion (although fluctuating lumber prices are making this difficult to predict!)
The garage/tool barn/wood shop/picnic shelter will support the service with the local community aspect of our mission. It will be a 5-bay garage, with a vehicle lift, tool storage, wood shop, wood splitting shed, and picnic shelter for group prayer or community meals. Having a structure for the proper care and repair of our work site vehicles and for the organization and storage of tools will make us more efficient, effective, and resilient as we extend our reach further into the local community.
The steel building shell is complete! After downspout drains are installed, we'll pour the concrete apron (future basketball court) out front, then begin interior framing work. We have mostly settled on a name, which we'll be unveiling when we dedicate the building at the Reunion over Labor Day weekend.
Thanks again for sending a gift for the maintenance garage project, through a donation or pledge, to help bring this essential project to completion!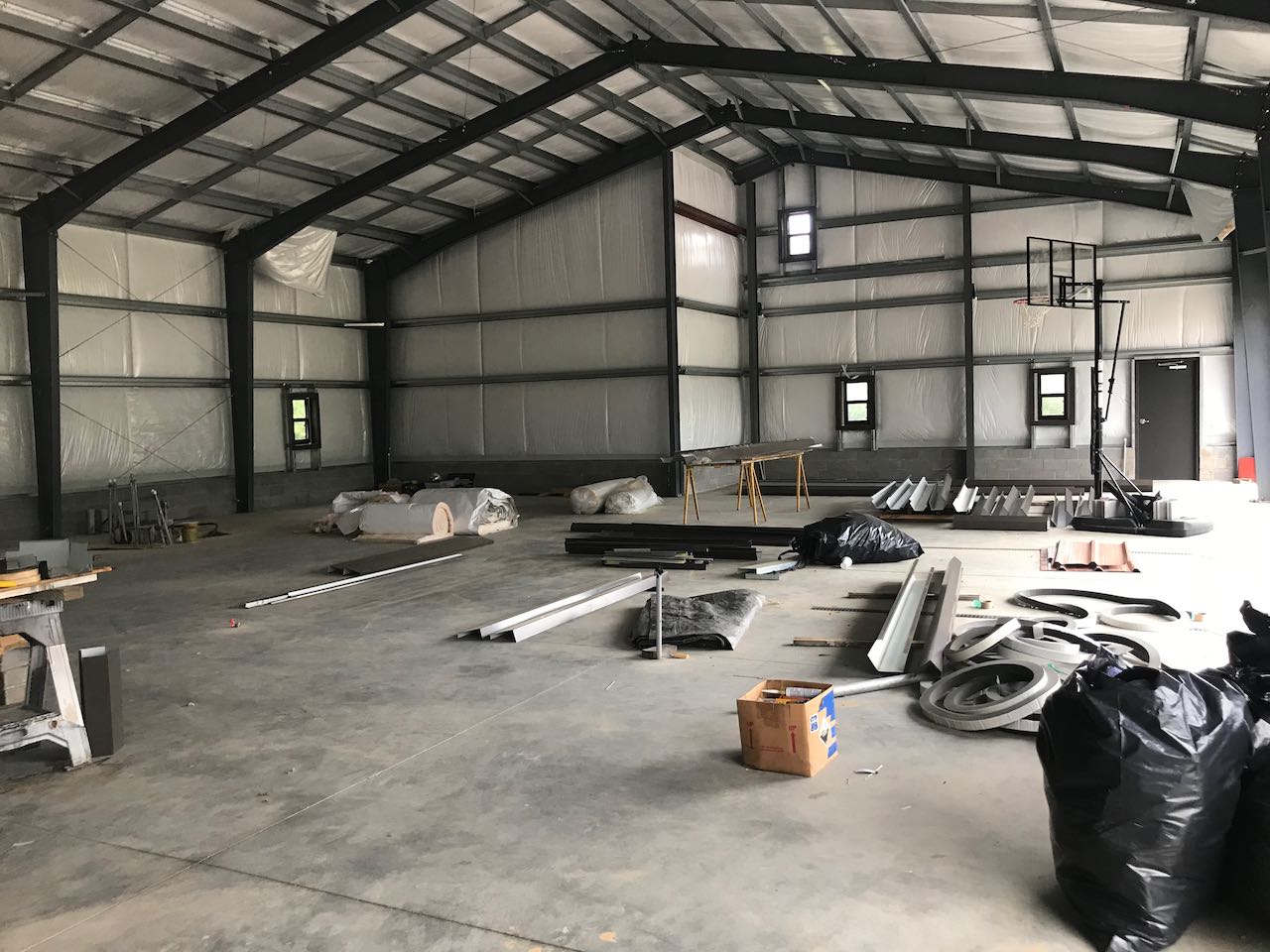 ...now we just need to build out the interior!
San Damiano Center for Sustainability:
After great efforts in design and install from Gemma, Raine and other Caretakers, the livestock shed was completed for our spring chickens and a new flock moved in.
Recently, we began installing metal siding on the south wall. After siding, we'll move in to begin interior framing and continue implementing the wiring design laid out by ETHOS intern Edwin.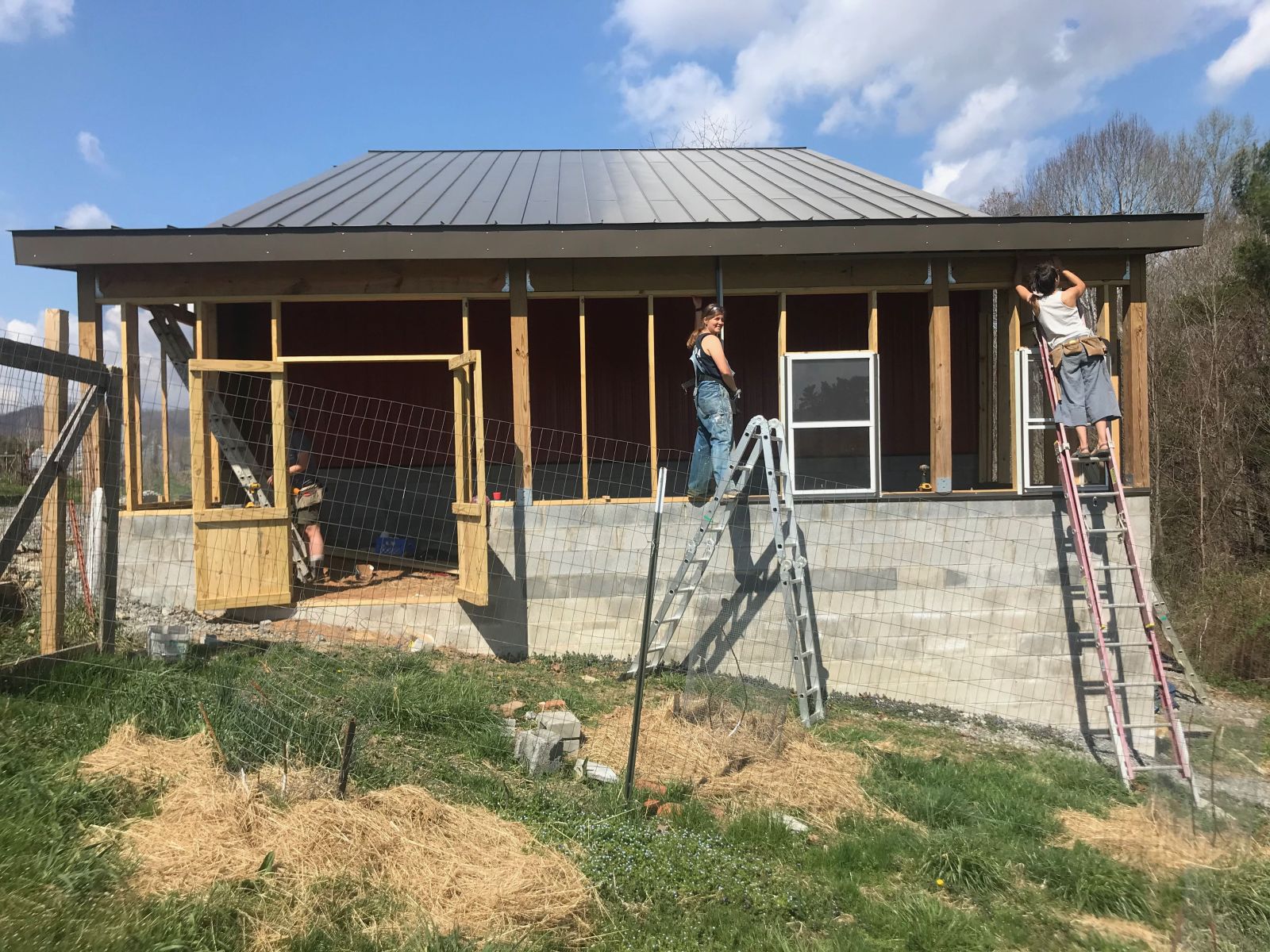 Gemma and Raine in action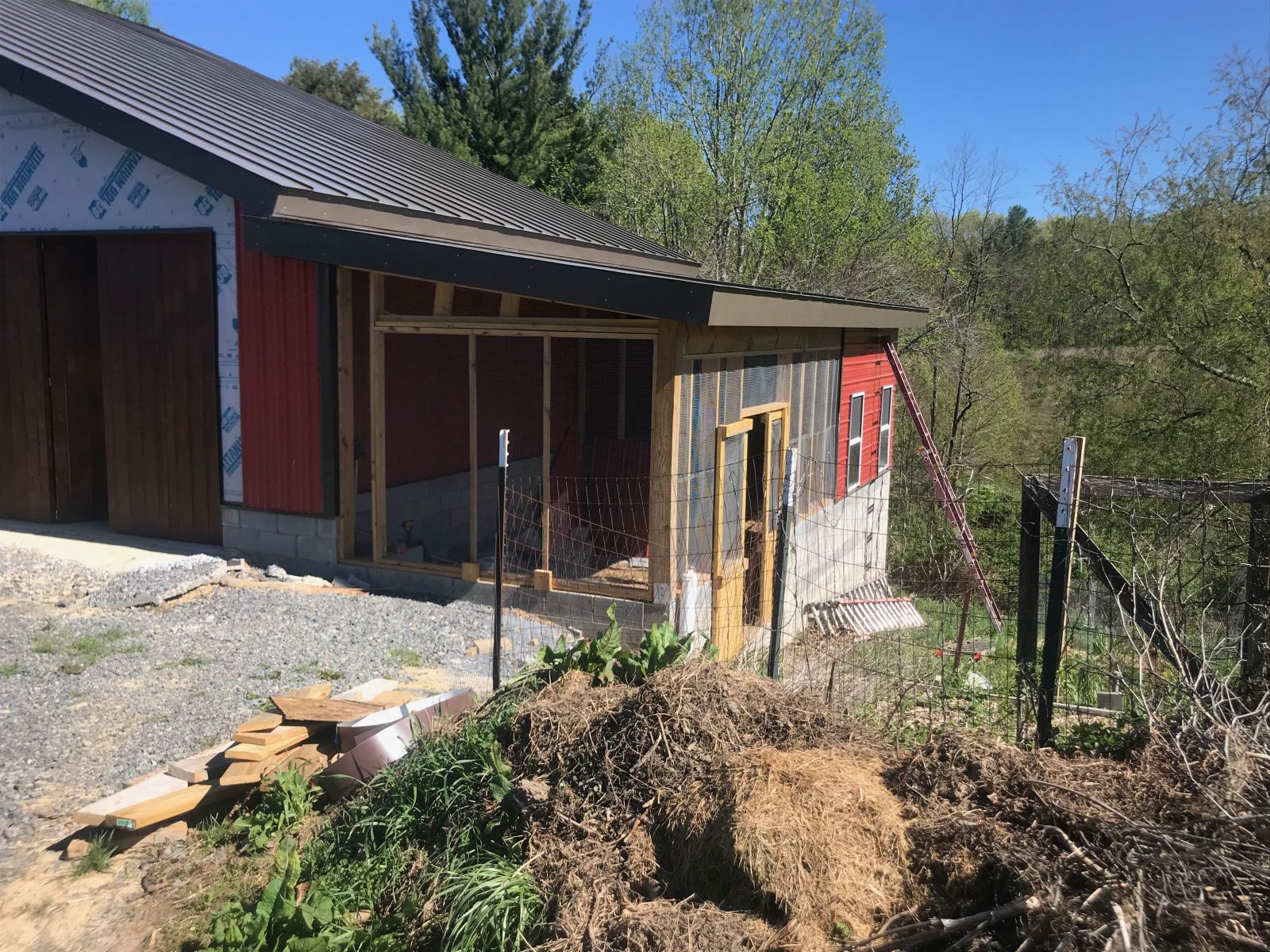 (Nearly) finished product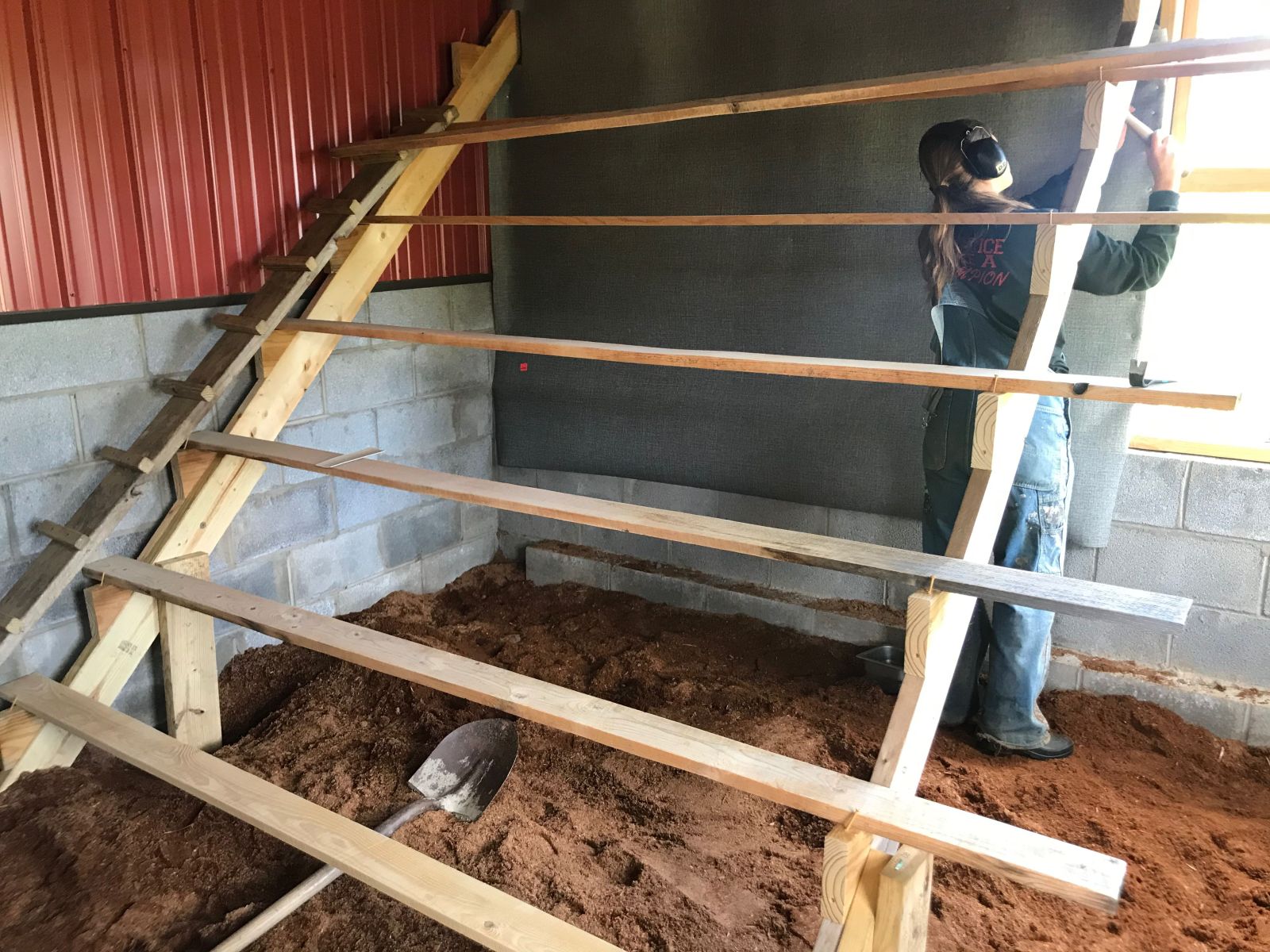 Roosting area (chicken bunk beds)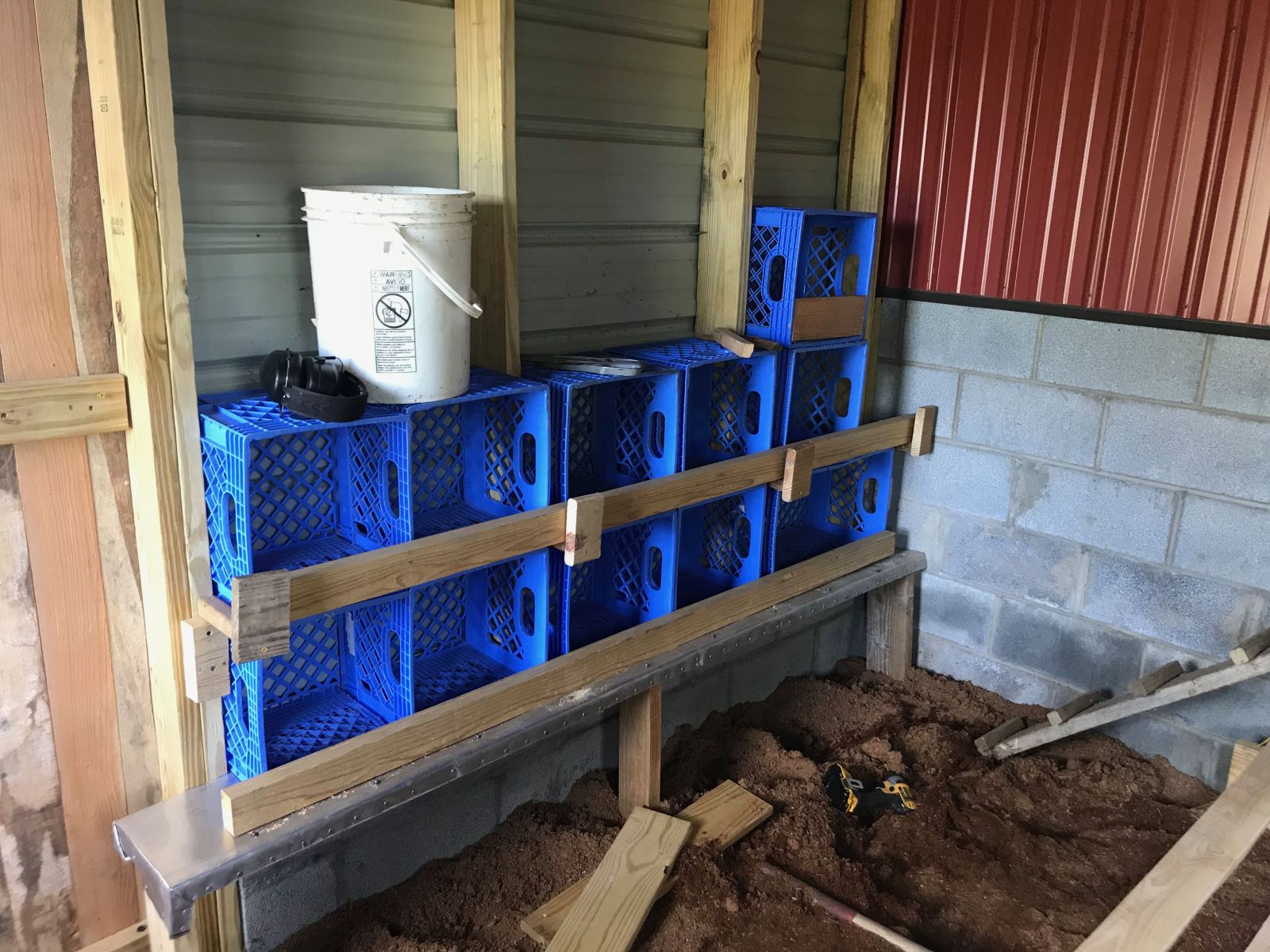 Laying boxes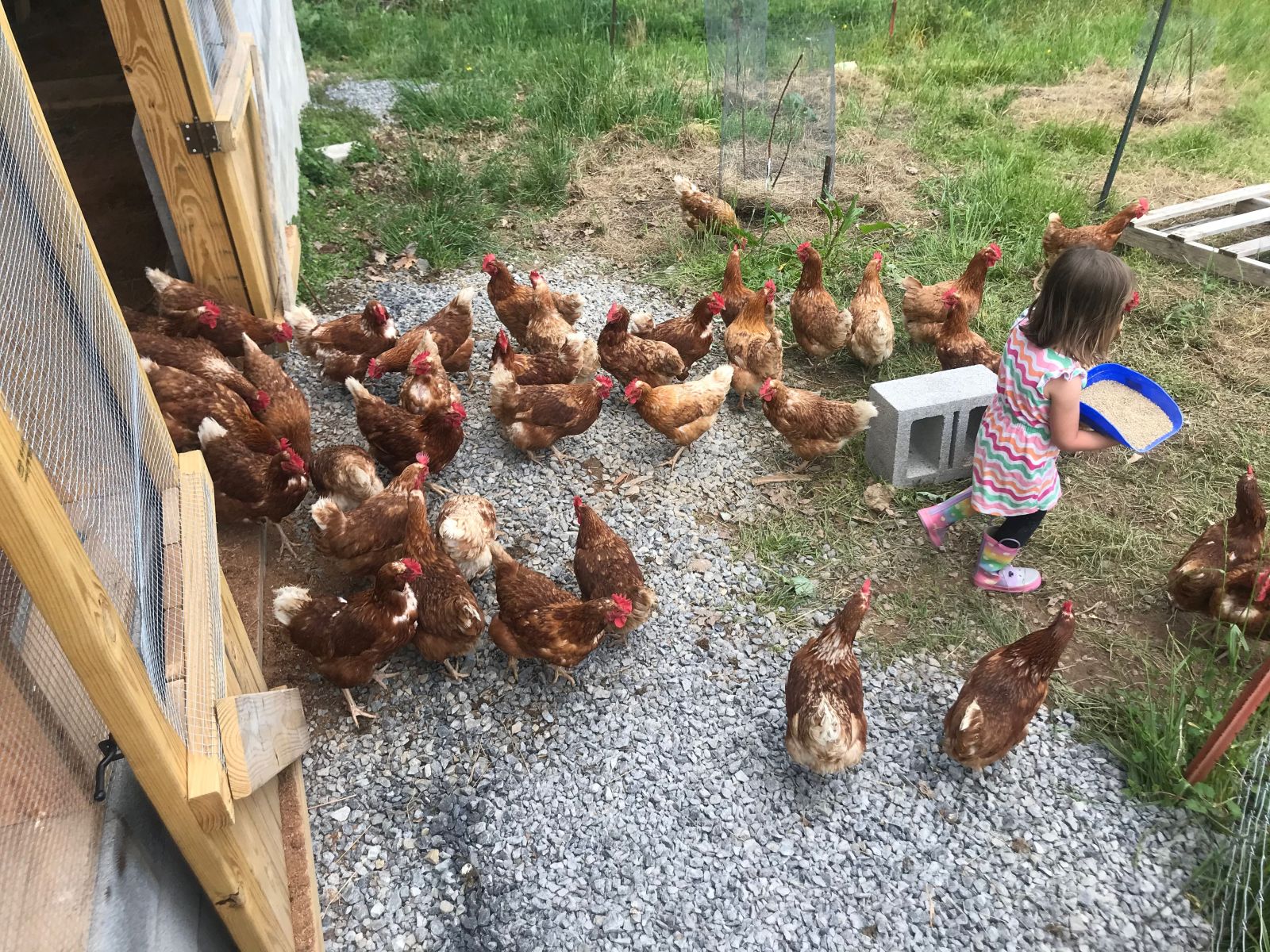 Little Bo Peep with her "sheep"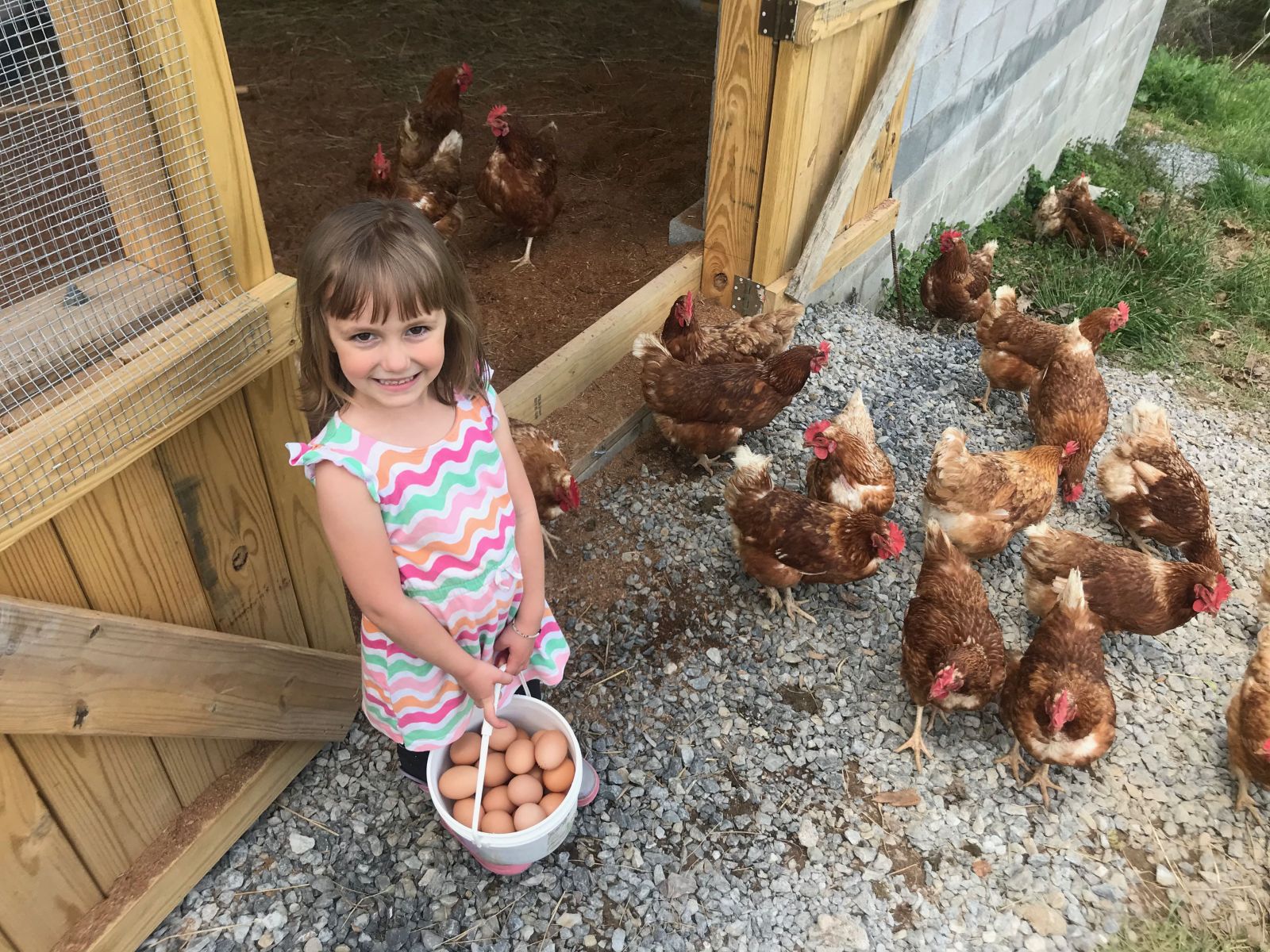 The fruits of our labors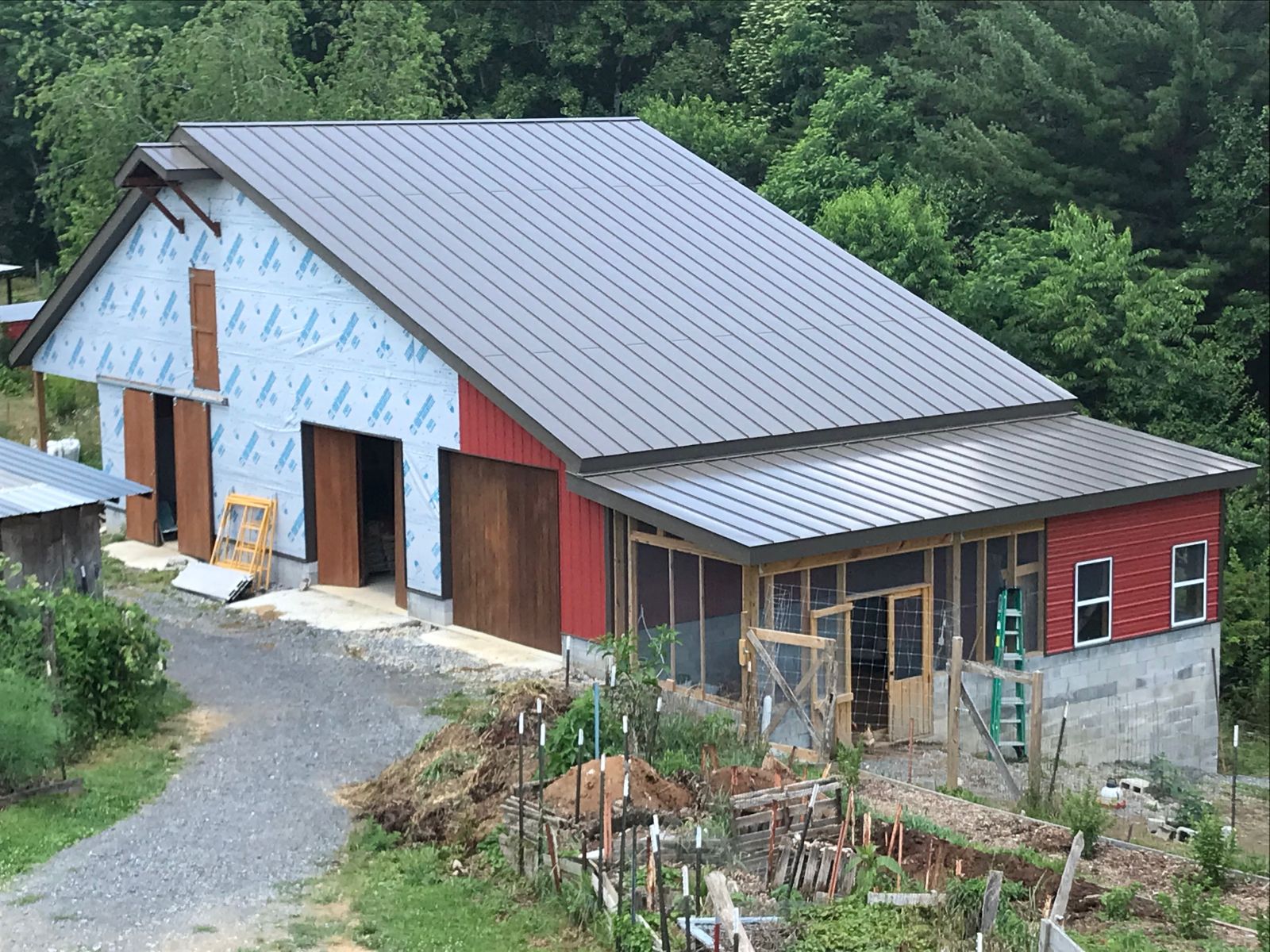 Siding continues on the front.
Project Director Residence (aka "The Fair Grounds", residence of Will Fair):
Will, with help from Pat, installed the bathroom, laundry, kitchen, and part of the HVAC system. Will is moved in and has begun using the garage. Still to come: completing the insulation, wall board, and trim.
Invitation to the Laudato Si Action Platform
By: Eric, Director
Bethlehem Farm would like you to join us in supporting the Laudatio Si' Action Platform. As we journey together transforming lives through the teaching of sustainable practices, the extreme weather events of the past year alone have struck home just how imperative it is that we address the wounds we've inflicted on our home. In truly living out our care for creation Catholic social teaching we seek to protect life by furthering our positive healing impact on the environment. The Laudatio Si' Action Platform is one such way we can do this. As stated on its website, "The Laudato Si' Action Platform is a unique collaboration between the Vatican, an international coalition of Catholic organizations, and "all men and women of good will." (LS 3) Taking a truly ground-up approach, it is rooted in the strengths and realities of communities around the world, empowering all to take "decisive action, here and now" as we journey towards a better future together. (LS 161)
Action is urgently needed. Our Creator called the human family to be the steward of creation, but we have neglected that call. Our hotter, dirtier, deader planet is driving up the risk of suffering. The most vulnerable suffer above all.
At this kairos moment, we are responding to the call for healing in our relationships with God, our neighbors, and the Earth itself. Through the Laudato Si' Action Platform, we are walking the "path to renewal" together (LS 202).
Let's join together with the universal Church to Care for our Common Home by working together on these common action goals: https://laudatosiactionplatform.org/
Worksite Updates
Vickie
At Vickie's, Caretaker Joseph and Summer Servant Mags led crews of Summer Servants and volunteers in replacing 13 windows and installing a new awning over the back porch steps. The windows were purchased with funds from our Weatherization Grant from the Wheaton Franciscan Sisters. Vickie's old windows had roughly the insulation value of plastic wrap, so now her home requires much less energy to keep a stable temperature.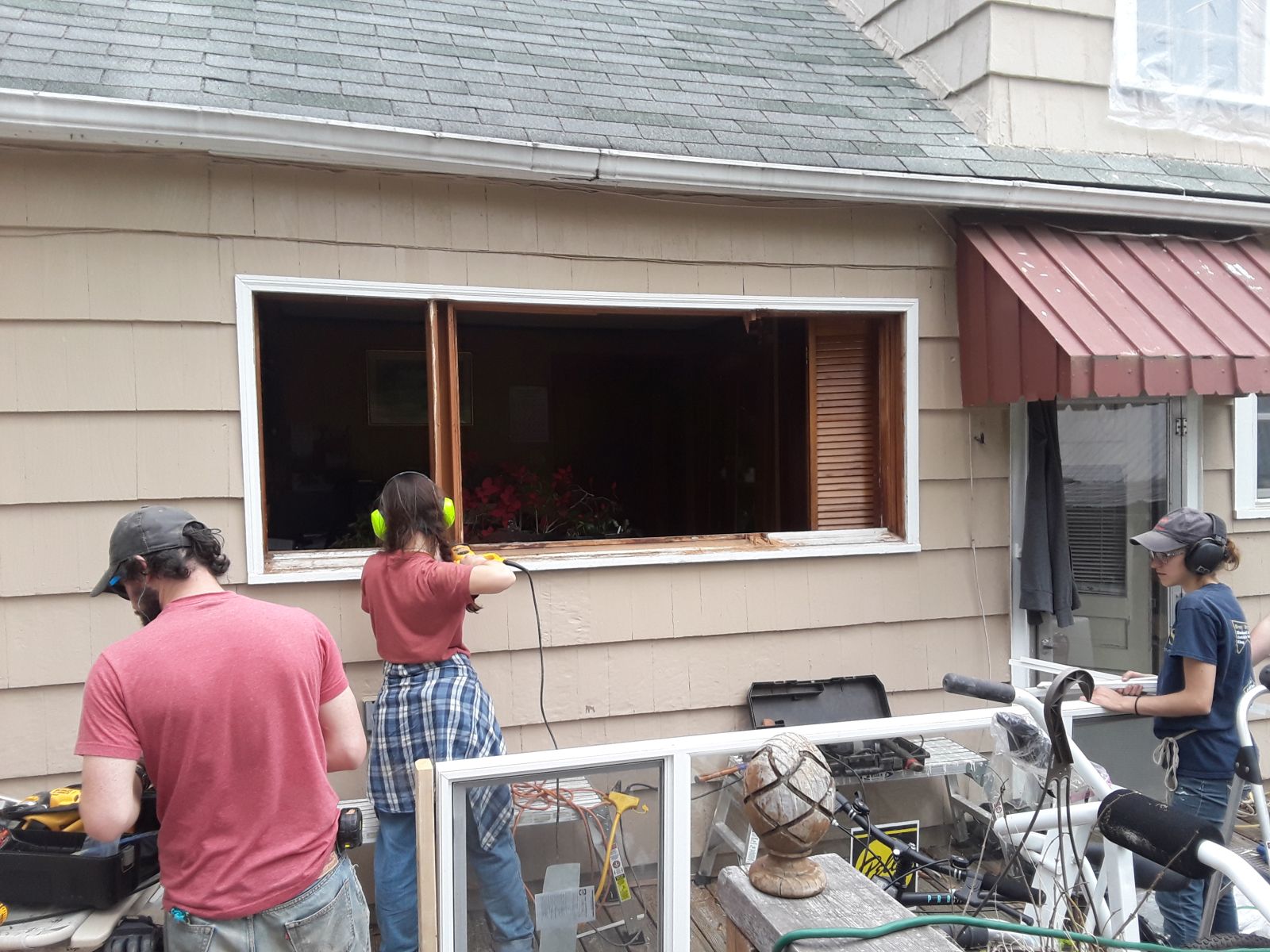 The new awning allows for significantly safer entrance and exit from Vickie's back door in the winter, as she no longer has to worry about ice forming on her steps and short sidewalk. Vickie continually showed her love and appreciation to everyone who came by her site by sharing meals with us and often bringing out surprise sugary goodies. We have also collaborated with a local roofing company to replace her roof with materials Vickie purchased through a no-interest loan from our home repair program, Repairing Homes, Renewing Communities.
Margaret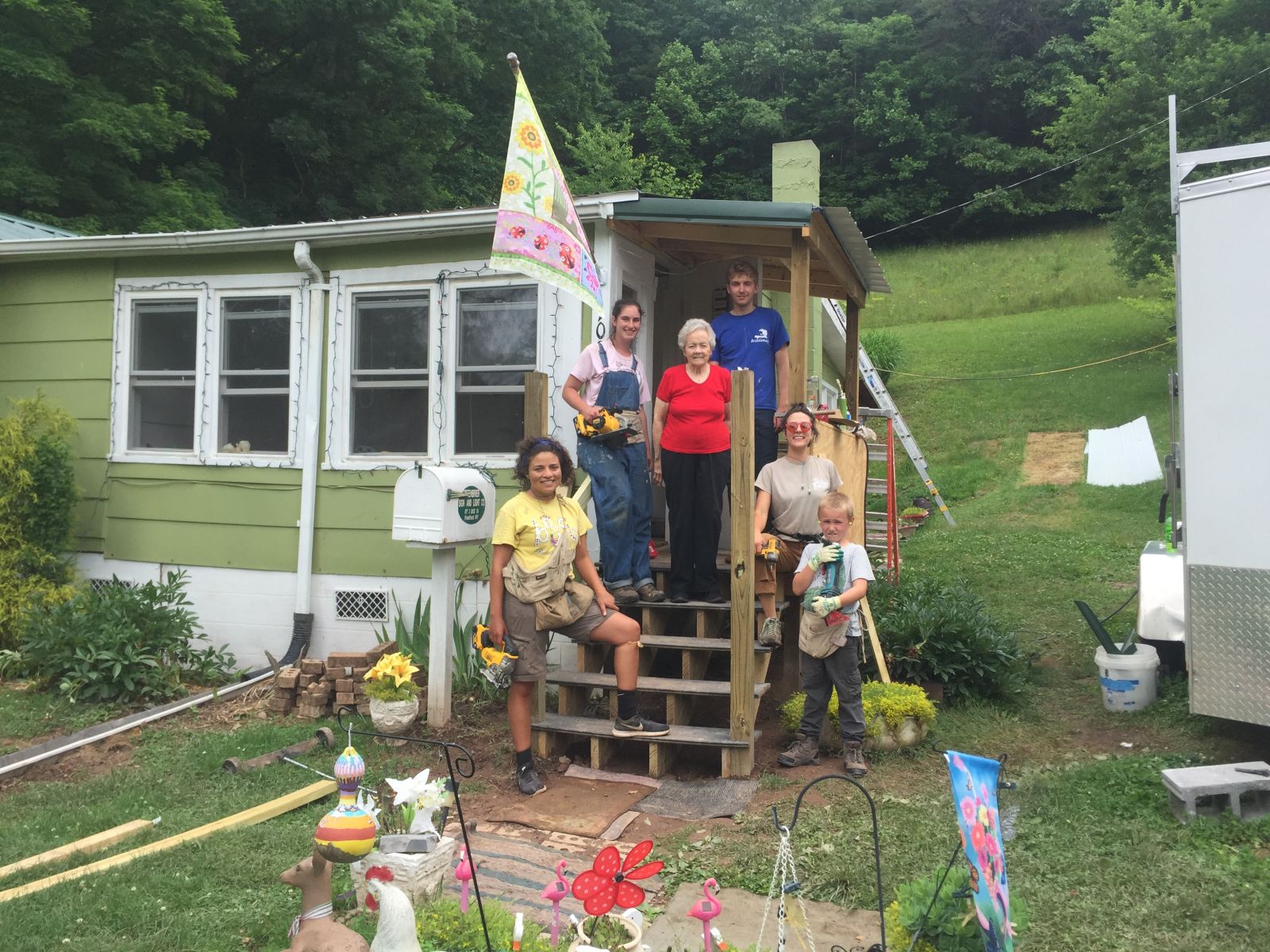 Thanks to Caretakers Raine and Tori and all the many hands that have put in time at Margaret's, she now has a roof that does not leak and an inside and outside porch she can safely walk on. We learned many lessons at Margaret's, both about the adventures of working on old houses and about how to stay positive, loving, and caring when life doesn't go your way. We'll miss the laughs, the pop, and the stories down home at Margaret's.
Ron

Ron is a longtime friend of the Farm who knows us well by the vehicles he repairs. As the primary healer of our Foresters, Ron has kept us mobile for a long time. When he called asking about our ability to help out with some ceiling drywall in his garage, we jumped at the chance to give back to someone who has supported us so well over the years. Caretaker Steve led volunteers on the quick project for a couple of days in June.
Leslie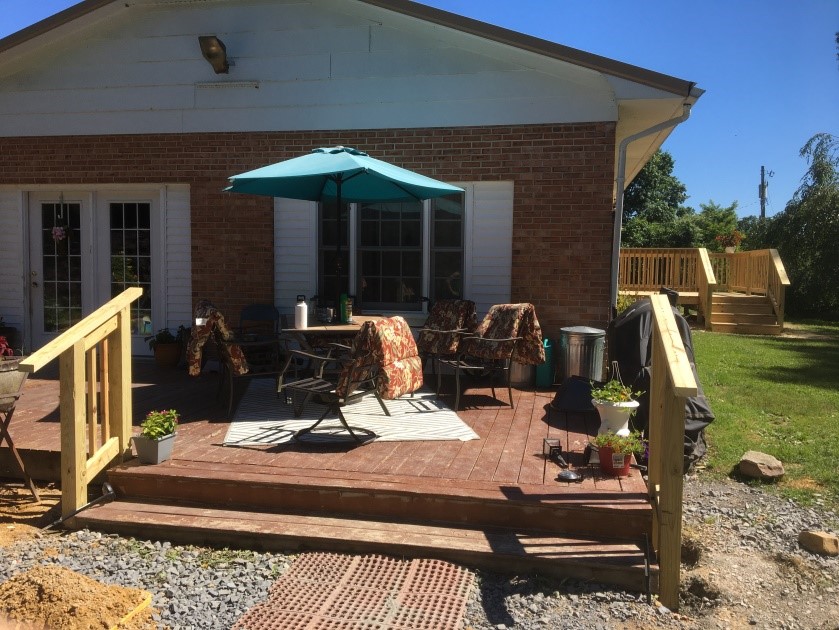 In early June, Caretaker Pat had the opportunity to lead high school groups in the construction of a 12x12 front porch for Leslie. Leslie takes care of her elderly mother, son, and grandson and this porch will allow her mother greater accessibility from their home and a place to safely and comfortably spend time outside with the grandkids. Leslie's son Peyton even got to help us for a week or so pouring the foundation and building out the rest of the porch. Groups from Badin Catholic high school worked diligently to build this porch in just 6 work days. Leslie and her family now enjoy the porch on sunny July afternoons while the kids and grandkids play in the yard with their dogs.

Judy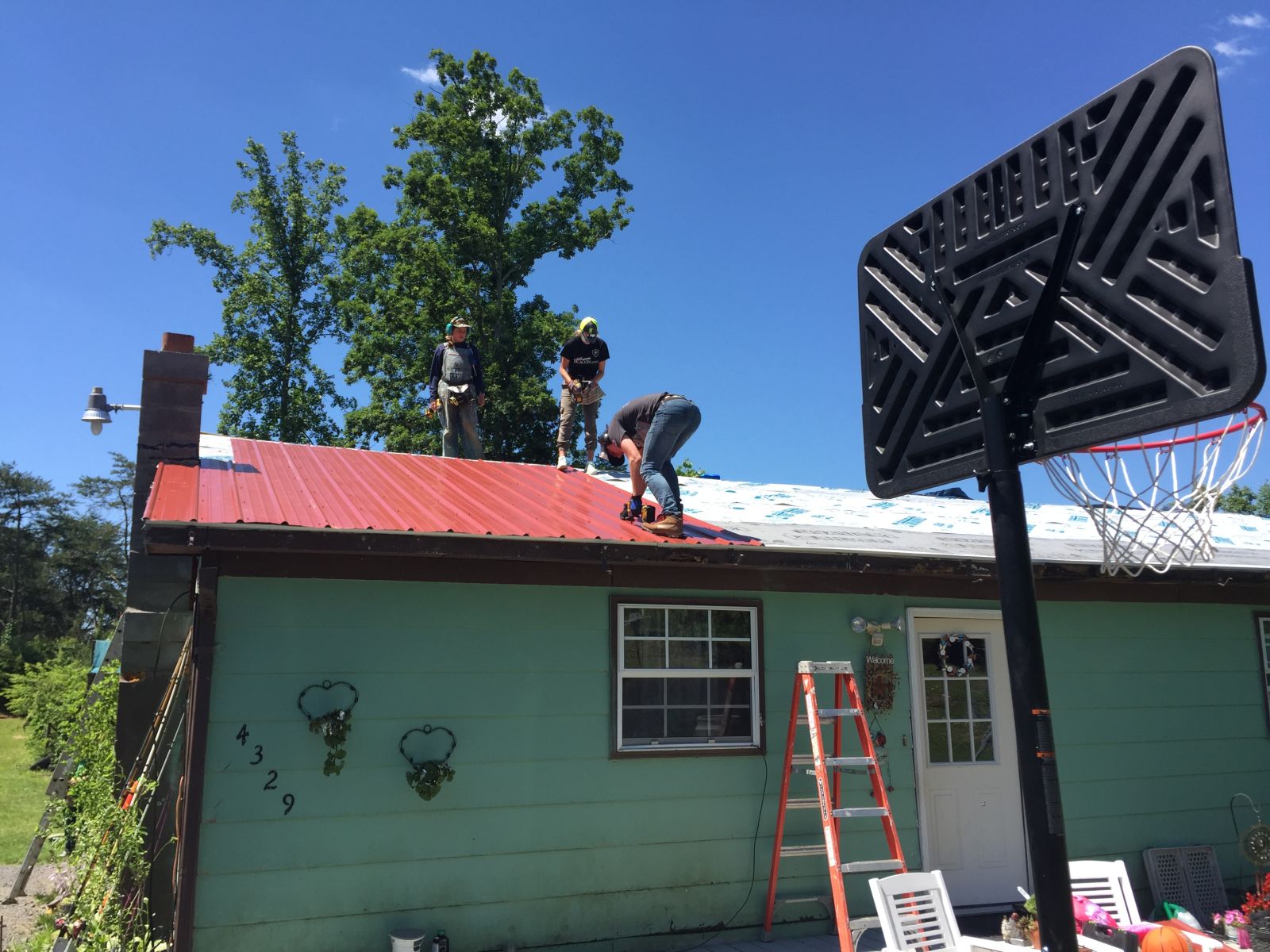 This summer, Caretakers Gemma and Tori worked at Judy's putting on a new roof and gutters and installing some new windows and doors. It was a great time with some close friends as we spent most of last summer putting a new roof on at Bonnie's, Judy's next door neighbor and mother. Volunteers from Badin high school, Cristo Rey Brooklyn high school, and Our Lady of Grace parish helped get the metal down while learning ladder safety and the importance of staying hydrated.

Brittany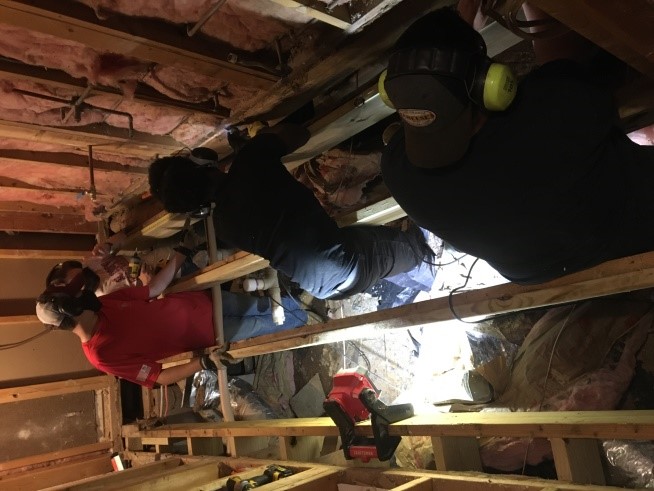 In late June, Caretaker Pat and Summer Servant Clare began work at Brittany's with a Cristo Rey Brooklyn high school group. They began with the demolition and beginning stages of a bathroom renovation at Brittany's home. Her bathroom floor had a large hole in it from where flooding and leaking rotted both the joists and subfloor. Additionally, her ceiling and walls had molded from the moisture so we removed all drywall, insulation, flooring, and a dividing wall to increase the space of the new bathroom. We also replaced the floor joists, and began laying subfloor for the new bathroom. Brittany gave us sound advice on planning where the fixtures, vents, and outlets should go while helping us with her construction experience and knowledge of her houses plumbing. We look forward to finish installing a healthy, safe, dry bathroom in the coming weeks.
Cathy
The Farm returned to Cathy's for another project this year. In the past we've replaced ceilings, installed a roof-over, built porches, and replaced the Cathy's cabinets. Now, Caretakers Raine and Joseph led volunteers from Our Lady of Grace parish in Noblesville as we tore out the floor in her bathroom and addressed several plumbing issues before putting in a new floor, shower, toilet, and sink. We continued the work into Adult Week as we finished installing the new fixtures and replacing a couple of old walls.

Summer Recipe Corner
from Colleen, Caretaker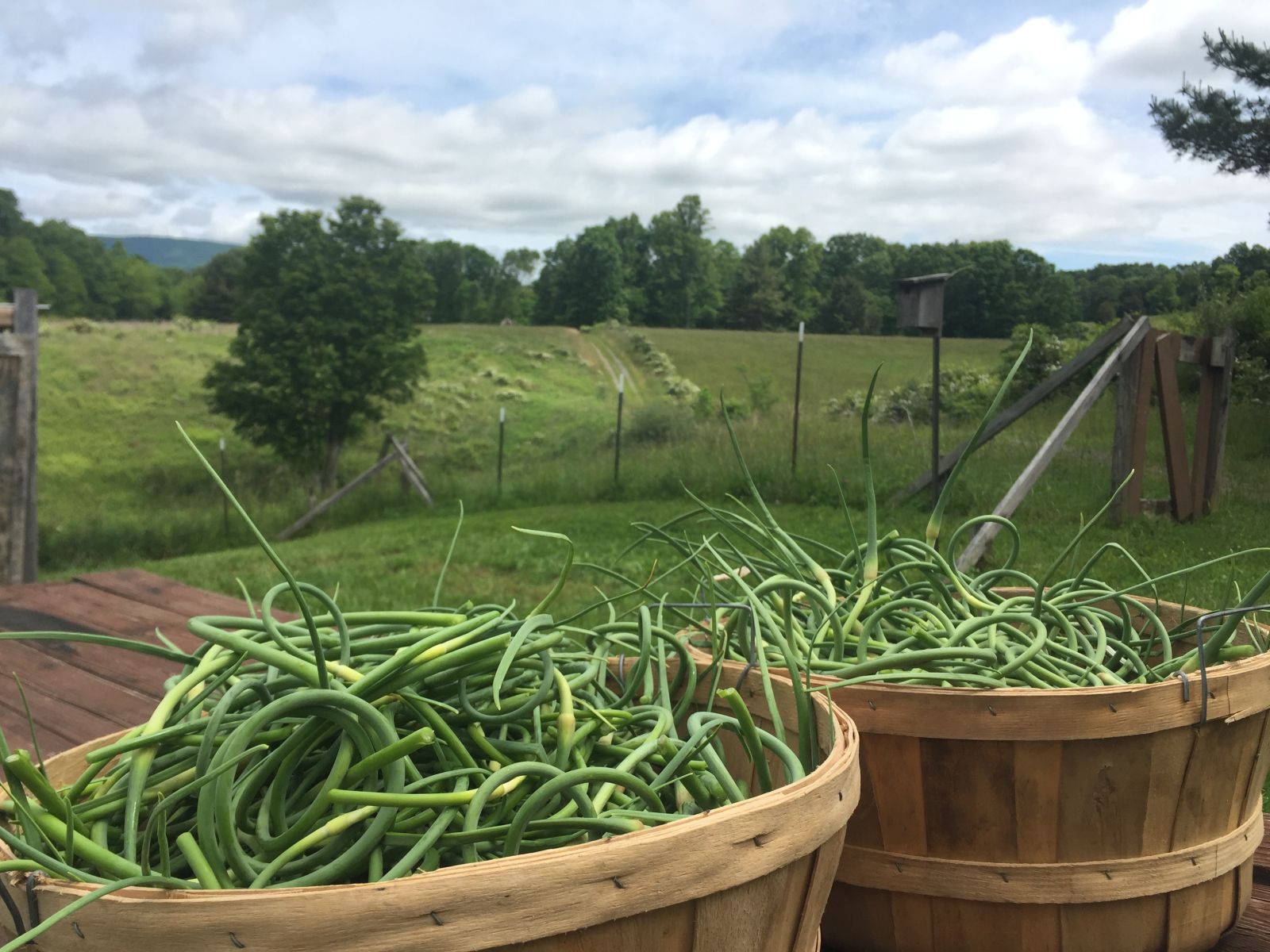 You may already know that here at the Farm, we are into garlic all year round. But garlic is especially on our minds in early summer, as we keep an eye out for which of our more than 30 garlic varieties are ready to harvest, and as we snap off the willowy tops called garlic scapes. Scapes have that wonderful garlicky taste, but a pretty different texture. One of our new favorite uses for garlic scapes is to use them in a garlic aioli sauce, which normally has garlic cloves. The recipe below works great with either normal garlic or garlic scapes. Garlic Aioli is great on sandwiches, as a dip for fries, as a topping for your scrambled eggs, or really on anything! Enjoy!
Garlic Aioli (makes 1 cup)
3/4 cup mayo
3-4 cloves minced garlic, or 1/4-3/4c pureed garlic scapes
2 1/2 Tbs. lemon juice
3/4 tsp. salt
1/2 tsp. pepper
Mix well & let sit for at least 30 minutes in the fridge.
Use as a topping anywhere you would use mayo or sauce.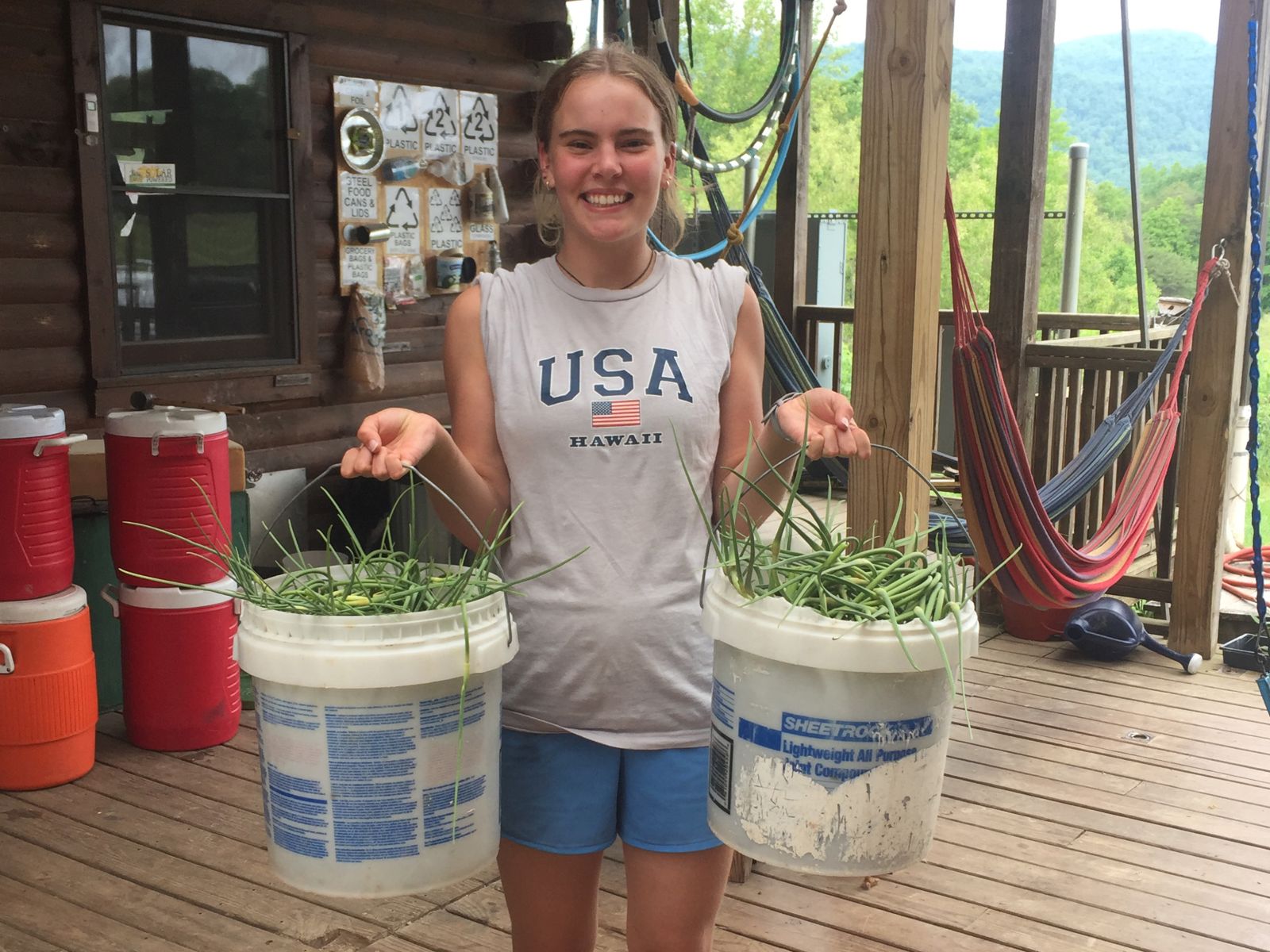 Do you have a favorite garlic clove or garlic scape recipe? Share it with us at bethlehemfarm@gmail.com
We're getting noticed!
There have been a couple of Bethlehem Farm appearances in the press recently:
Caretaker Molly spoke on our behalf during a webinar on June 23rd sponsored by Catholic Climate Covenant, where representatives from three of CCC's "sustainability champions" spoke on farm-related projects where Catholics are living out Laudato Si':
https://www.ncronline.org/news/earthbeat/sustainable-farms-show-how-catholics-can-apply-laudato-si-their-daily-lives

Additionally, Eric and Colleen were profiled in Loyola University Chicago's alumni publication:
https://stories.luc.edu/bethlehemfarms?more=true