ENGINEERS' CLUB AUGUST 2021 NEWSLETTER
Engineers' Club Announcements
Join Us for Fellowship Night / Affiliate Organization Appreciation Night - August 16
August Membership Spotlight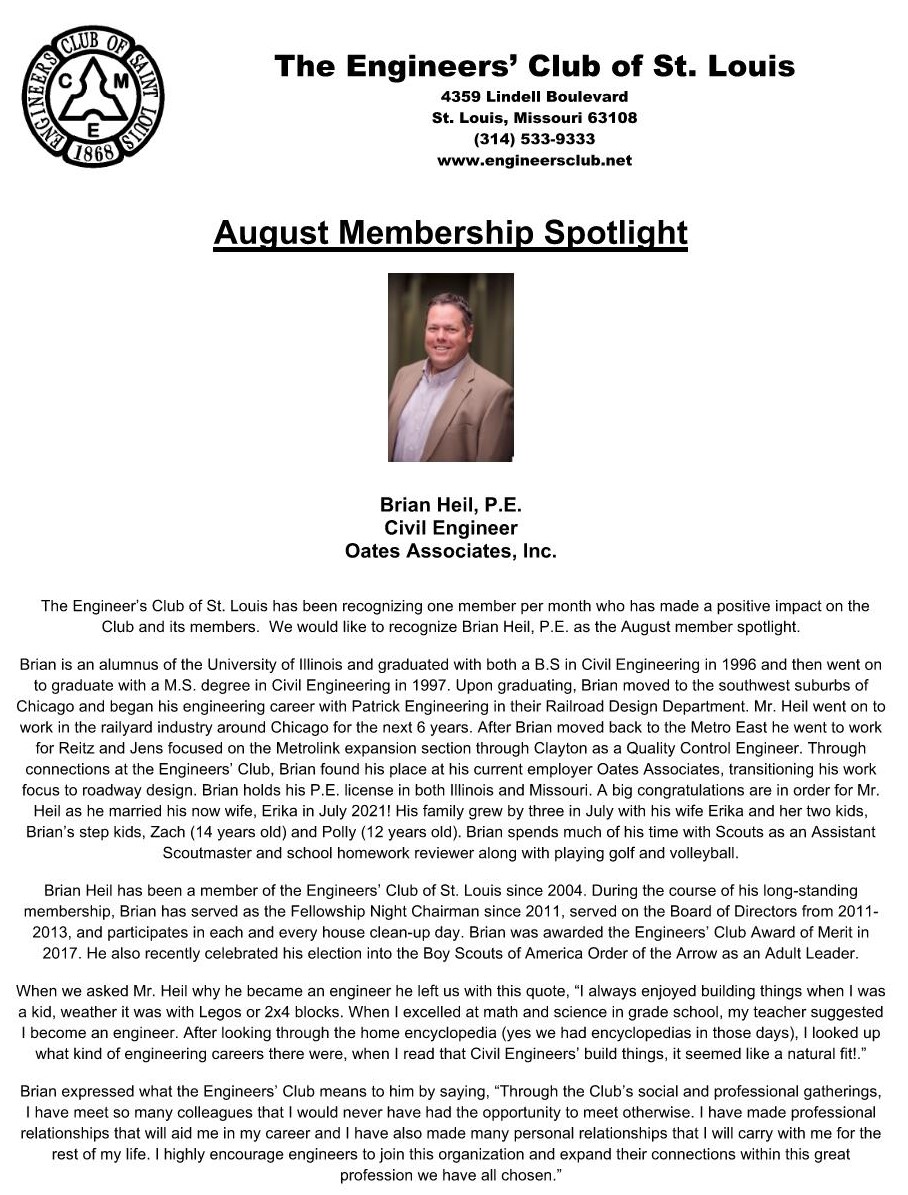 WELCOME NEW MEMBERS!
The following new members joined in July:
Daniel (OJ) Ojinaga - GHD Services Inc.
Zachary Porter - Vandevanter Engineering
Regan Roy - SAK Construction
Tammy Scherrer - WSP USA Inc.
YEC / MWEA / AWWA Young Professionals Cardinals Game and Happy Hour - August 19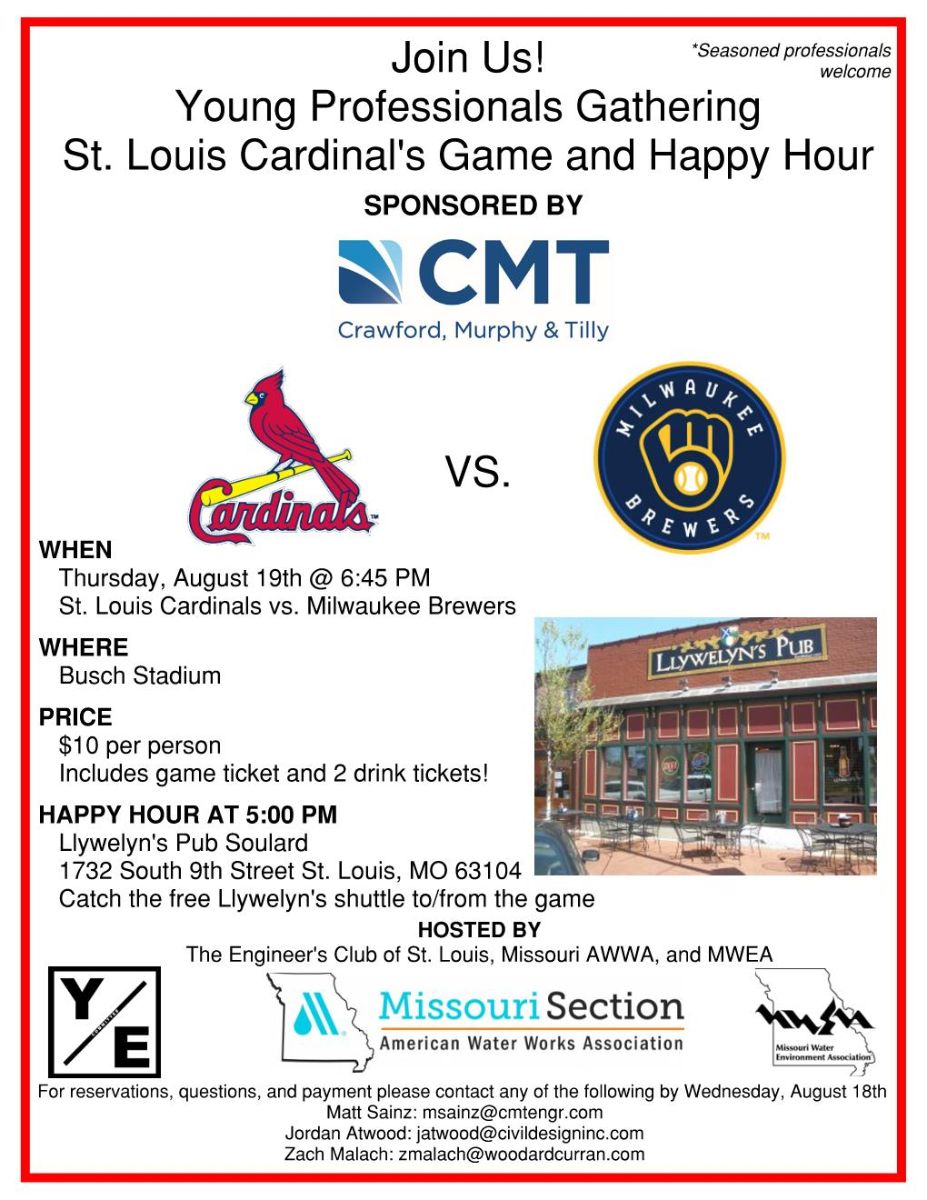 For reservations, questions, and payment please contact any of the following by Wednesday, August 18th: Matt Sainz (msainz@cmtengr.com), Jordan Atwood (jatwood@civildesigninc.com), Zach Malach (zmalach@woodardcurran.com).
Engineers' Club Annual Roster Ad Opportunity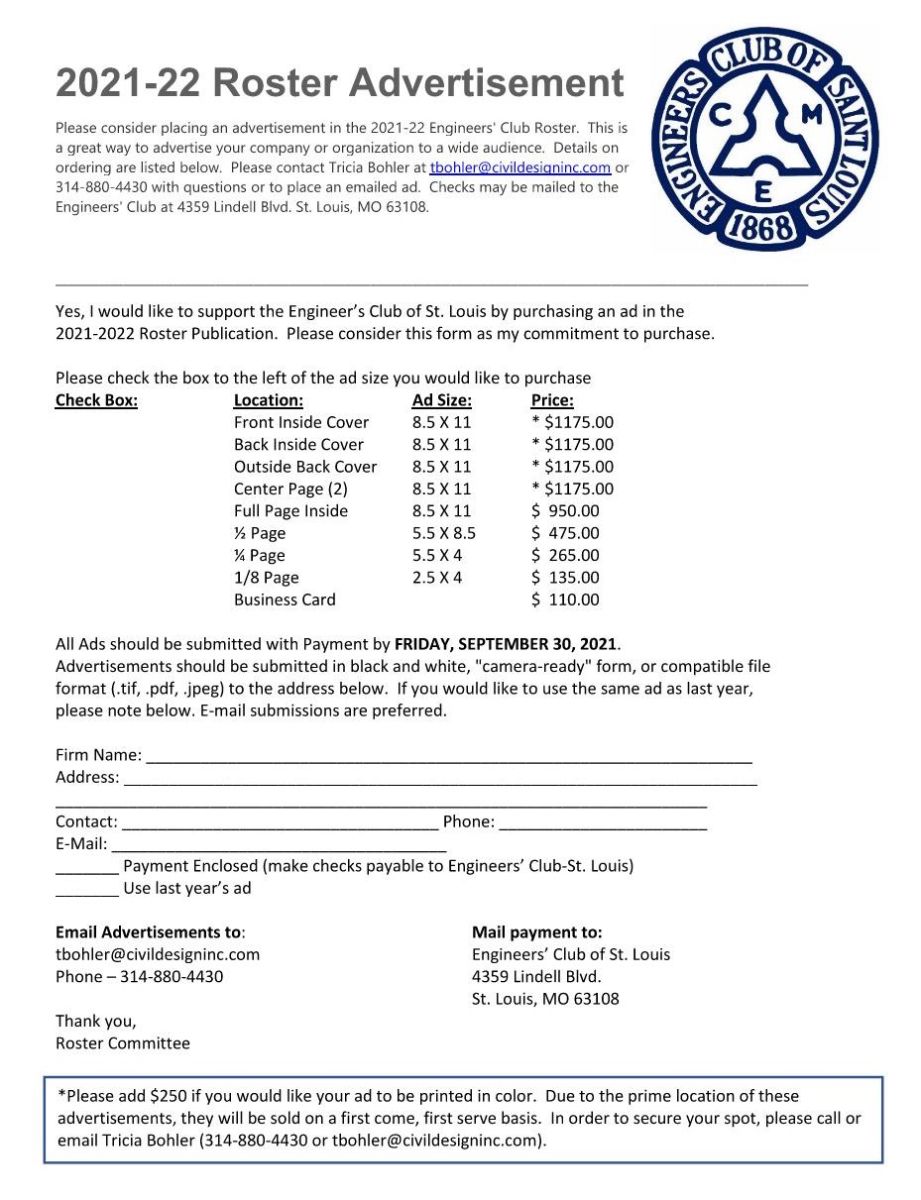 Contact Tricia Bohler at tbohler@civildesigninc.com for further inquiries.
Jake Jare Oct. 11 - Save the Date
Join us at the Engineers' Club Bowling League!
DEBUNKING BOWLING LEAGUE URBAN LEGENDS!!
Legend No. 1 – The League only wants good bowlers.
The Truth – As a 100% handicap league, every member is valuable, regardless of their average. Of the 72 members that signed up to bowl last year, over 15% had an average of less than 125, and less than 15% had an average of over 175. Most teams consider their "best" bowlers to be the ones who: (1) show up when scheduled; (2) arrive on time and (3) pay on schedule.
Legend No.2 – The League only wants bowlers that will bowl all 30 weeks.
The Truth – The number of weeks you bowl is something that you can work out with your team captain. Last year about 15% of the bowlers only bowled once a month, and about half the bowlers bowled twice a month or less. If once a month is all you can bowl – that's OK! We still want you.
Legend No. 3 – Bowling is expensive.
The Truth – It only costs $20 to play each night. How much you chose to spend on food, beverages and whether or not you participate in the 50/50 raffle (benefitting the Ed Sweeney Scholarship Fund) or the poker hands on some teams ($1 per game) is solely up to you. A portion of the $20 provides for a banquet and prize money that is distributed to the teams and individuals at the end of the season. Last year over $3,700 in prize money was distributed, with the amount ranging from $3 to over $180.
Legend No. 4 – Bowling doesn't get done until late into the evening.
The Truth – Typically, teams finish bowling between 9:00 and 9:15 p.m., unless there is a problem with the lane equipment. Some bowlers do hang out in the bar for awhile, but most are out of the building by 9:30.
Legend No. 5 – The League is only for guys.
The Truth – The League is a mixed league. Last year 20% of the bowlers were women.
ADDITIONAL FACTS
The Engineers' Club Bowling League is a USBC sanctioned mixed league, which plays on Wednesday evening starting at 6:30 (6:15 for practice) at Tropicana Lanes (a non-smoking facility), located on Clayton Road east of Brentwood Blvd. in Richmond Heights.
The League consists of 14 teams of 4 players bowling each week. Scoring is based on 100 percent handicap of the bowler's current season's average. Points are award for individual match play (1 for each game and the series) as well as team match points (4 for each game and the series) for a total of 32 points per match.
League play for the 2021/2022 season starts in early September and ends in April, 2022 with time off for Christmas and New Year. The cost per night bowled is $20.
All teams need additional bowlers, whether you want to bowl once a month or every week – or you just want to be on the substitute list. If interested – contact Ken Munder at k_munder@yahoo.com
Volunteer Opportunity with First Lego League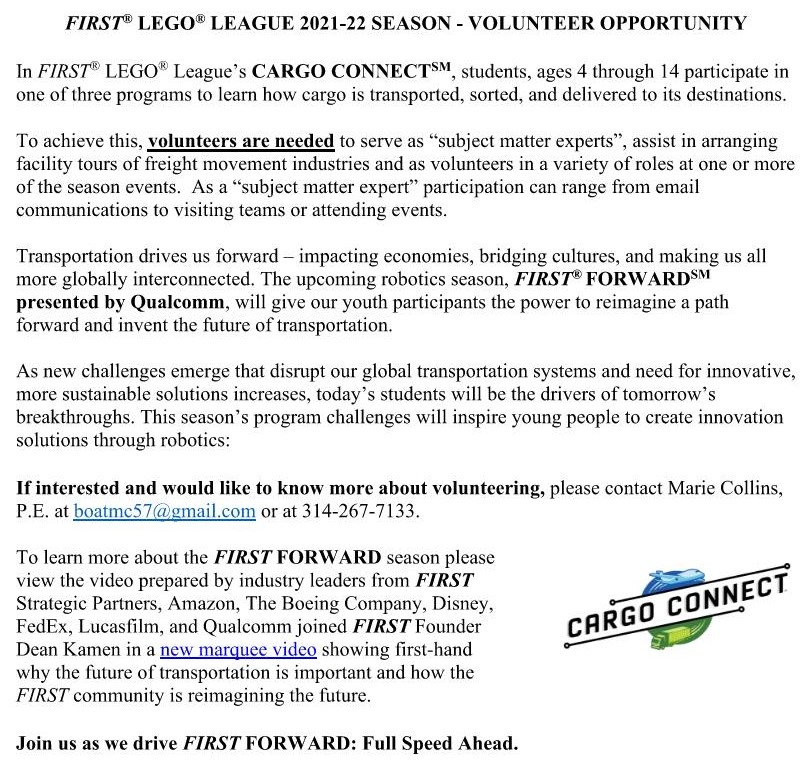 Contact Marie Collins at boatmc57@gmail.com or at 314-267-7133 to volunteer.
PWX - Public Works Expo - Coming up Aug. 29 - Sept 1 in St. Louis
For further information, check out the event
WEBSITE
.
Free Exhibitor Passes are available - see below for more information.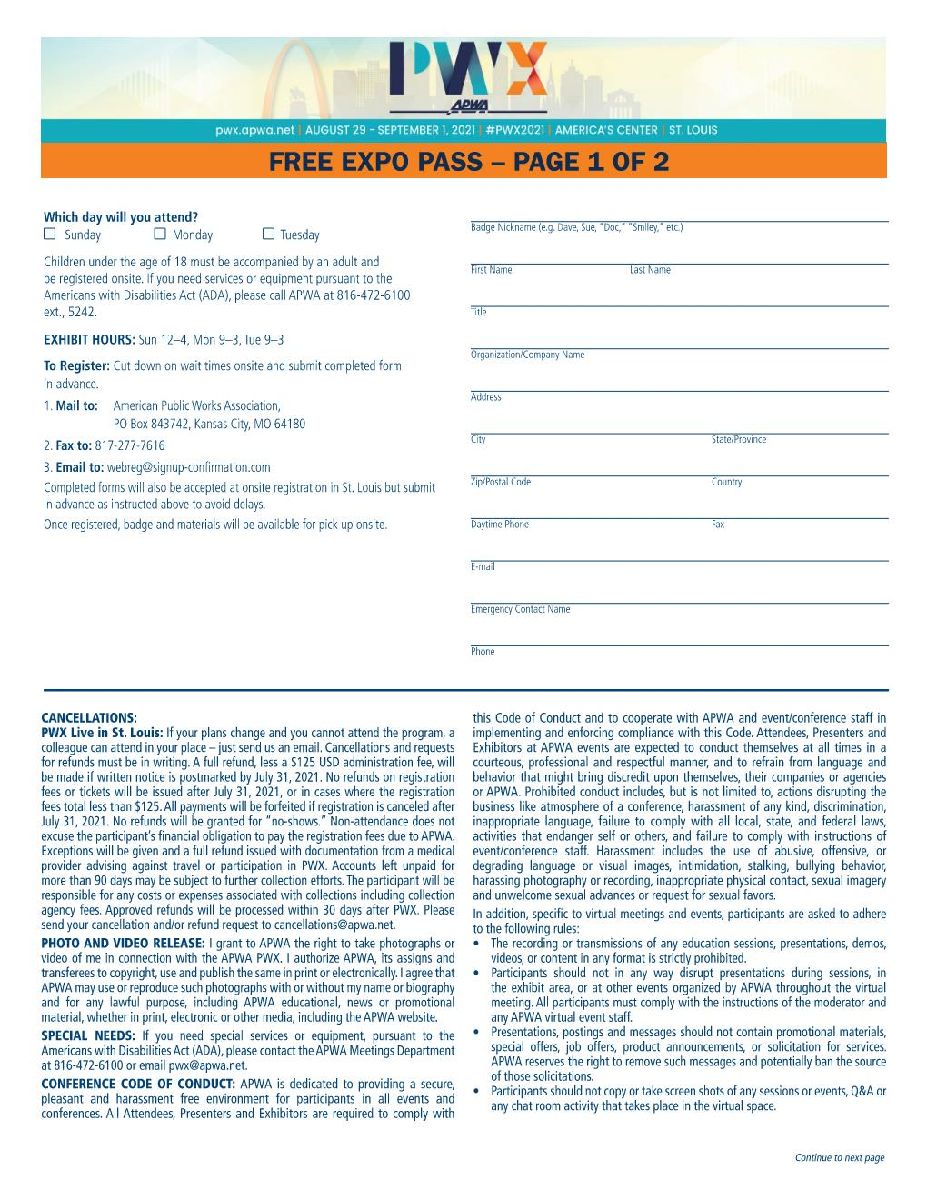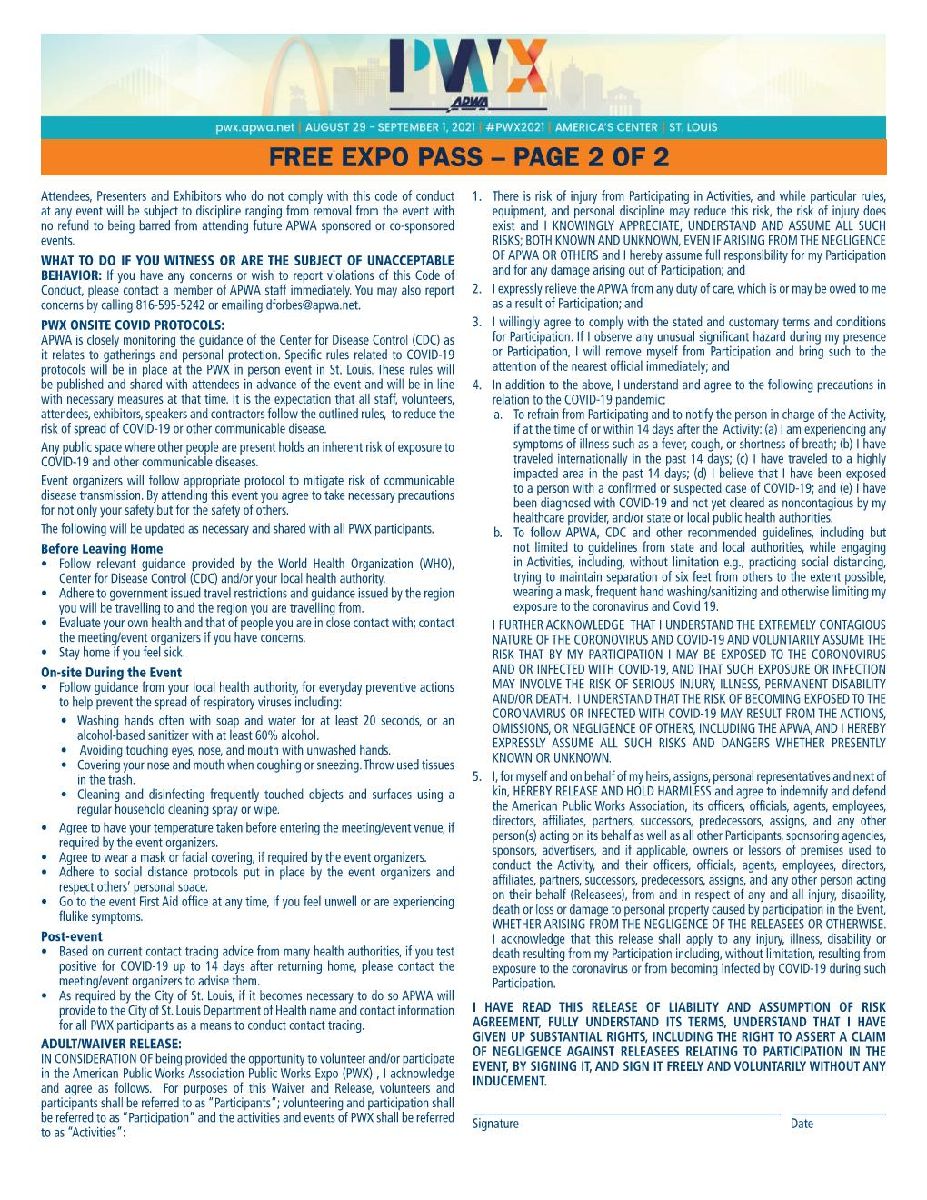 Washington University / UMSL Joint Engineering Program